The perfect after-dinner treat, Taruna Bakshi's fudgy Spiced Pumpkin Halwa gets its complex flavours from the black peppercorns, cumin seeds and crushed cardamom.
Toss in a few dry fruits and whipped cream to make it rich and extra creamy.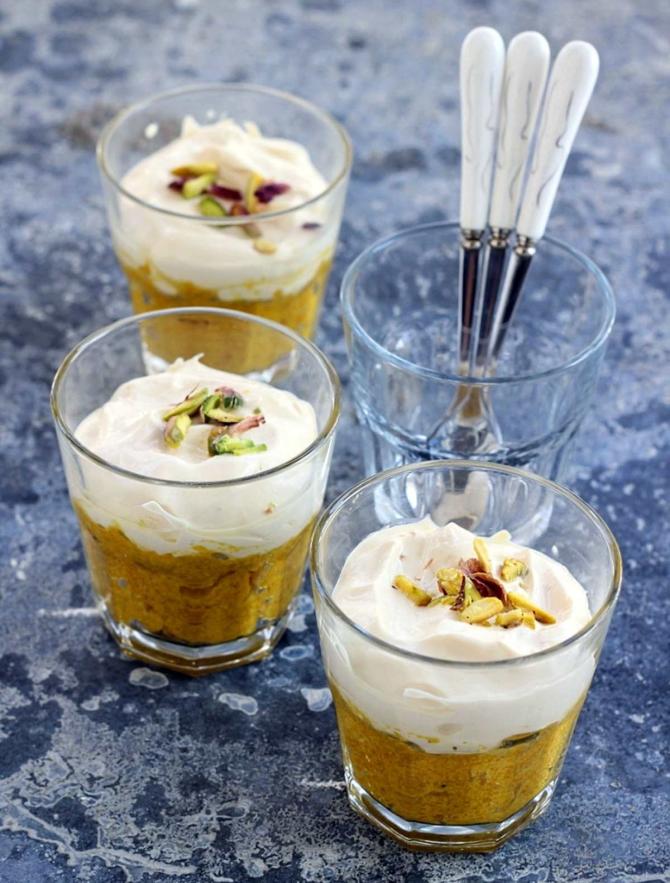 Spiced Pumpkin Halwa
Serves: 4-6
Ingredients
3 tbsp ghee, melted
½ tsp black peppercorns
½ tsp jeera or cumin seeds
7 cups or around 750 to 800 gm, peeled, deseeded, shredded pumpkin
700 ml full cream milk
A pinch of kesar or saffron
½ tsp crushed green elaichi or cardamom seeds, adjust to taste
¼ cup sugar
Dry fruits, like chopped almonds, cashews, pistachios, raisins, dried cranberries and/or pumpkin seeds, for garnish, optional
Method
Warm the milk in a heavy-bottomed saucepan over continuous low heat.
Keep stirring until it reduces to half.
Keep aside.
Heat the ghee in another heavy-bottomed kadhai or saucepan.
Add the peppercorns and fry for 10-15 seconds.
Add the cumin seeds and without waiting for it to crackle, add the shredded pumpkin.
Add the sugar and keep cooking and stirring on high heat for 20 minutes.
Add in the reduced milk and once the contents come to a boil, lower heat.
Gently stir in the saffron strands and continue stirring so the mixture doesn't burn.
Halfway through the cooking, add the crushed cardamom seeds.
Keep the halwa simmering on low heat till the pumpkin is cooked and the mixture thickens but does not dry up too much.
Take off heat and cool a little.
Transfer into small bowls or glasses.
If you like, garnish with dry fruits or pumpkin seeds and serve.
Note: Serve the halwa with mildly sweetened whipped cream for an added creaminess for festive occasions.
The amount of saffron will depend on its quality and aroma.
The amount of sugar will depend on the sweetness of the pumpkin.
This dessert can be made a few days in advance and refrigerated.
Optionally, to lessen the taste of jeera, consider adding it in ground.
Taruna Bakshi lives in Mumbai and is the creator of the food blog Easyfoodsmith.