Sr sous chef Vijesh Modi, The Deltin Daman shares an interesting breakfast recipe. You can share yours too!
Cranberry Khandvi with Cream Cheese Filling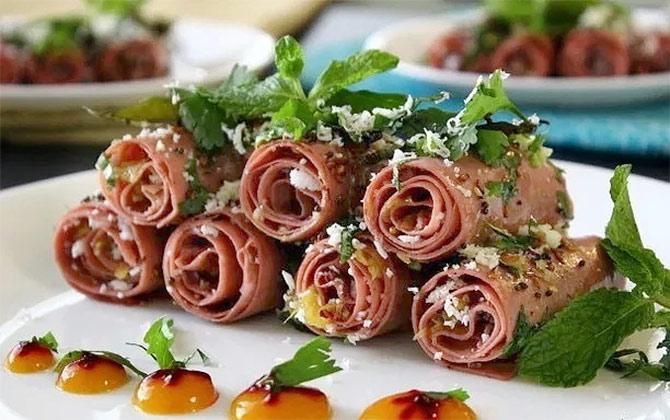 Ingredients
For cranberry khandvi
1/2 cup gram flour
1/2 cup curd
1 cup cranberry juice
1 or 1/2 tsp red chilli powder
Salt to taste
For stuffing
2 tbsp paneer grated
2 tbsp fresh coconut grated
1-2 tsp sugar
1 green chilli chopped
1 tbsp coriander leaves, finely chopped
1/2 tsp sesame seeds
Salt to taste
For tadka
1/2 tbsp cooking oil
1 tsp mustard seeds
A pinch asafoetida
1 green chilli chopped
For garnishing
A few sprigs coriander leaves chopped
Fresh coconut grated
Method
In a mixing bowl, combine the paneer, along with fresh coconut, sugar, green chilli, cilantro, sesame seeds and salt to taste.
In another bowl, combine besan, yogurt, cranberry juice, red chilli powder and salt to taste.
Mix well using a whisk to form a smooth batter.
Rest it for about 20 to 25 minutes. After this, cook the mixture in a pan and stir constantly so that no lumps are formed. Cook it till it becomes really thick and soft.
Once it is very thick, spread just a little on the kitchen counter to check the batter is ready or not). If you are able to roll it then the batter is ready. Cook it for some more time.
When the batter is ready, spread it on the kitchen counter or on the greased inverted thali.
Spread into a thin layer using a bowl or a palette knife.
After it cools, cut into strips.
Spread the stuffing mixture all over the khandvi and roll them tightly.
Heat 1 tbsp of oil in a pan and add mustard seeds, chopped green chillies and asafoetida.
When they splutter, pour it over the khandvi.
Garnish it with chopped cilantro and grated coconut.