Reshma Aslam tells us how to cook a healthy, delicious breakfast.
Bored of having parathas for breakfast?
Here's how you can make it interesting.
Try your hand at this famous Rajasthani dish, Besan Ka Cheela, a savory pancake made with gram flour.
Here's the recipe.
Besan Ka Cheela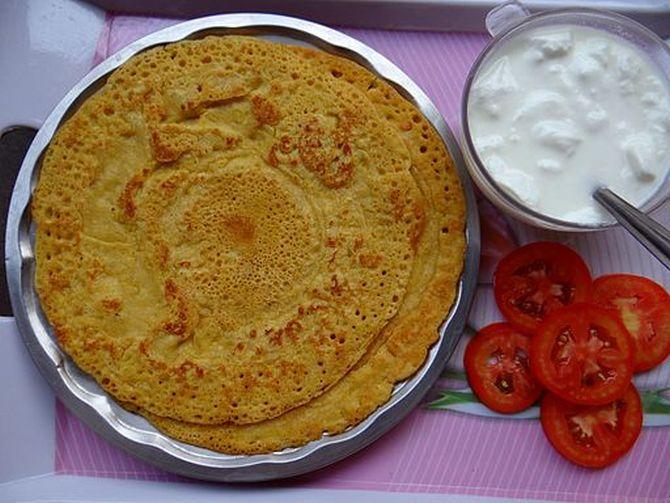 IMAGE*: Besan Ka Cheela. Photograph: Mdsmds0/Creative Commons
Ingredients
1 cup besan (gram flour)
1 medium sized onion, chopped
1 medium size tomato, chopped
2-3 green chillies, chopped
Few coriander leaves, chopped
1 tsp turmeric powder
1 tsp red chilli powder
1 cup curd (optional)
Salt as per taste
Oil for frying
1 1/2 cup water
Method
Put the besan in a bowl.
Add tomatoes and onions, green chillies, turmeric powder, red chilli powder, coriander leaves and salt. Mix well.
Add water and make a batter.
Heat a pan. Once hot, add a teaspoon of oil.
When the oil is hot, pour in one spoonful of batter and spread it out like how you would an omelette.
Fry until it's golden in colour and you start seeing bubbles on the top.
Slowly flip it and fry the other side.
Remove it from the pan. Serve with curd or chutney.
*Lead image used for representational purposes only.
Have an interesting breakfast recipe to share?
Simply e-mail your recipes to getahead@rediff.co.in (subject line: Breakfast Recipe) with your name, hometown and any interesting details about the origin of the recipe, along with a photograph of the recipe, if possible.

We'll publish the best preparations right here on Rediff.com and India Abroad.

Loved this recipe? Click here for more interesting recipes and food features!