Paneer replaces prawns.
Soybeans replace shrimp.
Sushi comes in a veg avatar.
Welcome to the brand new avatar of Japanese cuisine in India!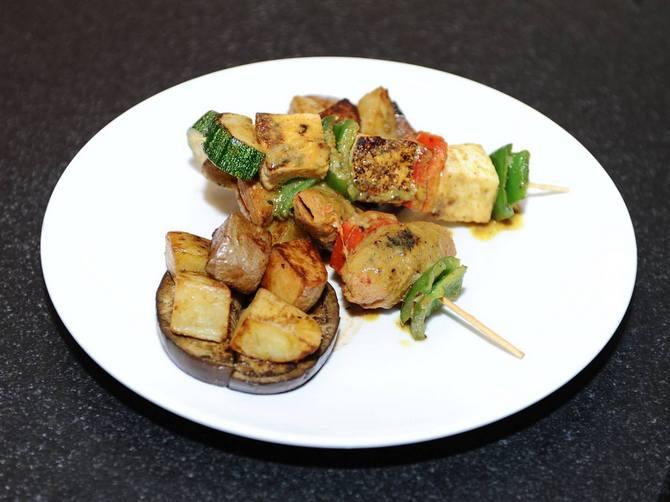 Paneer served in Sushi style at Benihana restaurant / Picture courtesy: Benihana on Facebook
Japanese restaurants here are now offering vegetarian variants of typical Japanese food such as 'Miso soup'-- generally prepared with soybean and fish stock, and 'Yakitori' -- a form of grilled chicken among others.
Typically, Japanese cusine has a lot of seafood offerings like fish, shells, shrimp, lobsters, oysters etc that are used in dishes like sushi sashimi, Shabu Shabu and Teppanyaki.
"Almost 40 per cent of Indian population is vegetarian and there are atleast two days in a week when that number rises to almost 60 per cent. We want to serve this group of people also so we are introducing a vegetarian menu," says Russell Merdjanian, Operations Manager, Benihana restaurant.
The restaurant specialises in the Teppanyaki style of Japanese cusine, which utilises an iron griddle for cooking.
Merdjanian says the restaurant has played with ingredients to make authentic Japanese cuisine more acceptable to Indian taste buds.
"If we serve authentic Japanese food eaten in Japan, you cannot eat it, so we are playing a lot with the taste to modify it to the Indian palette," he says.
Sea food from the land of the rising sun, which owns long coastlines, has gained popularity in the Asian sub-continent
also.
"You know, Japan is known for its seafood like fishes to crabs, the Japanese diet is famous for all varieties of seafood.
"In India, though a large part of the population is vegetarian, another part which belongs from the coastal regions are very delighted by it and so the cuisine is flourishing so much," says the Benihana manager.
Japanese recipes usually call for most vegetables and meats to be cooked in the simmering 'dashi' or fish stock particularly mushrooms, carrots, potatoes, tofu and fish etc.
Restaurants here are also adapting meals by not using 'dashi', for preparations like soups and noodles in broth.
Miso Soup also cooked in fish stock can be adapted to suit vegetarian tastes by fermenting a mixture of ground cooked soya beans, rice or barley and salt.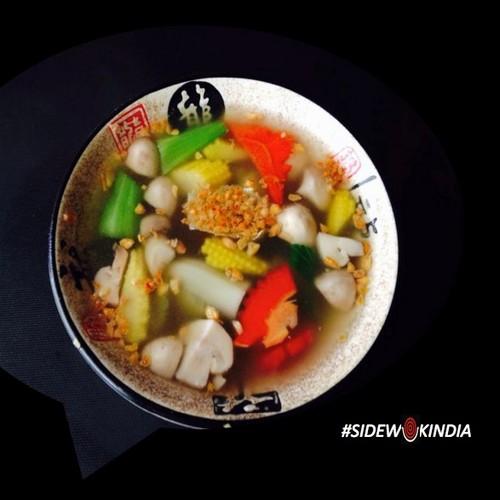 Japanese soup served at Sidewok / Picture courtesy: Sidewok on Facebook
Sidewok, an Asian cuisine restaurant that serves Japanese delicacies says it is attempting to customise vegetarian dishes according to the choice of the customer.
"Quite a number of our guests are vegetarian, so for them we are offering vegetarian variants of our dishes.
"If you want a vegetarian Miso soup, we will prepare it for you.
"Yes, the taste may change a bit, but overall it will be all the same," says Teg Singh from Sidewok.
En-Japanese, a fine dining restaurant bringing "delicate cuisine from Tokyo", which opened its doors just a year back is facing similar issues.
"Though Japanese cuisine is all about non-vegetarian dishes , we also have to keep in mind vegetarian population in India.
"So we have introduced a number of vegetarian dishes," says Bodhisatwa Bhattacharya, Manager, En-Japanese.
He points out that main course of the authentic Japanese cuisine has more of non-vegetarian delights like raw fish to offer while appetisers are predominantly vegetarian.
"It is not that Japanese cuisine does not have vegetarian dishes. The starters are mainly vegetarian, like the tofu, but the main course is not so we have designed some vegetarian items keeping the authentic taste in mind," says Bhattacharya.
Megu, a New York based Japanese restaurant, which has its chain at the Leela Hotel here also offers many vegetarian options like vegetarian sushi.
Guppy by Ai, a contemporary Japanese bar and kitchen also offers vegetarian fare like asparagus cream cheese roll, Mushroom Gyoza.
Wasabi by chef Morimoto at the Taj hotel offers vegetarian menu with Japanese specialties like Edemame and Tofu Carpaccio along with appetisers.