While Diwali is the season to spread cheer, many also end up indulging in unhealthy sweets.
Chef Ananya Banerjee shares five yummy Diwali treats with a healthy twist.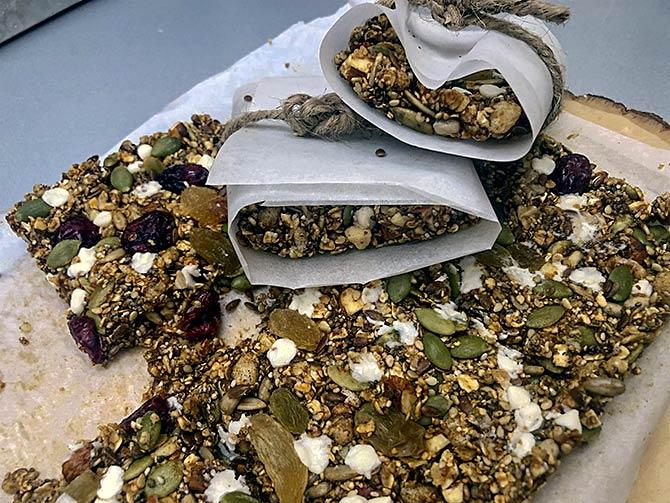 Chikki Energy Bites
Ingredients
2/3 cup unsalted almond or peanut butter (you can use your favorite nut/seed butter)
1/2 cup honey or coconut nectar
2/3 cup of date paste or brown rice syrup
1 tbsp coconut oil, optional (helps hold the the bars together)
2 cups oats (gluten-free half rolled and half quick have been used in this recipe)
2/3 cup almonds, chopped
2 tbsp whole almonds
1/3 cup unsweetened shredded coconut (you can substitute with crispy rice cereal)
A pinch of salt and ground cinnamon
1 tsp pure vanilla extract
Chocolate chips, dry fruits, flax seeds, chia seeds, sesame seeds and pumpkin seeds, for garnish
Method:
Line an 8 x 8 inch pan with parchment paper and set aside.
In a large pot, melt almond butter, date paste honey and coconut oil (optional) over medium heat until the mixture comes to a boil. Stir constantly. Lower the heat and simmer until the mixture is slightly thick, for about two minutes. Remove the pot from the flame and add vanilla, cinnamon and salt.
Fold in oats, shredded coconut and chopped almonds. Reserve the whole almonds for topping.
Transfer the mixture into the prepared pan while pressing down very firmly and flattening with a spatula until tight and compressed. Press the reserved whole almonds down into the bars, space them apart evenly. Press in some chocolate chips or any other add-ins of your choice.
Press down with spatula one more time so that everything is nicely packed and compact. Place the pan in the freezer (or fridge) until hardened, for about an hour. When the bars are set, use the parchment paper to lift them from the pan. Slice into even bars.
Bars are softer when left out at room temperature. For best results, store bars in the refrigerator or freezer until ready to enjoy.
---
Masala Makhana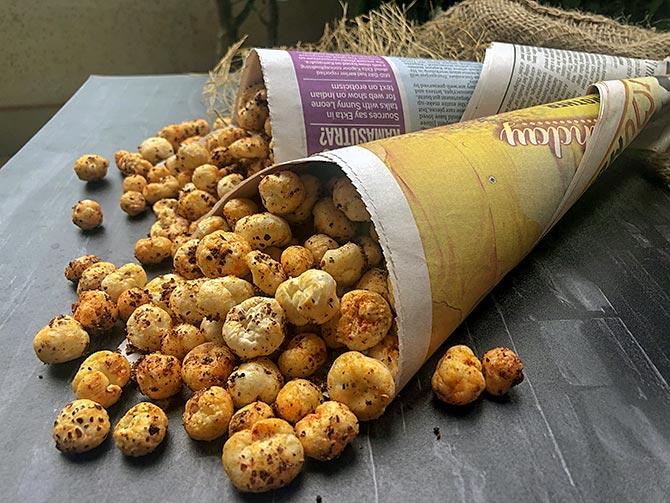 Ingredients:
1 tsp ghee/clarified butter
2 cup phool makhana/fox nuts/ lotus seeds
½ tsp kashmiri red chilli powder
¼ tsp pepper powder
¼ tsp cumin powder
½ tsp chaat masala
¼ tsp salt
Method:
Heat 1 tsp of ghee in a large kadhai and roast 2 cups of phool makhane.
Roast on low flame for 7-10 minutes or until the makhane turns crunchy.
Turn off the flame and add chilli powder, pepper powder, cumin powder, chaat masala and salt.
Mix well making sure the phool makhane is well-coated.
Enjoy masala makhana. You can store in an airtight container once cooled completely.
---
Apple Basundi
Ingredients:
500 ml toned milk
7-8 strands of saffron (kesar), soaked in 2 tbsp of warm milk
¼ tsp cardamom (elaichi) powder

1 cup freshly grated apple
Chia seeds (soaked in 2 tbsp of milk)
1 tsp of sugar substitute (you can also use 4 sachets of 1 gm each)
½ tsp lime juice
Sliver almonds and pistachio, 2 pieces of each
Method:
Boil the milk in a broad-bottomed non-stick pan. Reduce the flame and cook for approximately one hour (till the volume is reduced to half ), while stirring occasionally.
Add 3 sachets of sugar substitute and cook on a slow flame for approximately 25 mins (or till the milk thickens like rabri), continue stirring.
Add cardamom powder and cook on a low flame for another 20 mins. Once its cooked, switch off the flame and let it cool.
Heat a small non-stick pan. Add the grated apple, 1 sachet of sugar substitute and 1 tbsp of water. Mix well and cook on a medium flame for 2 to 3 minutes. Remove from flame and when its cool, add it to the milk mixture with soaked chia seeds. Serve chilled, garnished with slivers of almonds and pistachio.
---
Quinoa Phirni
Ingredients:
1 cup of hot water quinoa
1 cup of sugar substitute or Stevia
¾ cup of cardamom powder
1 tsp skimmed milk
2 cup condensed milk or mawa/khoya
½ tbsp of ghee
½ tbsp of saffron strands
¼ tbsp of sliver almonds and pistachio
5-6 pieces of blueberries
Method:
Heat ghee in a sauce pan. Once the ghee becomes warm, add quinoa to it. Roast the quinoa till it becomes light brown. Add one cup hot water and bring it to a boil.
Once the water is reduced to half, add 2 cups of hot milk to it and then add saffron strands.
Let the quinoa and milk mixture come to boil. Reduce the flame and let it simmer for 7-8 minutes till perfectly cooked.
Add sugar substitute and cardamom powder. Stir well and cook.
Add condensed milk. Let the mixture simmer for 5 minutes. Then turn off the flame.
You can serve hot or cold. Garnish it with nuts and blueberries.
---
Jowar Dates Laddoo
Ingredients:
½ cup jowar flour
Dates, remove the seeds and chop
10 -12 chopped nuts (almonds and walnuts)
½ cup of ghee
2 tsp of flax seeds
Method:
Dry roast jowar flour in a pan or kadhai for 5-8 minutes or till golden brown. Make sure it does not burn. Remove from the flame and keep aside.
Add chopped dates and water in a pan. Stir well on low-medium flame. Once the water is absorbed and dates becomes mushy, add roasted jowar flour and chopped nuts.
Stir well for 2 minutes on low flame. Remove from the heat and keep it aside. Don't let it cool to room temperature otherwise you will not be able to make laddoos.
Grease your palm with ghee and start making round shaped balls (laddoos). Store in air tight container.