Diwali is around the corner and it's time to indulge is some delicious delicacies.
Vijesh Modi, Senior Sous Chef from The Deltin, Daman shares his special Diwali recipes.
Gulkand stuffed rose sandesh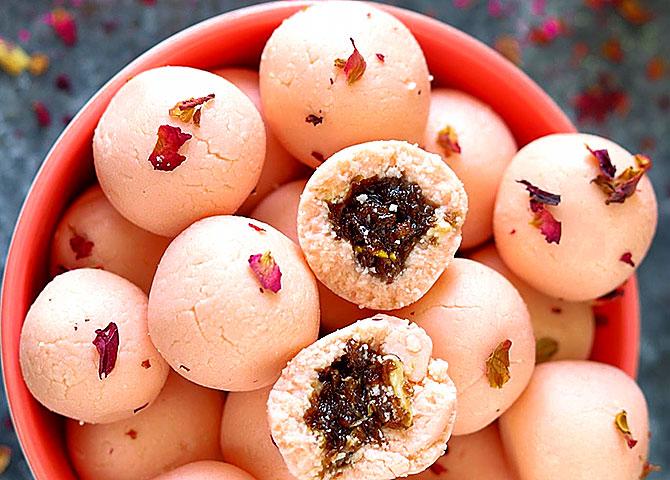 Ingredients:
1 tbsp rose sherbet
5 drops of rose essence
2 cups full-fat milk
1 tbsp lemon juice
1½ tbsp powdered sugar
1 tbsp milk
2 tbsp gulkand
20 gm cashew nuts
For the garnish:
1 tbsp finely chopped almonds
1 tbsp finely chopped pistachios
Shredded rose petals
Method:
Boil milk in a deep non-stick pan on a high flame for 3 to 4 minutes, while stirring occasionally. Pour in lemon juice, mix well and cook on a slow flame for one minute, while stirring continuously.
Strain the mixture using a strainer and allow all the whey to drain out. Combine the paneer, powdered sugar, rose sherbet and rose essence in a big thali and mix very well.
Transfer the mixture into a mixer and blend along with one tbsp of milk till coarse. Divide the mixture into 7 equal portions and roll each portion into a ball. Stuff it with gulkand and chopped cashew nut mixture. Garnish with almonds, pistachios and rose petals. Put in the fridge for 30 minutes and serve.
---
Pista Paan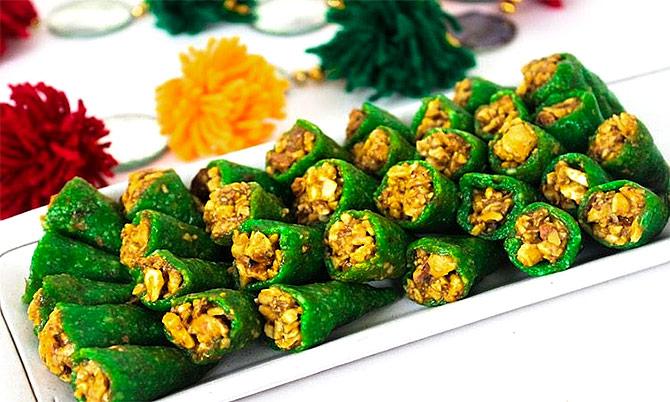 Ingredients:
For the pistachio barfi:
1 cup pistachios 1
¼ cup milk powder
1 tsp corn flour
1 tsp powdered sugar
4-5 drops of edible green colour
2 tbsp condensed milk
¼ tbsp cardamom powder
For the filling:
2 tbsp pistachios, blanched, peeled and chopped
2 tbsp almonds, blanched, peeled and chopped
2 tbsp walnut, chopped
4-5 drops kewra essence
¼ tsp cardamom powder
A few saffron strands (optional)
1½ tbsp of condensed milk
Method:
Place a small pan over medium heat and add the shelled pista. Roast the pista at medium low heat by continuously flipping so that they don't get burn. Let the pista cool down and then grind them in mixer to a fine powder. You may sieve the powder to get rid of any bits of pista left. Roasting helps to grind the pista into fine powder.
Add milk powder, sugar, cardamom powder and corn flour. Mix well and add few drops of edible green food color. Add 1 tbsp of condensed milk. Mix it with hand. Again add 1 tbsp of condensed milk to form a dough. You can add little more condensed milk if needed.
Chop the dry fruits and set aside. In a small pan take one tsp of butter or ghee (clarified butter) on low heat, add 1½ tbsp of condensed milk and stir it. Add chopped dry fruits, cardamom powder and kewra essence. Stir for one minute and turn off the heat. Keep the filling mixture aside.
Roll out this dough in between two sheets of plastic till it is 5 mm. Cut 12 squares pieces. Meet the centre point of pieces and join the other half part of barfi. Press it firmly to give a conical shape.
Divide the filling into 8 equal portions. Fill it in the cones with the help of a spoon and garnish with a silver leaf and chopped pistachios.