Delightful recipes specially curated by Chef Ranveer Brar.
Hershey's mug cake
Prep time: 5 minutes
Baking time: 90 seconds
Serves: 1
Ingredients:
1½ tbsp refined flour
1 tbsp castor sugar
½ tsp baking powder
1 tbsp flax seed powder (soaked in 2 tbsp water for 15 mins)
1 tbsp Hershey's cocoa powder
2 tbsp butter
2 tbsp Hershey's chocolate flavoured syrup
¼ cup icing sugar, for dusting
Method:
Take a large mug. Add all the dry ingredients and mix. Now add in all wet ingredients and mix till there are no lumps.
Microwave the mug cake on high speed for 90 seconds. Remove and dust with icing sugar and serve immediately.
---
Jowar Phirni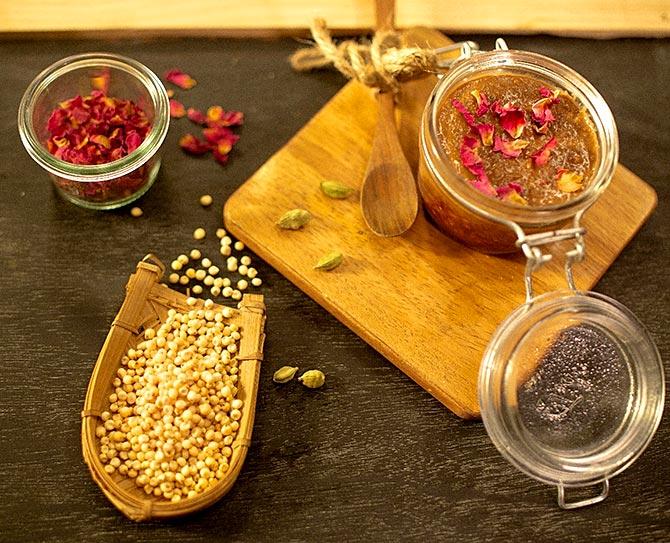 Prep time: 15 minutes
Cooking time: 40 mins
Serves: 4
Ingredients:
½ cup sorghum (jowar), roasted and ground coarsely
1¼ liter full cream milk
½ cup Hershey's chocolate flavoured syrup
1 tsp clarified butter (ghee)
4-5 nos cardamom, crushed
1 tsp dried rose petals, for garnish
Method:
In a pan, roast jowar with clarified butter till it is dry and coarsely ground it.
In a wide, thick bottomed sauce pan, add the ground jowar and milk. Bring to a boil and cook on a low heat. The milk will begin to thicken. Keep stirring continuously. Add Hershey's chocolate flavoured syrup and stir. Add in the crushed cardamoms. Remove from heat and let it cool down a little.
For serving, pour some chocolate flavoured syrup in a small clamp jar and then add the cooked phirni. Garnish with rose petals. Set in the fridge for 2-3 hours and serve chilled.