Chef Merajuddin Ansari has come up with some delectable strawberry and chocolate desserts for the occasion.
Strawberry Short Layer Pastry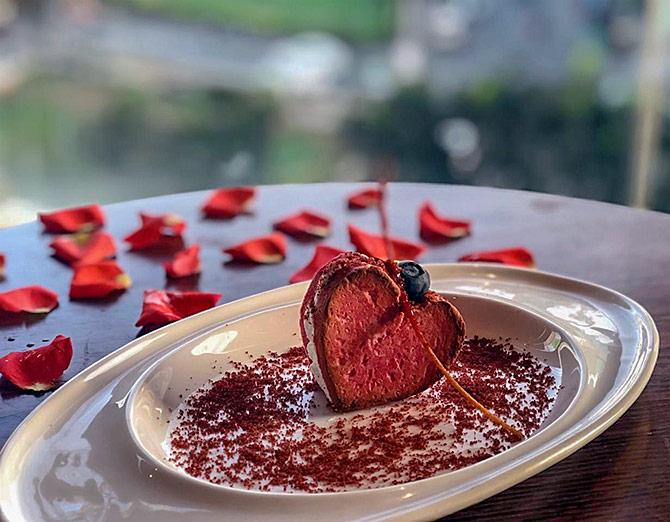 For the cake:
1 cup (2 sticks) unsalted butter, at room temperature
2 cups granulated sugar
3 cups cake flour, sifted
1 tbsp baking powder
½ tsp salt
1¼ cup milk
4 large eggs
2 tsp vanilla extract
For the strawberries:
1 quart fresh strawberries, sliced
2 tbsp granulated sugar
1 tsp vanilla extract
For the whipped cream:
2 cups heavy whipping cream
¼ cup granulated sugar
1 tsp vanilla extract
Method:
To prepare the cake, preheat oven to 350°F. Line two 8 or 9-inch round cake pans with parchment paper. Butter and flour the parchment paper to keep the cakes from sticking.
In bowl, beat butter and sugar on high speed until pale and creamy for about 3-4 minutes.
In medium bowl, combine cake flour, baking powder and salt. In another bowl, whisk together milk, eggs and vanilla extract. Add flour mixture to butter mixture in 3 additions, alternating with milk mixture and ending with flour mixture. Scrape down bowl between each addition.
Divide batter between the two prepared cake pans and bake until tops are barely golden brown and spring back when lightly touched, for about 30-35 minutes. Let cool in the pan for 10 minutes, then transfer to wire rack to cool to room temperature. Cover cake layers with plastic wrap and refrigerate for at least 1 hour and up to 2 days.
When ready to assemble the cake and serve, prepare the strawberries. Toss sliced strawberries, sugar and vanilla extract in bowl and let sit for 20 minutes.
To prepare whipped cream, use electric mixer to beat whipping cream, sugar and vanilla extract to medium peaks.
Remove chilled cake layers from refrigerator and use small knife to score each layer in half horizontally. Then use a large serrated knife to slowly cut all the way through each layer, using scored line as a guide.
Place one cake layer on cake plate or stand. Cover with 1 cup whipped cream and one quarter of strawberry mixture. Repeat with remaining cake layers, whipped cream and strawberries. Serve cake immediately.
---
Rich Chocolate Strawberry Brownie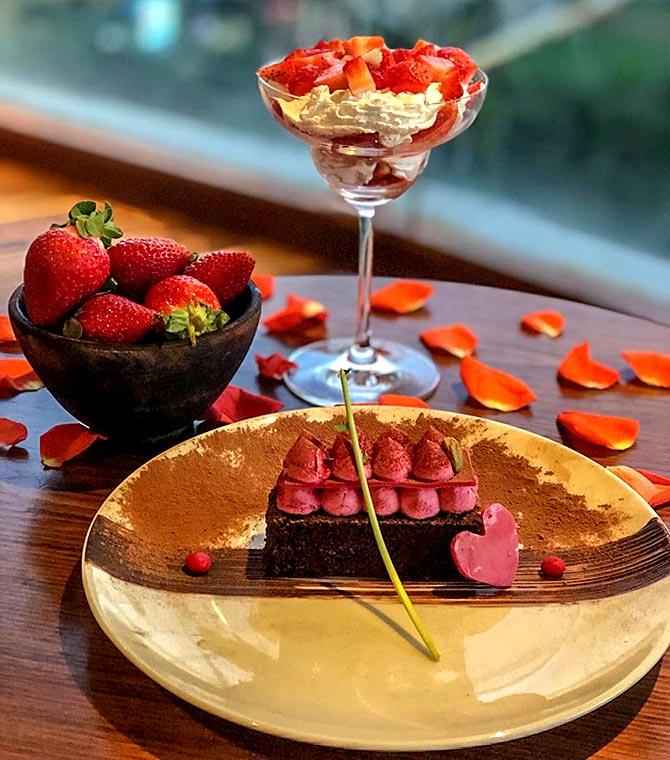 Ingredients:
2 large eggs
2/3 cup unsweetened cocoa powder
½ tsp salt
½ tsp baking powder
1 tsp vanilla or coffee extract
½ cup unsalted butter
1 cup sugar
¾ cup all-purpose flour
1 milk chocolate bar
1 dark chocolate bar
5-7 strawberries, sliced up
Method:
Preheat the oven to 350°F and line a 9x9 inch square tray with parchment paper or foil and spray with non-stick spray.
Combine the butter and sugar together and microwave together for 30 second intervals until the butter melts completely up to one minute.
Add in the eggs, baking powder, salt and vanilla or coffee extract. Next, mix in the cocoa powder and flour until incorporated and no lumps. Finally, fold in the chopped up chocolate.
Pour the mixture into the prepared pan, add chopped strawberries by dropping them onto the brownie batter, then bake for 20-25 minutes or until a toothpick inserted comes out with a few moist crumbs. Cool slightly before serving or serve cold.
---
Strawberry Cheesecake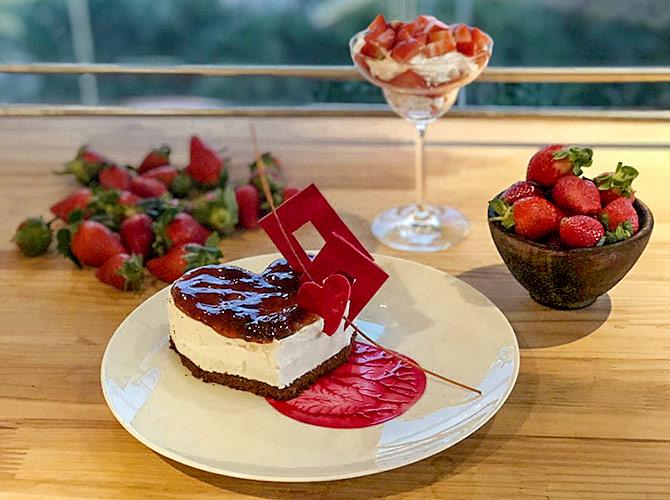 Ingredients:
For the crust:
2¼ cup (302 gm) graham cracker crumbs
3 tbsp (39 gm) sugar
½ cup (112 gm) salted butter, melted
For the filling:
678 gm cream cheese, room temperature
1 cup (200 gm) sugar
3 tbsp (24 gm) all-purpose flour
¾ cup (173 gm) sour cream, room temperature
1½ tbsp vanilla extract
3 large eggs, room temperature
For the strawberry topping:
1½ cup (310 gm) sugar
2 tbsp corn-starch
1½ cup pureed strawberries
½ tsp vanilla extract
2 cups chopped strawberries
For the whipped cream:
½ cup heavy whipping cream, cold
¼ cup powdered sugar
½ tsp vanilla extract
Method:
Preheat oven to 325°F (163°C). Grease a 9×13 pan. Combine the crust ingredients in a small bowl. Press the mixture into the bottom of the prepared pan. Bake the crust for 10 minutes, then set aside to cool. Reduce the oven temperature to 300°F (148°C).
In a large bowl, blend cream cheese, sugar and flour on low speed until well completely combined and smooth. Be sure to use low speed to reduce the amount of air added to the batter, which can cause cracks. Scrape down the sides of the bowl. Add the sour cream and vanilla extract mix on low speed until well combined. Add eggs one at a time, mixing slowly to combine. Scrape down the sides of the bowl as needed to make sure everything is well combined. Pour the batter into the pan with the crust and spread evenly. Bake the cheesecake for 30 minutes.
Turn off the oven and leave the cheesecake in the oven with the door closed for 20 minutes.
Crack the door of the oven, with the cheesecake inside, for 15 minutes. This slow cooling process helps prevent the cheesecake from cracking. Put the cheesecake in the fridge to cool completely, for 3-4 hours.
To make the strawberry topping, combine the sugar and corn-starch in a large saucepan. Stir in the strawberry puree. Cook over medium heat, stir constantly until mixture thickens and come to a boil, about 15 to 20 minutes. Allow to boil for 1½ minutes, then remove from heat. Stir in vanilla extract and chopped strawberries and allow to cool for about 15-20 minutes. Pour the topping over the cheesecake and allow to cool completely, 3-4 hours or overnight. You could serve the sauce immediately, but it will thicken as it cools. To make the whipped cream, add everything to a large mixer bowl and whip on high speed until stiff peaks form. Serve slices of the cheesecake with the whipped cream, if desired.
---
Strawberry Chocolate Truffle Cake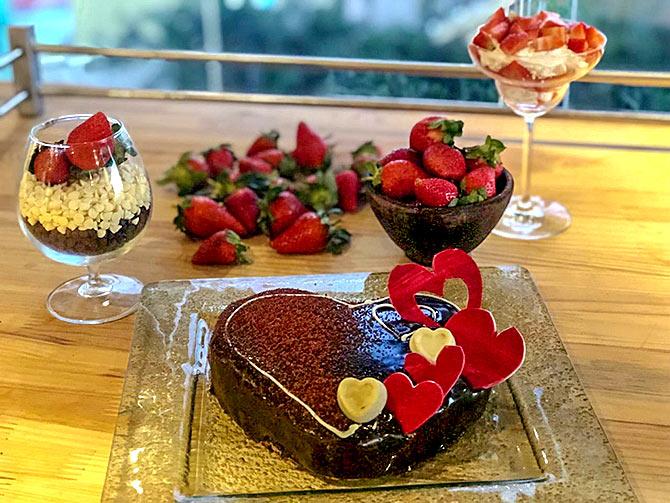 Ingredients:
1 box dark chocolate cake mix + ingredients called for on the box
¼ cup salted butter
1 1/3 cups whipping cream
283 gm bittersweet chocolate morsels
226 gm semi-sweet chocolate chips
3-4 cups fresh strawberries, chopped
6 fresh strawberries cut in half lengthwise
¼ cup white chocolate
½ tsp vegetable oil
Method:
Mix and bake the cake according to package directions. Bake it in a 9x13 inch pan. Let the cake cool for one hour.
Meanwhile, add the butter and cream to a small saucepan and set over medium heat. When the mixture comes to a boil, add the bittersweet and semi-sweet chocolate and turn off the heat. Let it sit for a minute or two, then stir until smooth. Use a knife to cut the cake into 1-inch cubes, and add half the cubes to a mixing bowl. Beat on low until cake is completely crumbly. Add 1¾ cup of the ganache to the mixing bowl. Add the remaining cake cubes, and beat until thoroughly combined. Use a wooden spoon to fold in the chopped strawberries.
Grab a 9-inch spring form pan and line the bottom with a circle of wax paper. Pour or spoon the cake into the pan and smooth the top until it is flat. Cover with plastic wrap and freeze for 45 minutes. Set a timer. You don't want to actually freeze it, just firm it up. If you can't frost it until later, transfer it to the fridge. Run a plastic knife around the edge of the pan and gently release the edges of the pan. Invert the cake onto a plate or cake stand and gently remove the wax paper from the now-top. Carefully frost the top and sides of the cake with the reserved ganache. It helps if the cake is still very cold, so you might want to stick it back in the freezer for a few minutes if it's been a while. Arrange 6 slices of strawberries on top of the cake.
In a small bowl, combine the white chocolate and oil. Microwave it until the chocolate starts to melt, the stir until smooth. Drizzle the white chocolate over the cake.