Tonight is not about taking risks. Remember, the trick lies in keeping it simple.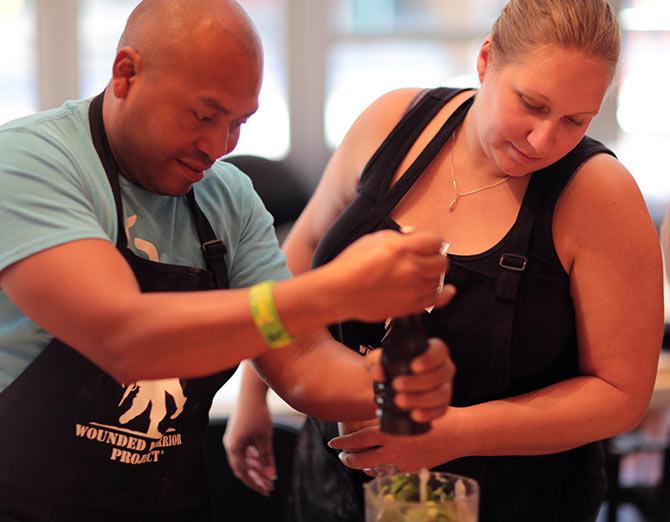 Photograph: Parker Knight/Creative Commons
It's Valentine's Day and you want to impress your partner with a gourmet experience, right?
Nothing can help you declare your love better than a home cooked meal.
But in your enthusiasm to create an impression by preparing a meal all by yourself, make sure you do not end up using ingredients that mar your dining experience.
Preparing certain dishes could equally be a disaster.
The right choices have to be made tonight.
Simple, light and appealing dishes that are quick and easy to prepare, should be part of your dinner table.
The evening is a special one after all and you cannot be in the kitchen all day looking hot and bothered in the evening.
Mini Ribeiro lists ten things that you must not cook and tells you why. Follow these carefully, to have a romantic Valentine's dinner.
1. Avoid veggies
Veggies are great to taste and provide fibre too. And we must all have them. But certain veggies are everyday humdrum stuff that mustn't be cooked on a special day like today.
Avoid Aubergine or brinjals, bitter gourd, snake gourd, red pumpkin and the likes.
These maybe versatile ingredients otherwise and a myriad dishes can be created for an everyday meal, but alas! these do not sound romantic enough for a Valentine's Day dinner.
They well may not be upto your partner's palate too.
Something more exotic is in order tonight.
Bring on the zucchinis, Portobello mushrooms and edamame, if vegetarian is what you are having or serving one dish with veggies.
2. Avoid elaborate recipes
Nothing elaborate should be attempted, if you are not a good cook or a first timer.
Tonight is not about taking risks. Remember, the trick lies in keeping it simple.
Planning an elaborate meal and not being able to pull it off can be disastrous. It will cause you to panic. So do not complicate things.
A tasty salad, a light soup and a basic dessert, might be your safest bet. Less time consuming too.
After all you need to be out of the kitchen quickly to look your best! Isn't it?
3. Avoid anything that needs too much attention
Do not get into dishes which require your attention in the midst of a meal.
Surely, you are not going to interrupt a romantic tete a tete and get up to see if the baked dish is done or change the sides of the grilled fish? Or end up saying "ops! My bread is burnt !" Have everything ready before you seat your partner for a meal. Then sit and enjoy your meal together.
4. Avoid monotony
Preferably opt for global dishes for this dinner, as generally, Indian dishes do not go well with the Western concept of Valentine's Day.
Who wants a monotonous dal chawal or curry rice or even parathas for a romantic dinner? Be innovative, but prepare simple global dishes. Watermelon and feta cheese salad maybe? Or stir fried veggies? Even a Pasta Arrabiata would work well. But global it should be.
5. Avoid oily food
Rich, greasy stuff is a strict no-no tonight.
After all you don't want your partner feeling lethargic and uneasy, and unable to digest the meal you cooked, do you?
Light, flavourful food, easy to digest, is the perfect choice. Cream-based desserts, deep-fried snacks, heavy dairy products, should be off your list for sure, even though those are tempting to serve.
6. Avoid lentils
Of course lentils and beans should be nowhere on your menu tonight for obvious problems of indigestion. Kidney beans especially. Steer clear from all such food.
7. Avoid onions, garlic
Avoid raw onions and garlic in salads, as the last thing you want is your partner to have bad breath.
It is bound to spoil a romantic evening in a jiffy. Of course these may be used in their cooked form in dishes, as ingredients.
8. Avoid stuffed recipes
Messy dishes where a mouthful or a bite, could have ingredients oozing out or spilling, are best kept at bay tonight.
No elaborate sauces or liquid fillings. Your partner will definitely not want to be embarrassed, with food all over his/her mouth.
9. Avoid hot dishes
Dishes which need to be served hot ought to be nowhere on your menu, as this may entail you having to get up and re-heat it.
So carefully select dishes which require no heating. After all you cannot be serving cold food when it is meant to be served hot?
10. Avoid surprises
Needless to say, try to find out your valentine's food preferences in advance quietly.
Yes the surprise element is fun and important, but equally critical is the fact that you do not end up taking the trouble to prepare something, s/he does not even enjoy or is perhaps allergic to.
So when in doubt, avoid sea food, eggs, aubergine et al, as those can be tricky at times.
Click here for our complete Valentine's Day coverage
Visit Rediff's Valentine Store & Buy Amazing Touching Gifts for Your Loved Ones