Milk, turmeric, millet and nuts are important source of nutrients for your body, says Ritika Samaddar.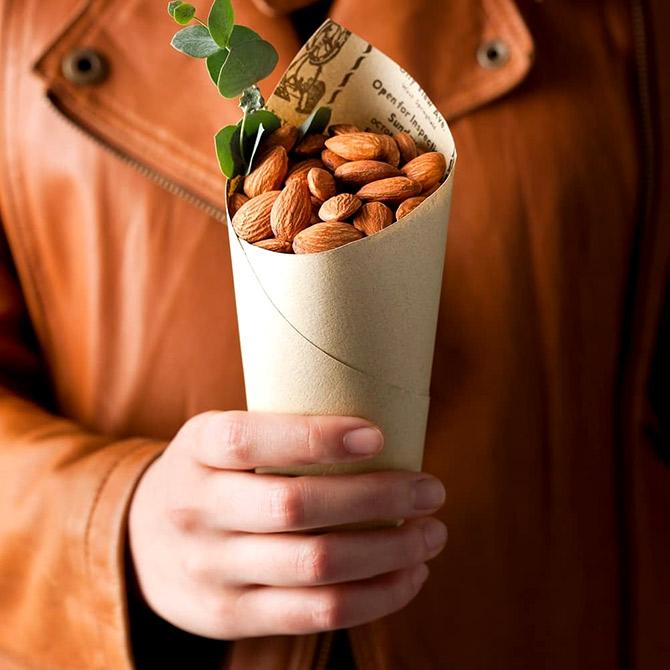 'You are what you eat.'
Now that's a phrase each and every one of us is used to hearing time and again.
Whether it's from a wise elder, your mom, your nutritionist or gym trainer or even your health conscious best friend.
But how many of us, actually even take a second to analyse what we are eating every day.
Stop. Think for a moment. It's not in vain that someone somewhere once said, 'Your body is a temple' or that 'love your body, and it will love you back'.
Here are five foods you need to add right away to take that first step.
1. Almonds
Almonds -- the king of nuts -- offers natural goodness in every bite and contains a host of essential nutrients that can help in building a wholesome, healthy and successful life.
Almonds contain vitamin E, dietary fibre, healthy fats and proteins that can help in keeping you energised through the day.
Pro tip -- Keeping a handful of almonds handy will also help keep hunger at bay, and prove to be a tasty and heathy snack for in between cravings!
2. Spices and herbs (ginger, turmeric and cinnamon)
Spices and herbs contain phytochemicals -- biologically active compounds, some of which have anti-oxidant properties that make them excellent additives to food.
Ginger
It is possibly among the oldest medicinal spices ever.
A power-house of flavour, this root has been an effective remedy for treating nausea, morning sickness, digestion related health issues.
Known for its powerful anti-inflammatory properties, ginger helps to slow tumour growth. It helps relieves gastric trouble like indigestion, constipation and colic.
Turmeric
Apart from being responsible for adding its signature yellow colour to curries and other forms of Indian cooking, turmeric, as a spice is known for its potent medicinal plant which boasts anti-bacterial properties healing properties and varied health benefits.
It brings relief from cold, heal wounds, and is also anti- carcinogenic.
Turmeric contains several curcuminoid compounds, which give it its healing power.
Most important of these is curcumin, which is a rich source of anti-oxidants and has anti-inflammatory properties.
It helps in preparing your body fight better with foreign viruses and also helps in repairing damage.
The anti-inflammatory compounds also help in reducing the risk of diseases like cancer, heart diseases, Alzheimer's and other metabolic degenerations.
Cinnamon
Usage of cinnamon by humans dates back to ancient Egypt.
This spice has been a popular ingredient in numerous desserts and curries.
Known for its deep sweet and sharp flavour, the spice is also popular for its medicinal benefits.
Polyphenols are highly effective anti-oxidants that help in protecting our body from oxidising damage caused by free radicals.
Cinnamon can also be used as a natural food preservative, due to its high concentration of preservative compounds. It's an excellent anti-oxidant and is known to control blood sugar.
Research has shown that ½ tsp of cinnamon powder daily reduces blood sugar levels in type 2 diabetics.
3. Ragi (Millet)
Ragi is quite underrated in our everyday diet.
Often, due to its bland taste and lack of awareness, we tend to overlook it. It is important to include it in your diet every day.
Apart from helping in losing weight, ragi can help fight calcium deficiency.
Ragi also tends to have a cooling effect on the body, keeping inner-inflammation and digestion in control.
4. Yogurt
Yoghurt is known to add depth and texture to our meals. This milk product that comes in different flavours and forms easily be incorporated in one's daily diet.
To keep our gut and intestines healthy, a daily dose of good bacteria is essential. Besides being a natural source of probiotic, yogurt or curd as we know it popularly is an excellent good source of protein and calcium.
Good bacteria present in yogurt, which helps improve digestion, soothe the inflammatory gut and also helps in treating an upset stomach.
5. Eggs
Eggs are possibly among the most popular breakfast food ever.
Apart from being a versatile, easy to cook option for a quick boost of energy, they taste great!
Besides being an excellent source of complete protein, eggs also are a good source of Vitamin B 12, selenium, Vitamin D and Vitamin B2 and B6 that are essential in maintaining a healthy immune system, bone health and restoring our memory retention.
Cholesterol in eggs do not increase your blood cholestrol.
Inclusion of eggs in your everyday meals can go a long way in keeping mineral and nutrient deficiencies at bay.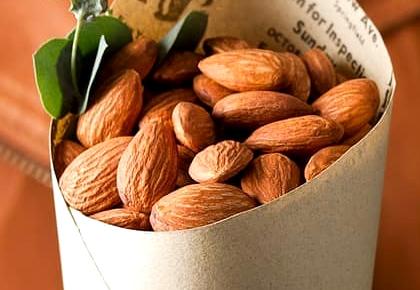 Ritika Samaddar is regional head-dietetics, Max Healthcare, Delhi.
TELL US: How do you stay fit and healthy? Share your valuable tips and suggestions in the messageboard below.