Kanak Soneja shows us how to bake eggless carrot cake.
Eggless Carrot Cake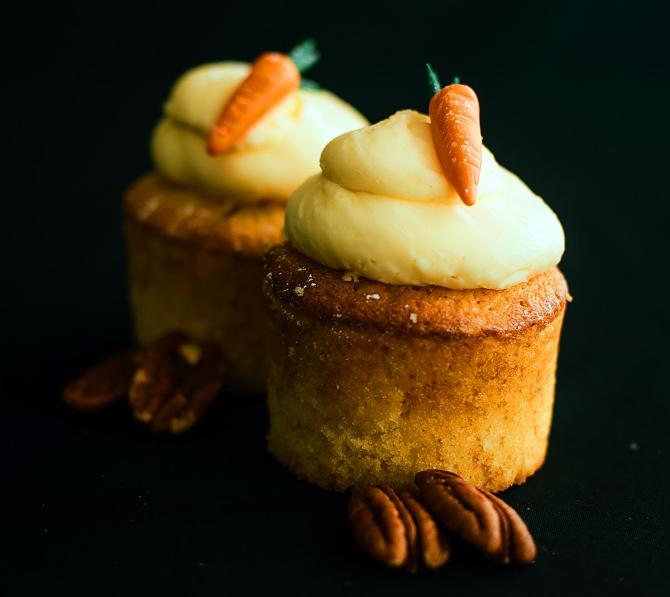 You can bake it like a teacake or have it like a muffin.
Watch the video below to see how to make eggless carrot cake:
Recipe by Kanak Soneja, alumni, Academy of Pastry and Culinary Arts Gurgaon
Ingredients
For cake
75 ml oil
50 ml milk
70 gm flour
85 gm brown sugar
2 gm baking soda
1 gm salt
2 gm cinnamon
90 gm grated carrots
25 gm walnuts
For cream cheese filling
60 gm cream cheese
7 gm vanilla essence
20 gm sugar
20 gm whipping cream
Zest of ½ lemon
Juice of ½ lemon
25 gm butter
Method
For the cake
Mix together all ingredients except carrots and walnuts.
Add in grated carrots and walnuts.
Pour into the mould and bake at 160°C for 45 minutes.
For the cream cheese filling
Whip all the ingredients except whipping cream.
Whip the cream separately and fold into the cream cheese mixture.
When the cake is ready, secure one end with a plastic wrap and make a hole in the centre.
Pipe the filling into the cake by tapping slowly. Allow it to set and remove the wrap. Cut into slices and enjoy.
Alternately, you can bake the cake in muffin moulds and top with cream cheese filling.
Serve chilled.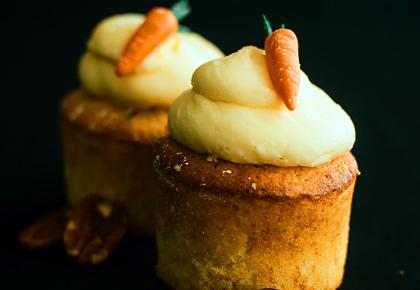 ---
Would you like to share an interesting recipe or cooking video?
Please do send your recipe/video to us at getahead@rediff.co.in (Subject: My Recipe) along with your name, location and, of course, the recipe.