These crispy mutton bites by Nadiya Sarguroh are the ideal starter for an Eid feast.
Happy Eid!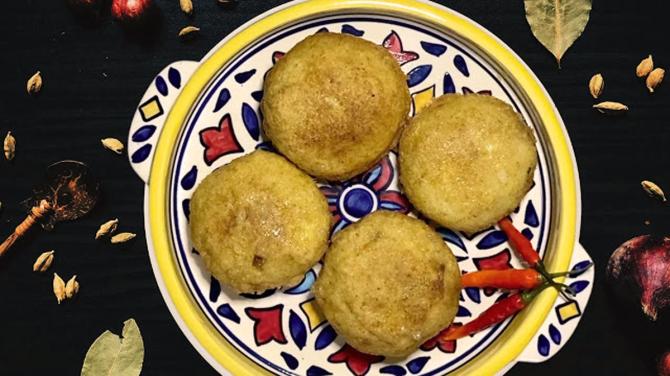 Mutton Kheema Pattice
Servings: 12
Ingredients
300 gm minced meat
4 to 5 medium potatoes, boiled, peeled and mashed
1 medium sized onion, finely chopped
1 tsp ginger-garlic paste
1 tsp garam masala
1 tsp dhania or coriander powder
2 to 4 finely chopped green chillies or as per taste
4-5 tbsp oil for frying the mince
50 gm dhania or coriander or cilantro leaves, chopped
½ lemon, squeezed
½ cup green peas, fresh or frozen
Bread crumbs for coating
2 eggs, beaten
Salt to taste
Oil for frying
Green chutney for serving
Ketchup for serving
Method
For the minced meat
Heat the oil in a heavy-bottomed pan or wok or kadhai over medium heat.
Add the chopped onions and fry until soft.
Add ginger-garlic paste and cook until the smell of raw ginger disappears.
Add the minced meat along with garam masala and salt. Cook for about 7-10 minutes.
Add the coriander powder and green chillies.
Mix well, cover and cook for 10 minutes.
Keep stirring occasionally so that the meat does not stick to the pan.
Take off the lid and add the green peas and cook for 5 minutes more or until the meat is cooked well.
Once the meat begins to give off an aroma and turns brown, take off heat.br />Add the lemon juice and the green coriander to the kheema, give it a good stir and allow it to cool.
For the pattice
In a large bowl, combine the mutton kheema along with the mashed potatoes.
Using your hands mix well. Roll the kheema and potato mixture into small balls and flatten it.
Spread the bread crumbs on a plate and roll the pattice in it, so it is well coated.
In a heavy-bottomed frying pan, heat the oil over medium heat.
Dip each pattice in the egg and fry them in batches.
Once they turn golden brown, flip them over so that they cook evenly.
Drain off the excess oil and transfer to a plate lined with tissue or a paper towel.
Serve warm with ketchup and green chutney.
Nadiya Sarguroh lives in Mumbai and publishes the food blog HautePot.