This juicy roast chicken by Esora's Head Chef Punit Kewalramani will make your Easter brunch a memorable affair.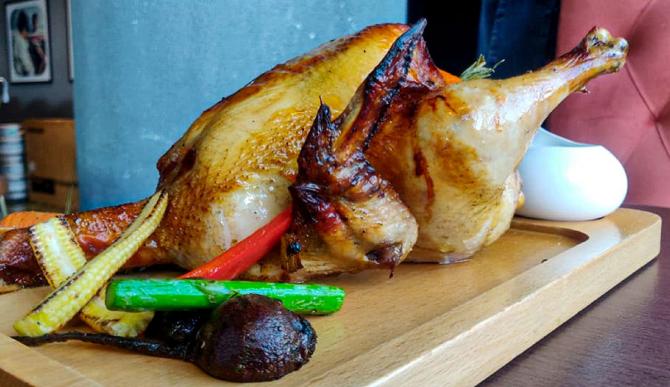 Whole Roast Chicken
Serves: 4
Ingredients
1 whole chicken, around 1 kg
20 pods garlic, chopped

10-12 pods garlic, unskinned
3-4 tbsp fresh rosemary
5-6 sprigs gm fresh thyme
1 large carrot, chopped into batons or 2-inch round slices
3-4 stalks celery, leaves on, chopped fine

5-6 mushrooms, chopped into slices
1 medium potato, chopped into chunks, skin on, if you prefer
15 gm leek, thickly chopped
2 large onions, chopped into chunks
40 gm butter
2 tbsp Worcestershire sauce
1 tbsp soy sauce
Salt to taste
Black pepper powder to taste
Method
Prepping the chicken
Wash and pat dry the chicken.
Keep the skin on as it will ensure the chicken stays juicy, even after baking.
Remove the neck and giblets (liver, heart, gizzard) from inside the chicken and set aside.
Preparation
Already preheat the oven to 175°C.

Position the chicken in the centre of a large, flat roasting tray or a baking tray that has a rack. Sprinkle salt and black pepper liberally on the exterior and in the interiror of the chicken.
Butter the chicken externally with some of the butter and sprinkle some of the herbs and whole unpeeled pods garlic on and around it.
Place the carrots, leeks, onions, celery, chopped garlic pods, mushrooms, potato chunks inside the chicken cavity with a sprinkling of herbs too and add the sauces.
Bake, without a cover for 75 minutes in the preheated oven at a consistent tempurature.
Take out of the oven and transfer it a serving platter. Baste with more melted butter and the charred garlic and herbs from the baking tray and any drippings.
Wrap in foil and allow it to sit for half an hour.
Serve with warm bread and a salad on the side.