This Dussehra make healthy choices by adding nuts and going low on sugar.
Here are some flavourful recipes for you to try:
Vegetable Biryani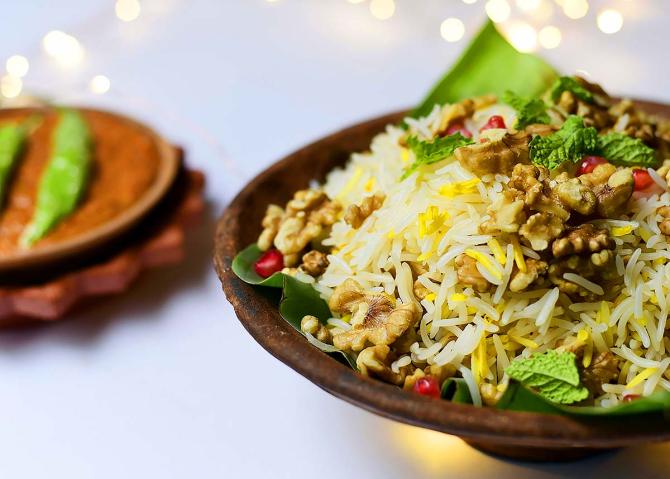 Recipe: Chef Sabyasachi Gorai
Ingredients
1½ tbsp oil
1 bay leaf
4 green cardamoms
4 whole cloves
6 black peppercorns
1 tsp cumin seeds
1 medium red onion, sliced
1 green chilli sliced
12 walnut halves, smashed
2 tsps ginger-garlic paste
½ cup frozen green peas soaked in warm water for 10 minutes
2 medium carrots, sliced
1 medium potato, diced into 1-inch pieces
1/3 cup cilantro chopped
½ tsp garam masala
½ tsp smoked paprika
¾ tsp salt for taste
1 cup basmati rice
1.25 cups water
Method
Wash and rinse the basmati rice until water turns clear. Then soak it in 2 cups of water for 20 minutes.
While the rice is soaking, chop all the vegetables and soak the frozen green peas in warm water for 5-10 minutes.
After 20 minutes, drain the water from the rice and set it aside. Also, drain the water from the green peas and set it aside.
Heat oil in a pan. To this, add bay leaf, green cardamom, whole cloves, black peppercorns and cumin seeds. Sauté for 30 seconds until the spices are fragrant.
Add sliced onions, along with green chilli and walnuts. Cook for 3-4 minutes until the onions turn light brown.
Add ginger-garlic paste and cook for a minute.
Add the vegetables -- potato, carrots and green peas. Also add chopped cilantro, garam masala, smoked paprika and salt.
Put the drained rice into the pan and toss it in gently with a spoon.
Add water to the pan. Do not stir anything at this point.
Close the pan with a lid and cook on high pressure for 5 minutes.
Open the pot and fluff the rice with a fork.
Garnish with walnuts and serve.
---
Paneer Makhani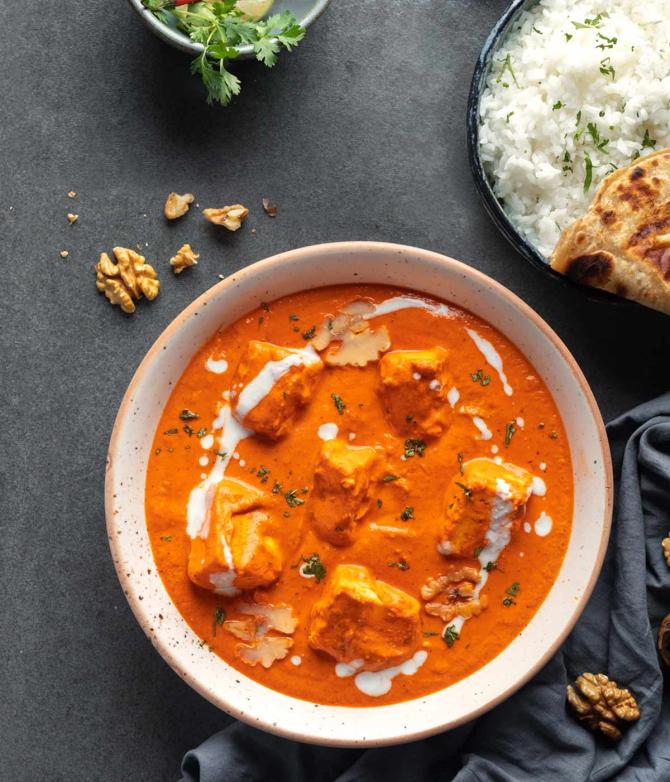 Recipe: Chef Sanjyot Keer
Ingredients
4 medium sized tomatoes
1 onion
4-5 garlic cloves
1/2 ginger
2-3 Kashmiri red chilli
1/3 cup walnuts
Salt to taste
1 tsp coriander powder
1 tsp Kashmiri red chilli powder
1 tsp jeera
1 tbsp ghee or olive oil
1 green chilli
1 tbsp honey
1/4 whisked curd
A pinch of garam masala
1 tsp kasuri methi
300 gm paneer
1 tsp butter optional
Method
In a pan add the tomatoes and onion cut in quarters.
Add garlic, ginger, Kashmiri red chillies, salt, coriander powder, red chilli powder, jeera and some water (approx 200 ml) and cover and cook for about 7-8 minutes.
Add walnuts and cook for another 3-4 minutes.
Cool down the mixture and grind it in a mixer grinder. You need a very fine paste.
In the same pan add a very little amount of ghee, butter or olive oil. Add a slit green chilli and some ginger julienne.
Sauté for half a minute and add makhani gravy by passing through a sieve.
Adjust the seasoning, add some honey or sugar and bring to a simmer.
Whisk the curd very well, lower the flame and add curd.
Cook for 3-4 minutes and then add paneer cubes.
Finish with garam masala powder and freshly toasted kasuri methi. Add a tsp of butter to add some buttery flavour.
Serve hot.
---
Malpua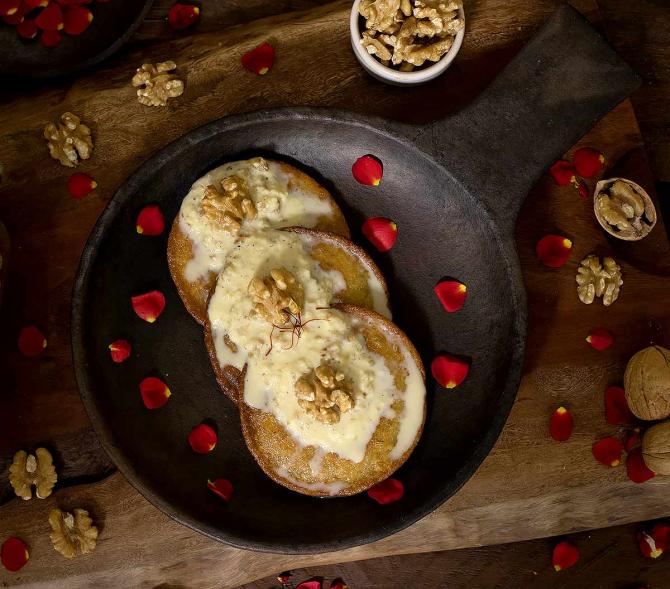 Recipe: Hemasri Subramanian
Ingredients
For malpua batter
1 cup all-purpose flour/maida
3 tsp unsweetened khoa/mawa
1 tsp fennel seeds
Water
Ghee/oil for frying
For sugar syrup
1 cup water
1 cup sugar
2 tsp milk
1/4 tsp cardamom powder
For rabri
1 litre milk
1/4 cup sugar
1/4 tsp cardamom powder
A pinch of saffron
A handful of walnuts
Method
For malpua batter
Mix all-purpose flour/maida and unsweetened khoa/mawa.
Add fennel seeds and to it mix.
Gradually add water and mix to a thick flowing batter.
Ferment the batter for 12 hours.
For sugar syrup
Boil water and add sugar and cardamom pods to it.
Stir it until the sugar dissolves, then let it boil for another 5 minutes on medium flame.
Keep the sugar syrup aside.
For rabri
Heat a thick-bottomed pot with milk. Keep the flame on medium low and continuously stir the milk.
Once the milk reduces to half, add the sugar, cardamom powder and saffron strands, mix well.
Soak walnuts for 2 hours, then chop them finely and add the walnuts to the rabri and mix well.
To make malpua
Heat oil in a wide pan.
Gently pour the fermented batter. Flip them and fry till it turns crisp and golden color. Add the fried malpua to the sugar syrup.
Soak in sugar syrup for 2 minutes.
Serve malpua with rabri, chopped walnuts and saffron.
---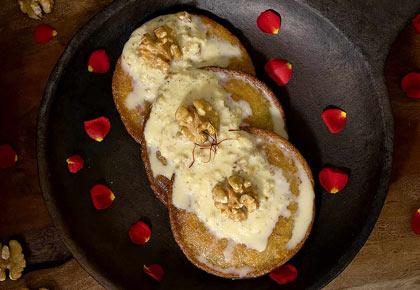 Would you like to share an interesting recipe or cooking video?
Please do send your recipe/video to us at getahead@rediff.co.in (Subject: My Recipe) along with your name, location and, of course, the recipe.