The mantra to live a healthy and extensive life is to stay happy, says Dr Manjusha Agarwal.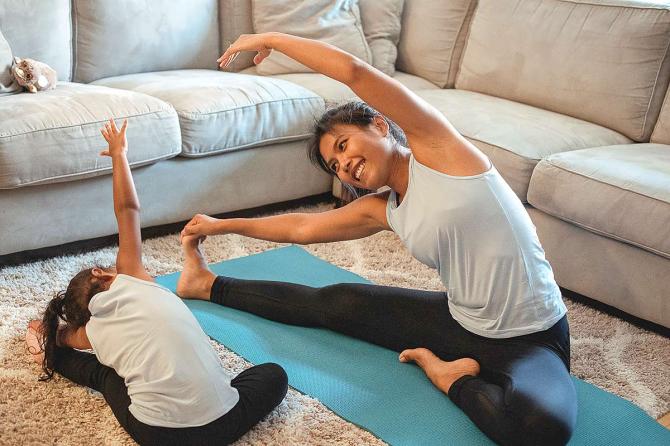 World Health Day is a global health awareness day celebrated every year on April 7.
The theme for 2021 is to build a fair, healthier world for all.
Apart from building one's health, it also means eliminating malnutrition, mental illness, physical health hazards, and more.
Here's a simple check list of DOs and DON'TS you can follow to keep yourself healthy and free from infections in 2021.
What you should DO
1. Regular exercising is the key
It is vital to incorporate a minimum of 30 minutes of cardio exercise in your day-to-day life.
The best and inexpensive way is a brisk walk which will cover around 2 to 3 kilometres in 30 minutes on weekdays.
On weekends you may try and increase your time frame with every few minutes to have your body get used to it.
2. Hydrate yourself
Every individual's body dehydrates differently.
Dehydration is a continuous process but unfortunately, some of us only drink water when the body shows symptoms of thirst.
Whether or not you feel thirsty, it is important to drink a minimum of 3 litres of water a day between intervals.
3. Stay healthy with fruits
Fruits are a good source of nutrition and nourishment especially in the summer season.
During summer months, it would be optimal to consume fruits like melons, lemon and coconut water that are rich in water content and improve hydration.
4. Consume nuts
Nuts are rich in many ways as it helps gain good carbohydrates, proteins, oxalate, vitamin, zinc, iron, selenium, potassium, calcium if taken in the right amount.
A handful of nuts will help you stay energetic and also keep unhealthy cravings at bay.
5. Stay happy
The mantra to live a healthy and extensive life is to stay happy. Do activities that relax you, bring a smile to your face.
Invest in a hobby, play a sport or take up something you truly enjoy.
6. Rest and relax
Relaxation is an emotional state of the human body.
It is a process that helps reduce the effects of stress on your mind and body in the long run.
Try and take weekly breaks. Reschedule a meeting so you get to breathe and prepare better before the next session.
7. Follow safety procedures and get vaccinated
Considering the rising number of cases, the best way to fight COVID is following the safety measures.
Wear a mask, practice social distancing and most importantly invest in boosting your immunity.
Indulge in the right kind of foods that will improve your immunity against the virus. Have plenty of vitamins and antioxidants naturally through your food.
And when the time comes, get vaccinated.
What to AVOID
While we talk about the good habits, here are some habits you need to let go in order to ensure a healthier lifestyle:
1. Avoid junk food
While restaurants may be shut, we Indians have a habit to consume food in excessive quantities especially when we order from outside.
With the shift in working culture and boost in online ordering, it has been observed that both teenage and working-class population have switched to junk and processed food.
If you have an active and healthy lifestyle, you may have cheat days twice a month.
Remember that the maximum nutrition and satisfaction an individual can receive is from homemade food.
2. Avoid acidic, aerated drinks
It is always better to avoid soft acidic drinks as they contain sugar leading to unhealthy weight gain.
With weight gain there is an increased risk of heart diseases, diabetes, cancer, and much more.
Avoiding sugar-free drinks can protect you from piling on unnecessary calories and reduce risk of Type 2 diabetes.
3. Give up smoking, alcohol
Even if you say you are a casual addict, exposure to tobacco increases your risk of lung diseases as it damages the airways in the lungs.
Alcohol is the source of various chronic diseases. Staying away from tobacco and alcohol will help you keep your lungs and liver healthy.
4. Avoid processed foods
Consumption of sugar, maida, and fried foods affect your health in many ways. Processed foods like maida raise LDL bad cholesterol, fats leading to several lifetime health issues.
Fried food absorbs a lot of oil which result in high blood pressure, high cholesterol, and risk factors for heart diseases.
5. Reduce binge-watching
The shutdown of theatres and multiplexes may seem like the perfect excuse to binge watch content available on television and OTT platforms.
While some form of entertainment is good, sitting in one place and binge-watching is not healthy at all.
Over a period of time, you are straining your eyes, spinal cord and brain.
Unhealthy exposure to TV and computer screens could lead to mental instability, loss of eyesight and backbone issues.
The key to a healthy life is to have complete harmony of the body, mind, and spirit.
On 'World Health Day' let's take an oath to stay up on the game and protect us and our loved ones.
Let's invest in a good, healthy lifestyle and give the body the respect it truly deserves.
Dr Manjusha Agarwal is consultant-internal medicine at Global Hospitals Mumbai.