Taruna Bakshi shares her special recipes for Diwali.
Patishapta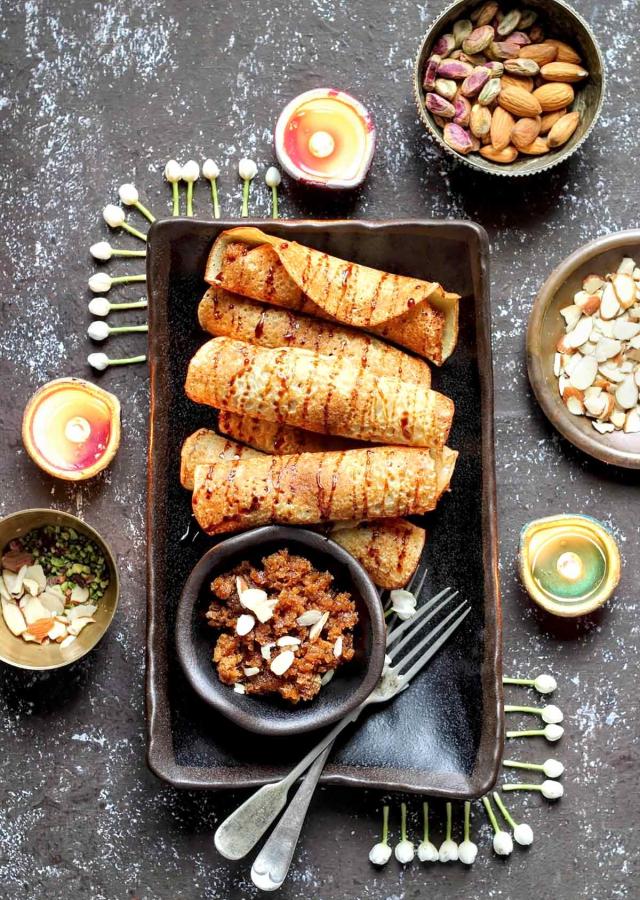 Ingredients
For the filling
2 cup freshly scrapped coconut
1½ cup scrapped date palm jaggery
½ tsp cardamom powder
2 tbsp grated or crumbled mawa (vegans can skip this)
2 tbsp milk, only if required (water, if vegan)
For Patishapta
½ cup maida (all purpose flour)
½ scant cup rice flour
¼ cup fine semolina
2 tbsp scrapped date palm jaggery
¼ cup milk (almond milk, if vegan)
½ tsp ghee (oil, if vegan)
Method
Heat a pan and add the coconut. Saute on medium heat for 90 secs.
Add the scrapped jaggery and keep stirring and cooking.
Add cardamom powder and cook the contents till they begin to come together and turn sticky (should take approximately 10-15 minutes).
Lower the heat and add mawa and mash it slightly.
Cook till it blends with the coconut mix.
Turn off heat and transfer the coconut mixture on a plate or bowl to cool.
The coconut mixture should be moist and not dry at this point.
You can use milk to loosen the filling in case it becomes dry.
In case mawa is unavailable, use milk powder instead.
For Patishapta
Mix and whisk all ingredients till you get a smooth batter.
Cover and keep aside on the kitchen counter for 35-40 minutes.
Ensure that your batter is of pouring consistency, not too thick, not too thin.
Heat a small shallow (and broad, if you want bigger-sized crepes) pan.
Reduce heat and lightly grease with ghee or oil.
Pour two tablespoons of batter and swirl around to make a crepe.
Once the top sets and the bottom attains golden brown color, flip and cook the other side till it just turns golden.
Remove from the pan and set aside.
You can fill the crepes as you cook them or cook the whole batch of batter and fill the crepes together, later.
Finish the whole batch in this manner and fill and roll the crepes.
Serve hot, warm or at room temperature.
---
Coconut Mawa and Dry Fruit Laddoo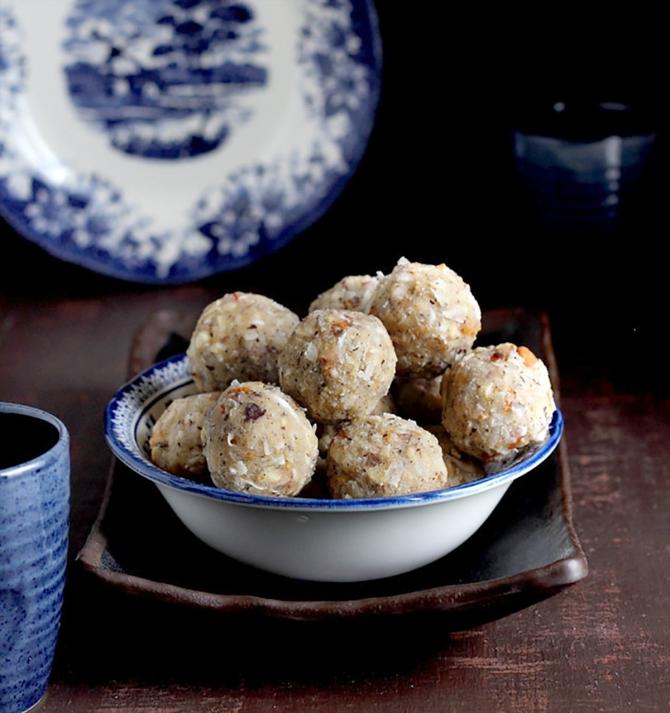 Ingredients
500 gm khopra (whole dehydrated coconut)
250 gm chhuhara (dried dates)
125 gm almond
125 gm cashew nuts
500 gm mawa
250 gm sugar
1 tsp cardamom powder
1 black cardamom (seeds only, ground)
½ tsp cinnamon powder
½ tsp mace powder
¼ tsp pinch nutmeg powder
1 scant cup water
Method
Mix all the spices together in a small bowl.
Grate coconut.
Deseed chhuhara and finely chop.
If you find it difficult to chop them (since they can be really dry), bash them in mortar and pestle.
It is easier to chop them. Lightly dry roast the nuts and chop them.
In a heavy bottom wok roast the mawa on low heat till it changes colour to a deeper shade (little more than golden) and becomes aromatic.
Takes approximately 20 minutes but the time will depend on the quality of mawa being used.
Be careful to not dry out the mawa.
Remove from the wok and set aside.
In a deep and wide pot, add water and make sugar syrup with one thread consistency.
Once the desired consistency is achieved, remove the kadai from heat.
Stir in the spices and add roasted mawa.
Swiftly but carefully mix the mawa in the hot syrup and ensure there are no lumps.
Add all other ingredients.
Mix everything well and start making the laddoos.
Keep the laddoos on a plate covered with cling wrap or greased with ghee.
Feel free to half the recipe since this quantity yields a huge batch.
Taruna Bakshi lives in Mumbai and is the creator of the food blog Easyfoodsmith.
So, Dear Readers what are you cooking this Diwali?
Do you have a traditional recipe, which has been handed down by your mother or mother-in-law?
Would you be indulging in sweets made in ghee or opt for the healthy, fat-free varieties?
If you are cooking something creative, please share your recipes and we'll publish the best ones on Rediff.com.
Please mail your recipe(s)/video(s) to getahead@rediff.co.in (Subject: Diwali Recipe) along with your name, location and, of course, the recipe(s).
Kindly don't forget to attach a photograph(s)/video(s) of the dish as well.