Rita Sinha shares her special Diwali recipe.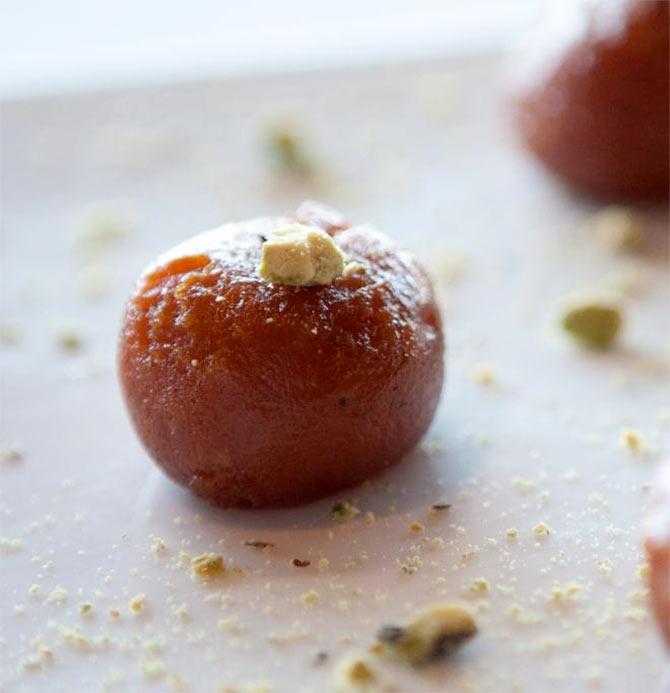 Gulab Jamun
Ingredients
2 tsp maida
2 tsp suji
200 gm sugar
200 gm milk powder
1 tsp ghee
1 cup milk
4 nos elaichi
1 pinch baking soda
Vegetable oil for frying
Water
Method
For the dough
Take 200 gm milk powder, 2 tsp suji, 2 tsp maida and mix them with a pinch of baking soda (using more soda may cause the dough to crack, so use carefully).
Slowly add 1 cup milk to the mixture. If the dough is dry, add a little more milk.
The dough is to be covered and left for about 30 minutes.
After 30 minutes, grease your palms with ghee, as the dough will get sticky, and then divide it into 14 or 16 small-size balls.
You have to be gentle to ensure that the jamuns don't crack.
For the sugar syrup
Heat a pan with 1 and 1/5 cup water.
Add 250 gm sugar.
The syrup is to be boiled for about 5 minutes.
Lightly crush elaichi and add it to the sugar mixture.
Add 5-6 drops of lemon juice to the syrup.
It will stop it from becoming solid.
For frying the jamuns
Place a pan on the stove with vegetable oil.
Keep the flame on slow to medium.
If the oil is too hot, the jamuns will get brown without cooking inside.
Fry the jamuns until they turn brown.
Keep stirring gradually to ensure that they are fried evenly.
Once the jamuns become brown, they should be taken out of the pan using a strainer and put into the sugar syrup.
Soak for an hour and then serve.
So, Dear Readers what are you cooking this Diwali?
Do you have a traditional recipe, which has been handed down by your mother or mother-in-law?
Would you be indulging in sweets made in ghee or opt for the healthy, fat-free varieties?
If you are cooking something creative, please share your recipes and we'll publish the best ones on Rediff.com.
Please mail your recipe(s)/video(s) to getahead@rediff.co.in (Subject: Diwali Recipe) along with your name, location and, of course, the recipe(s).
Kindly don't forget to attach a photograph(s)/video(s) of the dish as well.