'I was born a lower middle-class person, am one today and will die as one,' Billboard's International Power Player Devraj Sanyal tells Vanita Kohli-Khandekar.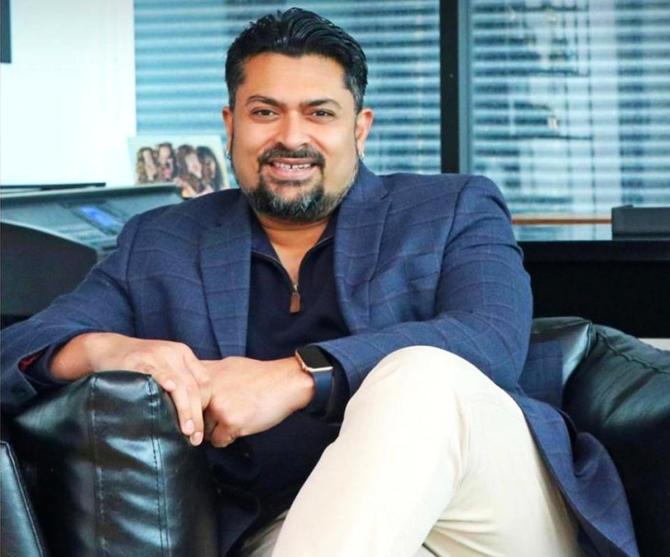 Devraj Sanyal is a force of nature. Every time I talk to the 46-year-old head of Universal Music Group's South Asia business, he overwhelms me with his energy.
Whether it is music, entertainment, marketing or media, Sanyal, a former vocalist with heavy metal band Brahma, is a mine of information. And he can hold forth.
So, I place a large cup of black tea by my side before logging in one Friday morning from Delhi to meet Sanyal at his home in Mumbai. He's been up all night and is chuffed as hell.
Universal, along with its group label Capitol, has just released Jalebi Baby, a khichdi of a song with Canadian-Indian rapper Tesher and American singer-songwriter Jason Derulo.
Sanyal first heard the song, originally created by Tesher and released in 2020, at a wedding in Udaipur in January.
In a few weeks he had signed on Tesher, stitched a joint deal with Capitol (home to Abba and Paul McCartney, among others) and by the end of May, a re-imagined Jalebi Baby was launched worldwide.
This -- finding, promoting and generally expanding the market for musical talent, especially in the neglected non-film part -- is what drives Sanyal.
In his tenth year at Universal, his bid to expand the market got him a rare honour -- a mention on Billboard's International Power Players list earlier this April.
For a man who's been up all night, he is full of beans. "I am like an energiser bunny," laughs Sanyal.
Maybe that is why he's on a special diet that keeps him off coffee, his favourite brew.
He doesn't take anything over our two-hour-long chat that is like a masterclass on the global music business for me.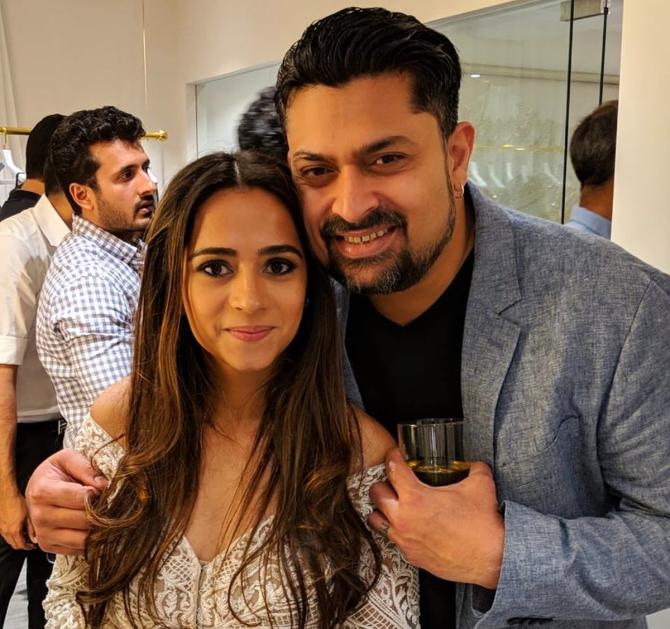 Sanyal keeps emphasising the importance of non-film music in India's Rs 1,500-crore (Rs 15 billion) music business.
The three labels that Universal Music India has built under him are all about it.
Mass Appeal India, the Indian arm of the eponymous New York-based culture firm, is about finding and promoting popular Indian hip-hop artists like Divine.
It is Divine's story that inspired Zoya Akhtar's Gully Boy (2019), which also used his music.
Desi Melodies (Punjabi) and Vyrl (Hindi pop) are the other two labels from the Indian arm of the €7.5-billion Universal Music Group.
Till the pandemic struck in March 2020, film music was over 70 per cent of the market.
The restrictions around Covid meant that not many new films or music were released.
This lull gave singers like Vishal Mishra, Armaan Malik and others a window through which listeners could sample their songs.
Non-film music now forms roughly half the music consumed in India.
"The break in habit has happened," says Sanyal. He reels out the names of various lists -- on radio, streaming and others -- where singles from unknown singers are now among the top ten.
"Five of the top ten songs are non-film; some weeks that ratio is even higher. This is empirical evidence of the way this thing (the push for non-film) is performing," says Sanyal.
All the names he drops are completely unfamiliar to me: Payal Dev and Stebin Ben, Akull et al. But you look for them online and they are big.
Mishra's single Tu bhi sataya jaayega has been trending for some time now.
As my second cup of tea comes in, I wonder aloud how he continues without any sustenance.
Sanyal waves my comment away. Restlessness, high-energy and ambition have been his thing for long.
Much to the disappointment of his father, a computer scientist who built some of the early mainframes for Indian defence, Sanyal dropped out of computer science from Mumbai's KC College.
Instead, he went to the posher St Xavier's College for a degree in statistics. That is where he, along with a friend, set up Curtain Raisers, an event management company.
In the early nineties, in the just liberalising India, there was a rising demand for brand activations, events, and such.
From consumer products to cigarettes and vodka, Sanyal did promotions and events across cities for many brands.
He bought his first car, a Maruti 800, at 19. He would attend lectures in the morning, go to work for 10 hours and have rehearsals with his band where he sang and played the guitar.
"I worked harder than any kid in the building. I had literally no life," says Sanyal.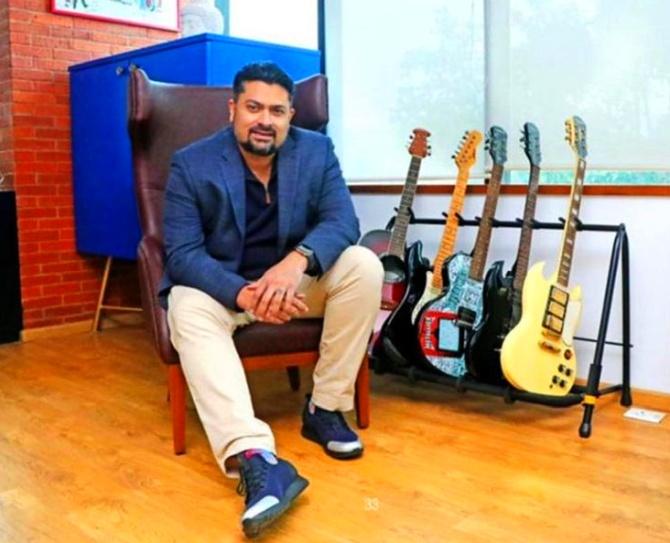 After his graduation in 1995 he decided that he needed to do serious work for a few years. "I knew that sales and marketing was my calling."
Given his music and a successful business, why? "I was born a lower middle-class person, am one today and will die as one. It is a state of mind. My father instilled in me this Bengaliness," says Sanyal, explaining why he hankered after the respectability of a "proper" job.
From marketing for Elle fashion magazine, selling perfumes for Baccarose, heading the events and activation business for Entertainment Network India Limited, a part of the Times of India Group, Sanyal has been through a gamut of brands.
His drive and ability with getting things going around Elle, Filmfare or Femina, among other brands, is why he became COO and then CEO of Percept D'Mark. It did events and talent management among other things.
Was there a turning point, an epiphany? "There is no single epiphany. Whenever I had a great idea and executed it, it was great because our industry is unstructured," he says.
"In December 2007, at the first Sunburn, I remember standing behind the stage, looking at the crowd and saying, 'We could do this'."
Sunburn is an electronic dance and music festival that plays over three days every year in Goa.
Just the effort of putting it together in a country like India, where everything -- from venue to regulations -- is an issue, is a huge achievement.
Sanyal's energy, however, was far from exhausted.
Since joining Universal in 2011, he has been leading from the front on issues that have held up the growth of the music business for years.
This could be getting a fair share of revenues from radio or pushing for the licensing of music during wedding parties.
"The users continue to underpay labels and publishers. It has been an ongoing fight for years, but I have faith," he says, adding, :Even the creators understand that the only way to actually be paid at fair market value is for all parts of the food chain -- and this includes the creative and business community -- to come together."
For instance, "We have a brand new IPRS (Indian Performing Rights Society, a royalty collection body) that emerged after years of infighting. Now authors, composers and owner publishers are able to collect from the users since everyone is on one team," he says before breaking up for another meeting.
My masterclass in music will continue with the next chat we have, I think, as we bid adieu.
Feature Presentation: Rajesh Alva/Rediff.com