Rasika Shekar reveals why she quit engineering and travelled to India to discover her true calling for music.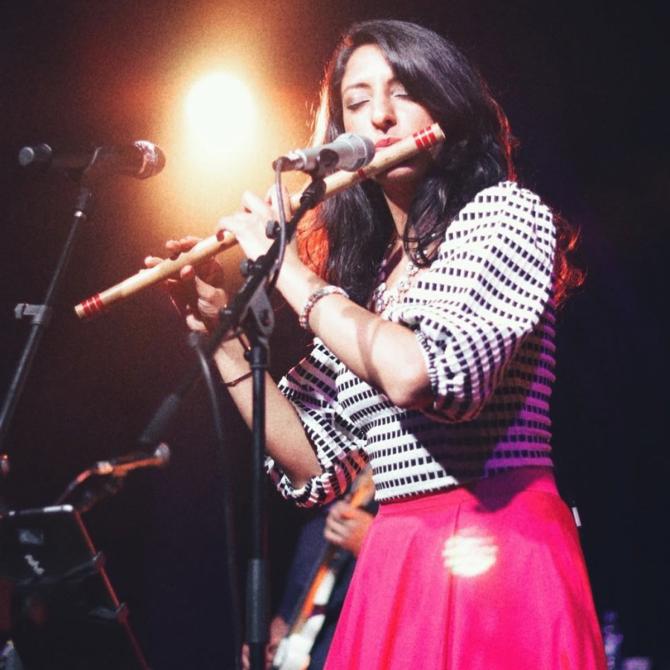 While growing up between the US and Dubai, Rasika Shekar, a chemical engineer from Rutgers University, never imagined herself to be a singer or an artiste.
But music ran in her blood -- Rasika's grandmother was a violinist at All India Radio and her aunt, a Carnatic vocalist.
At 14, she was introduced to playing the flute, but Rasika didn't intend to build a career around it.
A few years ago, post engineering, she travelled to India to pursue Hindustani classical music.
"When I was in college, I got serious about music," Rasika tells Hitesh Harisinghani/Rediff.com.
In 2012, she made her Bollywood debut with Shankar Ehsaan Loy with the song Lambuda Kakka for the film Dekh Indian Circus and the rest they say is history.
"I got to learn so much from Shankar Mahadevan, Ghulam Alisahab. Not just about music, but what it takes to be a musician," says the 31 year old who is making her mark as an independent artiste.
Today, Rasika not only plays the flute, she also sings and also composes her songs -- she sung the songs Hullaa Re (2 States), Sau Aasoon (Katti Batti) and Awargi (Love Games).
She has recently launched her new Tamil song Yaavum on YouTube. The stunning video featuring women from different walks of life is directed by Uttara Krishnadas.
"I had these visual of girls running out in the open and she's feeling this personal sense of freedom. She's broken the barrier in her mind and she's running. That was the idea," says Rasika.
What was the idea behind Yaavum?
I composed Yaavum last year.
When I wrote the song I had one emotion in my mind which was to celebrate small barriers that we cross on everyday basis.
There are barriers that society puts on us and also many a times we as individuals put those barriers unknowingly.
We forget to cherish those moments, where we go past those barriers. I think that's important for us to do that's where we grow and that little victory is life.
What does music mean to you?
Music is expression for me. It is the easiest way for me to express.
Who inspires you?
I look up to my parents every day for inspiration. I have learnt all the values from them.
Musically, Shankar-Ehsaan-Loy, Ghulam Alisahab, Ilaiyaraaja, jazz artist Billie Holiday, all have been great influences.
Playing a flute or singing a song: What do you enjoy most?
It's the most difficult question to answer.
I feel they are very equal in terms of my expression.
But let's say if I was just chilling, I would sing a song.
Your experience of working in Bollywood.
It's been a great opportunity.
I got to explore my voice in very different situations depending on the character you're singing for or the music director you're working with. You get to dabble with a lot of genres and different types of expression.
Also, seeing your voice come up on the big screen is phenomenal.
The musicians you would like to collaborate with.
There's really long list but right now I'm loving FKJ (French Kiwi Juice) and if the universe can make the collab happen it would be amazing!
What do you think of virtual music shows vis-a-vis performing live? What do you prefer?
Performing live is a priceless experience. You can feel the energy of the audience and interact with them.
Bad? There is nothing bad about performing live.
When you perform virtually, you can reach out to a wider audience. The flip side of virtual shows is that sometimes it's very strange to be interacting with your camera/laptop.
How do you stay fit?
Yoga and tennis.
Sports has been a part of me growing up.
If not a musician, I would have probably been a tennis player.
Yoga is something I actually discovered more during the lockdown, it's really helped me align my body and mind together.
Your favourite food.
I'm a Tam-bram (Tamil Brahmin) who's grown up on curd rice.
One thing that will make me super happy is curd rice with little tadka of mustard seeds, green chillies and hing.
I could have it for 365 days and not complain.
Your tips for readers who want to make a mark in the music industry.
Finding your own voice is very important. Find a genuine way of expressing what you deeply feel about.
Dig deep into your work. It's easy to get diluted. Don't get caught up in numbers and likes.
Be a constant learner for life!