An Indian couple from Minnesota decided to go skiing in traditional attire, and their video is winning the Internet.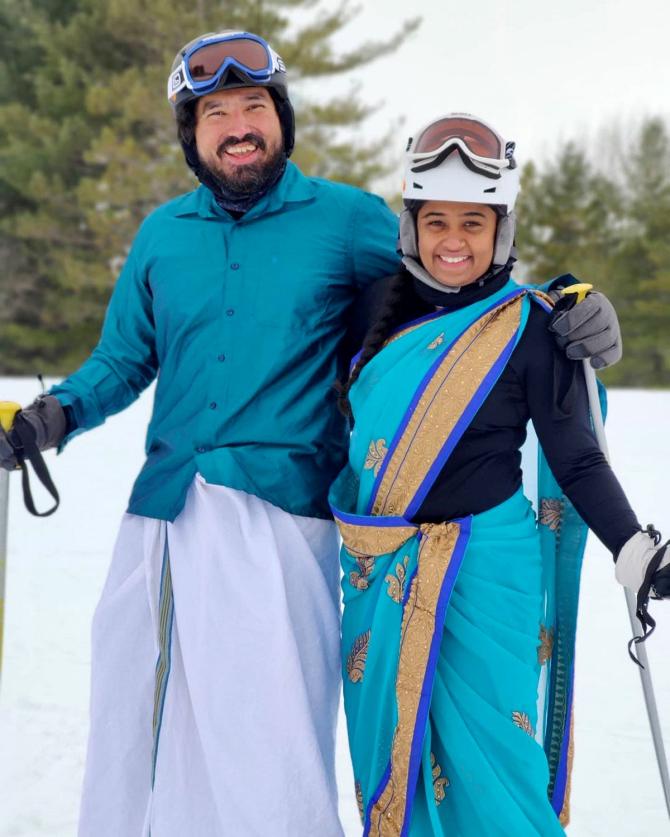 Divya Maiya attempted the impossible when she decided to ski in a sari.
The idea was to do "something really crazy to distract themselves."
"I loved the outdoors and we are a pretty active couple," says Divya.
"We have been skiing for 8-9 years now and skiing is definitely our favorite winter sport.
So clad in a turquoise georgette sari with a gold border, she took off on a snow-capped adventure in Minnesota.
Joining her in the craziness was 'her partner-in-crime' and spouse Madhu Bangalore, who decided to ski in a lungi.
Talking to Anita Aikara/Rediff.com, Divya, who is a digital product manager, says, "The sari belongs to my sister-in-law Erin."
"Couple of my friends thought I could do this from all the crazy things I generally do when they saw stylist Masoom (Minawala Mehta) wearing a sari in ski gear on the Swiss Alps (external link).
"I have been skiing for eight years and am very comfortable on the slopes. So I thought why not, challenge accepted!"
Quiz her about the challenges involved in this adventure and she adds, "I had warm layers underneath.
"I wore my sari on the slopes and took them off on the slopes.
"We had a backpack which we put them in and skied on.
"I definitely do not recommend this attire if you are a beginner skier.
"It is pretty safe as long as you are good at skiing and are comfortable on the slopes."
Divya shared the video on Instagram, which has been loved by people across the world.