'Students are taking a keen interest in a hybrid model, where they start classes online and then complete the course on campus.'
Ruchika Chitravanshi reports.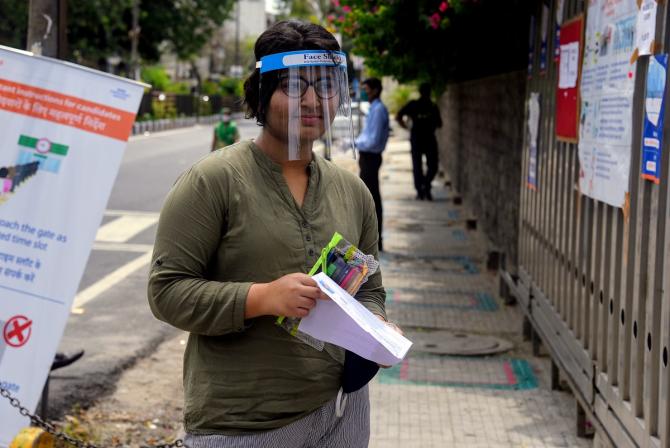 From the simpler days of fielding queries about which course and college to opt for, and explaining changes in student visa rules, career counsellors are finding themselves in a tough spot today.
With the higher education plans of their young clientele derailed due to the pandemic, they now have to deal with questions they have never faced before -- and to which there are no easy answers.
"Amid the uncertainties of the pandemic, it is pretty upsetting not to be able to put the students at ease and allay their fears," said Namrata Pandey, founder, La Mentoraa, a Delhi-based college and career guidance company.
With most universities moving courses online, students are weighing their options between foregoing the campus experience or taking a gap year and pursuing a short-term course or an internship.
Hence, several foreign universities are seeing a drop of 50 to 80 per cent in the number of students expected to join in the current academic year.
Many foreign universities are expecting budget cuts since there is not enough return on investments.
A US-based private university said that the outlook for 2021 also looks bleak. "We are offering more scholarships to make it affordable for students," a senior executive at the university said.
Students do still have plans of studying abroad, but experts say that they just haven't figured out when.
"We notice that students are taking a keen interest in a hybrid model, where they start classes online and then complete the course on campus," said Akash Amin, regional director-business development, Full Sail University, Florida, USA.
Foreign universities are also unable to visit the schools and colleges to interact with students face-to-face.
But while some industry insiders say that a Zoom meeting can never be a substitute for an actual visit and that the students are now done with webinars, others feel it has worked even better.
"We have reached out to more students than we would have with physical visits. Students are significantly better aware of what they are signing up for," said Thomas Austin, regional manager, South Asia, for the international recruitment team of Aston University, UK.
The post-study work visa has worked to the benefit of UK universities, including Aston, which is expecting a similar number, if not more, of students this year as compared to last year.
Besides the UK, countries such as Australia, New Zealand and Canada are expecting a steady growth in student intake in the coming months.
However, industry experts say education hubs in the US are likely to suffer a decline due to the political rhetoric and the under-managed response to the pandemic in that country.
"Covid has not crushed demand for foreign education, it has only delayed it. Border restrictions, government and quarantine uncertainties have added to the supply side shocks," said Shan Chopra, brand and community partner, TC Global, an education platform.
All this has added to the anxieties of students and parents. Counsellors often find themselves playing referee between the two parties, and often end up counselling both.
One upside of the crisis is that it has spurred career counsellors to upgrade skills and pick up tools of visual presentations.
As Piyush Kumar, regional director, IDP Education, said, "Given that all processes have gone virtual, counsellors have been pushed to up their digital skills. They are using virtual offices to guide students, holding virtual events and even helping students enrol online and adapt to the new modes of education delivery."
Counsellors have also started collaborating with each other to try and find answers together and discuss tools and strategies in these uncertain times.
Feature presentation: Mahipal Soni/Rediff.com