We'd asked you, dear readers, to tell us what your first salary was and what it meant to you at the time.
Here are some interesting ones we received. You can share your stories too!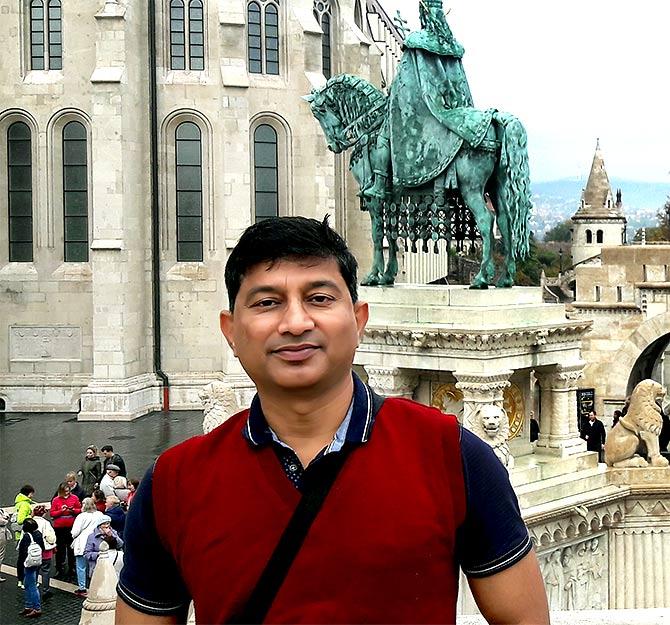 Rakesh Pandey (pictured above), 46 from Tanzania says:
"I started my career in early 1997 in a cement manufacturing company and my salary was Rs 1,800 per month.
"My company was approximately 1,200 km away in Chhattisgarh from my home. At the end of the month I was able to save only Rs 300 after deducting all expenses.
"Still it was a great moment as I felt like a boss after earning and become independent."
---
Amit Pareek, 39 from Gurgaon says:
"In the year 2000, I was working part-time in a computer institute in my hometown as an intern/trainer. After graduating from college, my first salary was Rs 2,000.
My late father was so proud of me when I handed over my first salary to my mother.
He was financially struggling at the time and it felt really good to share some of his responsibilities.
I still remember him proudly telling his colleagues that 'my son has become a man.'
---
Saurabh Sood, 42 from Chandigarh who is now working with Infosys Limited shared his appointment letter: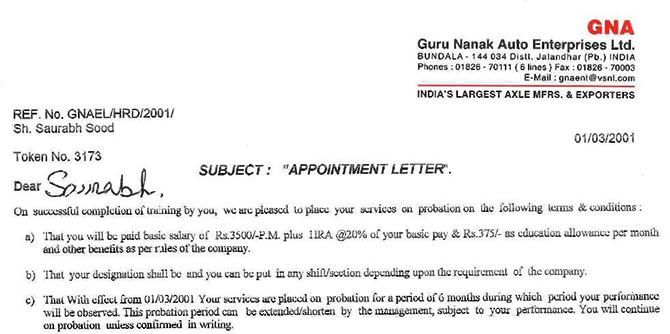 "My first salary was Rs 4,575 in 2001.
"I joined as a trainee engineer with GNA Enterprises Limited, Punjab.
"I spent my first salary for renovation of our newly owned flat.
---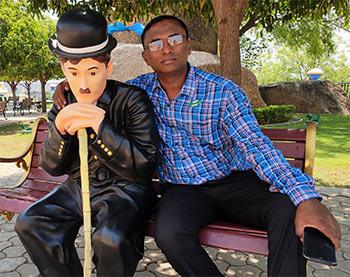 Harish Gandhewar, 49 from Chandrapur says:
"I started my career as an engineer in one of the private limited companies, an ancillary of Bhilai Steel Plant Bhilai for a salary of Rs 1,200 per month.
"I spent my first salary for my father and mother.
"I purchased a suit for my father and a sari for my mother.
"Looking at my work, my boss gave me an increment the following year. My salary was increased to Rs 1,800 per month.
"I worked there for 2.5 years. Then I joined a liquor manufacturing company near Raipur as maintenance engineer with salary of Rs 2,800 per month.
"I am currently working as manager incharge with a leading manufacturer of industrial gases in Vidarbha region of Nagpur."
---
Balaji P Mandal, 39 from Mumbai writes about his first salary:
"I worked as trainee scientist and received my first salary in September 2003. It was Rs 8,000.
"It meant a lot for me. I was puzzled as to what I can do with so much money. I bought a ticket for home and some chocolates for my brother and cousins.
"I bought Marlboro cigarette for my one of my uncles. My parents were too happy."
---
Padmakar Badgujar received his first salary in November 1996. He says:
"My first salary was Rs 1,800. I worked as a sales executive with Sterling Home Products selling dietary fibre.
"When I got my salary it was a DD couriered to me.
"I did not have an account in my name. It took 3 to 4 days time to open an account and get DD en-cashed."
---
Dear readers, do you remember what your first salary was?
When did you receive it? Which year was it?
Do you have a photograph of it?
What did it mean to you at the time?
Tell us all about it.
What was your first job and salary? And how did you spend it?
Did you buy a sari for your mum or a gift for your girl/boyfriend?
Write in to us at getahead@rediff.co.in (Subject line 'My First Salary') along with your NAME, AGE, LOCATION and photograph, if possible. We will publish the best responses right here on Rediff.com!