Ashish Narsale/Rediff.com tells you what you must keep in mind.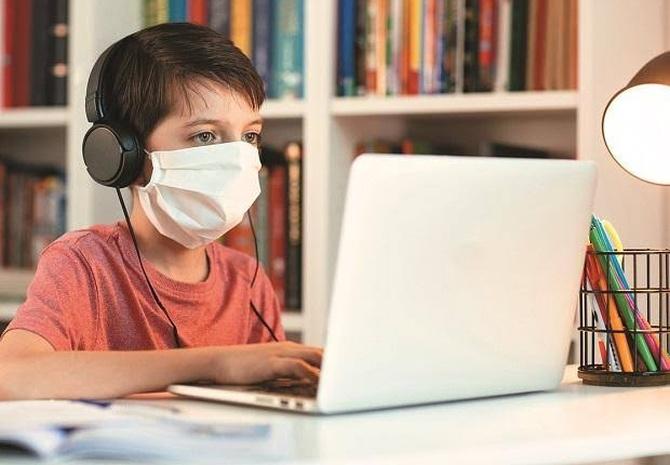 Educational institutions show no signs of reopening as the coronavirus's deadly grip across India and the world gets grimmer.
Students now can only go to school via laptops, mobile phones and tablets.
In a three-part series, we will help you choose the right device that your child needs for her/his studies.
In Part 1 today, we look at laptops.
Do remember, each device has its pros and cons; you need to choose the device that will best suit your budget and requirements.
Why choose a laptop?
If your child's school activity involves more of reading and typing, a laptop would be good choice.
Their bigger screen causes lesser strain on the eyes, compared to the smaller screen of a mobile phone.
The dedicated physical keyboard makes typing easier.
It also comes with more memory; a 1TB storage is standard.
Laptops come in various price ranges, depending on their configurations which indicate their efficiency.
Which is the ideal configuration for you?
Before finalising a laptop, you should check the three main components -- the processor, the RAM and storage.
Processor
A processor is the core of a laptop; it does all the computing when the input commands are fed.
You can choose a laptop that has a processor by Intel or AMD.
If your child is using the laptop for watching videos, Internet surfing, word processing and running online applications, then you should consider one that runs on the Intel Core i3 10th generation processor or the Intel Core i5 7th or 8th generation processor.
If that strains your budget, you can opt or laptops with the AMD Ryzen 3 processor.
These laptops cost between Rs 28,000 to Rs 40,000.
If you are looking for a laptop that can run photo or basic video editing applications, then look at those running on the Intel Core i5 10th generation processor or the AMD Ryzen 5 processor.
The price for these laptops ranges above Rs 40,000.
Even if two laptops have the same configuration, the price may vary due to additional premium features like a backlit keyboard, colour and form factor (weight and dimensions).
For example, Dell's Vastro series are basic laptops compared to Dell's premium Inspiron series, which are more expensive.
RAM
RAM refers to random access memory; as the name suggests, it is the temporary memory used to run applications and the OS.
A 4GB RAM is standard and is enough for basic tasks.
You can upgrade it to 8GB or higher later, if required. Do, however, check the specifications to know up to what extent you can upgrade the RAM.
Storage
This is where you store your files and folders (data), applications and the operating system.
Almost every laptop nowadays is equipped with a minimum of a 1TB hard disk drive.
The other storage option available is the SSDs or solid state drives; they are expensive but have faster read-write speeds that help the OS and applications to run faster.
You can consider a combination of 256GB SSD (for OS) + 1TB (for data storage). Or you could just go for a 256GB SSD and buy a 1TB external drive later if required.
More tips
Buy a laptop with a preinstalled licensed copy of the OS.
Make sure it is covered by the manufacturer's warranty. Buying an extended warranty for at least a year to three years is a good idea.
Buy and install a good antivirus to protect your laptop from viruses and hackers.
Before you actually buy a laptop, crosscheck branded websites with other ecommerce portals.
Nowadays, manufacturers give attractive offers like bundled Office Suites (Microsoft), OS (Microsoft Windows 10 home edition), extended warranty, accessories and bank offers for discounts and/or EMIs.
A little bit of research will ensure you find a good deal.
---
Want a phone that offers a great gaming experience but is not too expensive?
Or you need a phone with a great camera?
Ashish Narsale has the answers you need. Mail your gadget-related queries to getahead@rediff.co.in with the subjectline 'Ask Ashish'.
Do mention your name, age and where you are from.