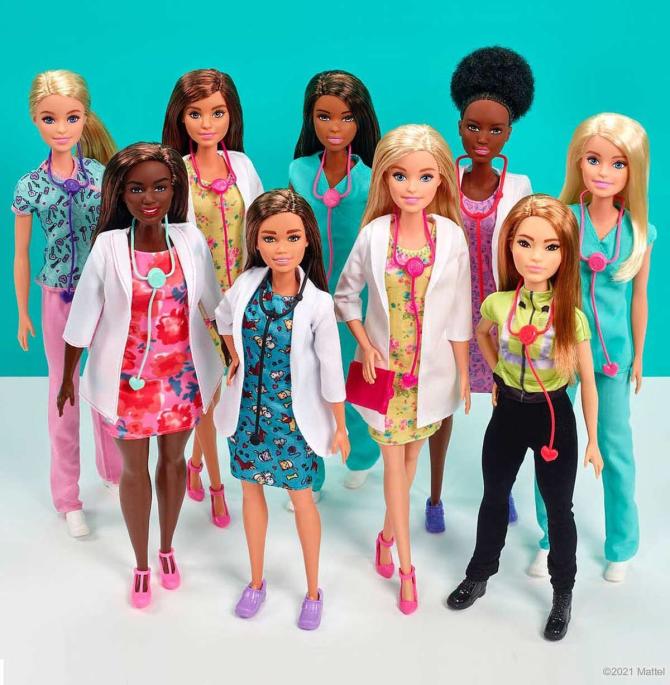 Wanting the next generation to celebrate women frontline workers, Barbie has unveiled it #ThankYouHeroes global doll series.
The collection features Barbie dolls dressed as paramedics, doctors and nurses.
Sharing a pic of the dolls on Barbie's official Instagram page, the company wrote: 'In a world of the unexpected, we can never have too many heroes.
'To everyone who continues to keep our communities and loved ones healthy and safe -- thank you!'
Barbie also honoured six frontline workers from around the world with a one-of-its kind dolls created in their likeness.
The dolls are meant to celebrate their achievements and inspire children to embrace a career in medicine or science.
Among the heroes who have been miniatured into new Barbie dolls are Dr Sarah Gilbert, professor of vaccinology who led the development of the University of Oxford vaccine in the UK; emergency room nurse Amy O'Sullivan, who treated the first COVID-19 patient in Brooklyn, New York; and Dr Audrey Sue Cruz of Las Vegas who is being recognised for her fight against anti-Asian bias and discrimination during the pandemic.
'Barbie is committed to lifting up role models who are making a positive impact during this challenging time,' the toy company shared on their social media page.
'From an ER nurse to a biomedical researcher and more, these heroes continue to rise up to serve their communities in this time of need and are inspiring current and future generations to follow their lead.'