She is inspired by Olympic medallist Ibtihaj Muhammad.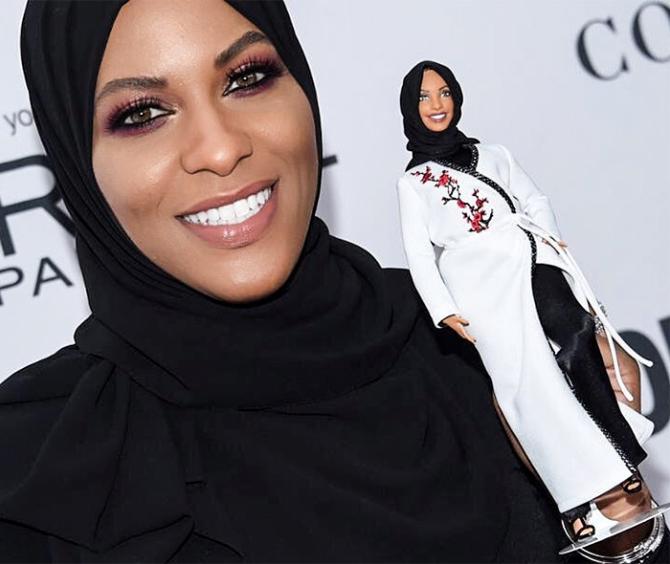 Last year, Ibtihaj Muhammad became the first American to compete in fencing at the Olympics in a hijab.
She has now inspired Mattel, the manufacturers of Barbie, to launch the first ever hijab-wearing Barbie doll.
The Barbie modelled after Muhammad, who won a bronze at the Rio Olympics, was unveiled at Glamour's Women of the Year Live Summit this week by the athlete herself.
Muhammad tweeted, 'I'm proud to know that little girls everywhere can now play with a Barbie who chooses to wear hijab!'
The Olympian worked with Mattel every step of the way in the design process.
She described the process to Billboard: 'I essentially worked with the team just in developing the content for the Barbie itself. So, my fencing uniform, what shoes I would wear.
'It was really important for me to tie in my own body type in the doll. I worked really closely with the team to make sure that it was close to my likeness. It's custom body made for me. I wanted the doll to have larger legs. I've always had larger legs, or that was what I was told as a kid, and I've grown to appreciate the size of my legs and the strength of my legs as an athlete so I wanted that to come through in my doll.
'I worked with them on the hair color, the hair length.
'I wear eyeliner even when I compete, a strong winged eyeliner, so that's a part of my doll.
'And working with the hijab. This is Barbie's first doll with a hijab so I'm really excited about that.'
The Barbie comes with fencing gear, modelled on Muhammad's fencing kit right down to the miniature mask and shoes.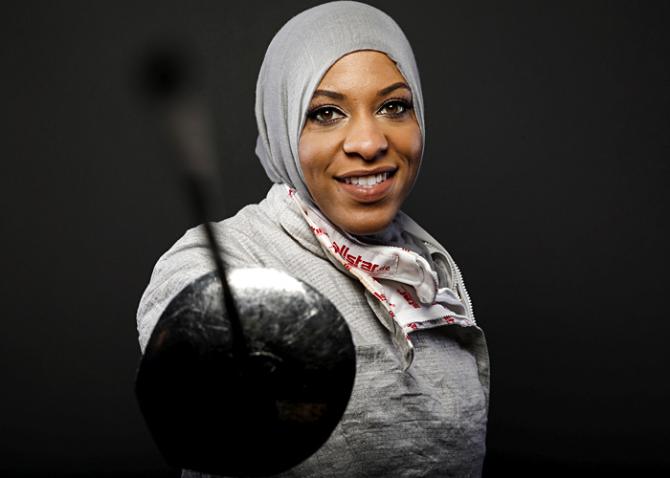 Ibtihaj Muhammad before the Olympics last year.
Photograph:

Lucy Nicholson/Reuters

.
Muhammad's doll is a part of the 'Shero' line of Barbie dolls, which also includes remarkable women.
Barbie dolls were often criticised for setting unrealistic body and fashion standards for small girls. Mattel tackled this issue with the 'Shero' line, a programme that celebrates boundary-breaking women intended to inspire the next generation.
Muhammad, who played with Barbies as a child but grew up in a time when dolls were not known for representing diversity, recognises the importance of representing the first-ever hijab-wearing doll.
She told People, 'I'm really excited to have this moment happen in my life and also for all these little girls now who can shop for Barbie doll that may look them, may wear a hijab like they do, or like their mom does, or like a friend does. But also have kids who aren't Muslim, who don't wear a hijab, to also have the opportunity to play with a doll that wears a hijab.
'It's cool to have Muslim girls in the conversation, to have African Americans as fencers is also really cool. I feel like we're just shattering all the little glass ceilings here.
Muhammad hopes that this is just the start of more inclusive representation in the doll market.
Her nomination for the the next Shero Barbie doll?
'I think it would be cool to have Malala have a Barbie doll. Her story line in general would be great to teach our kids today.'
The Ibtihaj Barbie will be released to the public in the fall of 2018.