Mumbai's break dancers pin their hopes on their passion to dance to get out of city's ghettos, reports Veer Arjun Singh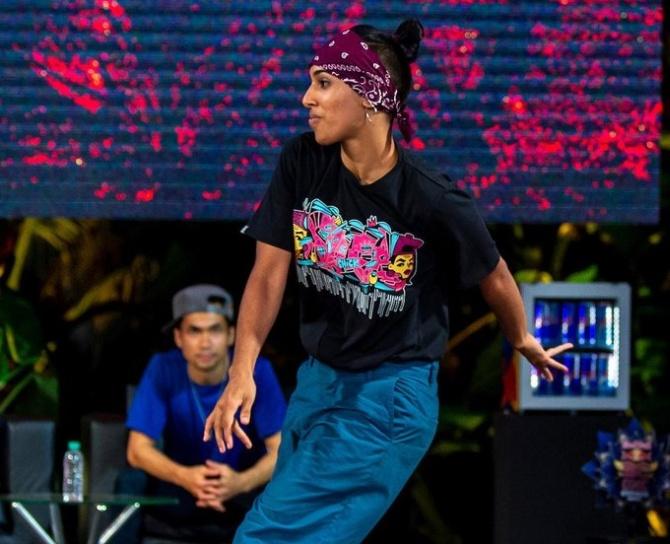 A white tank top off the street, a pair of blue denims of no particular provenance and raw power that could be mistaken for a violent streak, Ramesh Anand Yadav, 24, aka B-Boy Tornado, is straight out of the badlands of Mumbai.
He speaks of growing up in the slums, a social prison one can never leave, stained indelibly with opprobrium. "This area is blacklisted. Nobody wants to give you a job if you tell them where you are from," says Yadav.
His version of Mumbai is The Bronx, New York, of the 1980s, the birthplace of gangs, ghettos and hip hop.
Yadav talks about the violence that surrounds him in some detail. "Pehle main bhi yehi sab mein tha (I too was into all this earlier)," he says.
This was before he found work as a Dish TV technician, a job he quit six months ago, and before he was crowned a champion -- the winner of the India Cypher of the Red Bull BC One, the biggest one-on-one breaking battleground in the world.
He dominated Mumbai, won India and also qualified for the Last Chance Cypher, an event considered one rung below the BC One World Finals.
The latter has come to India for the first time this year in recognition of the country's expanding scene.
"Win or lose, I am not going back to fixing antennas, I will continue breaking for the rest of my life," he had told me before crashing out of the world title race against B-Boy Zip Rock from Russia.
Yadav earns little from training younger b-boys, sponsors are scarce and most of his crew members have jobs to support their families.
"One of them is a karigar (artisan) and one sells personal insurance," he says. His mentor, Wasim Ahmed, one of the first b-boys in the country, is still a carpenter.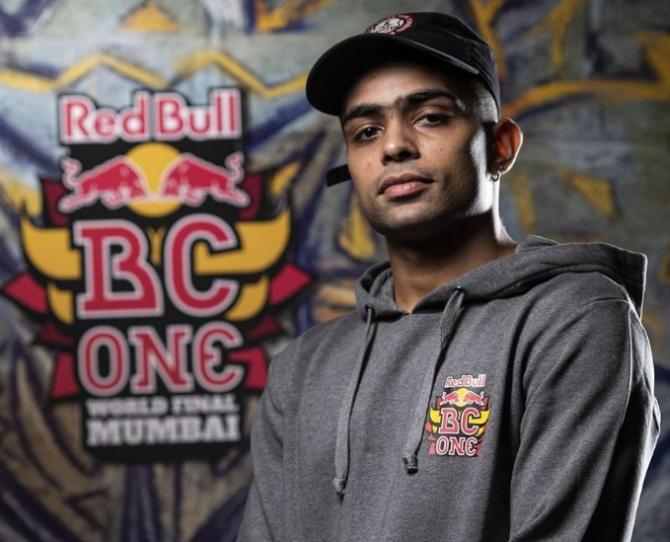 Yadav's father died some years ago. He lives with his mother, two elder brothers who are equally reluctant to find a job, and a younger sister who is still in school.
None of them came to watch him perform. "At least seven to eight b-boys were staying at my place who had come to support me from different cities.
But my family does not understand," says Yadav, who, despite his passion for the dance form, knows little about where to go from here. "I will save money and compete in b-boying tournaments internationally, whatever it takes."
"Tornado has some real talent," says Arif Chaudhary, 22, aka Flying Machine from Mumbai's western suburbs of Jogeshwari, the only man in India who has been there and done that and with remarkable consistency.
He had won the first ever India Cypher of the Red Bull BC One back in 2015 when he was 18, and then again in 2017 and 2018.
He qualified and competed at the Last Chance Cypher in Zurich, Switzerland, last year. And this year, he became the first Indian b-boy to get a wild card entry straight into the BC World Finals.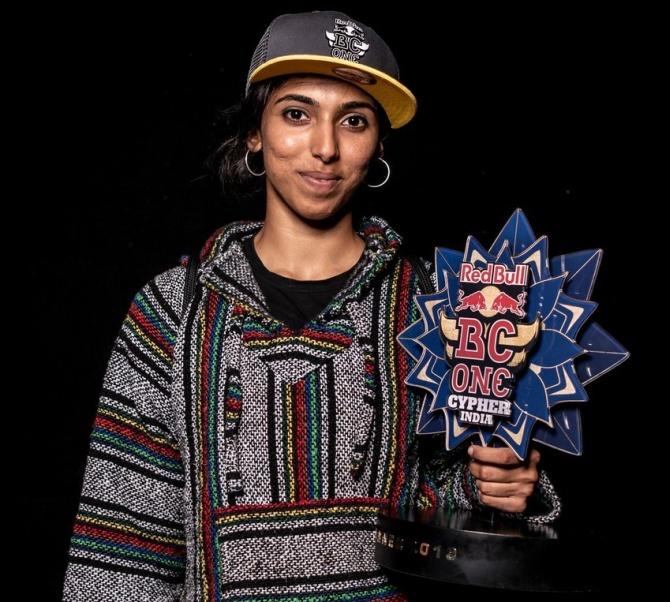 Yadav discovered street dancing at the age of 14 when a DJ played hip hop in his neighbourhood. He would spend hours on the street, trying to copy a b-boying crew who practised on the other side of a gutter that separated them.
Chaudhary was already a trained dancer by then. He started b-boying at 11 after seeing a video of the Red Bull BC One.
He followed international b-boying artists, watched them perform on YouTube and learned from them till he developed his own style.
Yadav says he does not watch b-boying videos and prefers to invent his own. Both are cut from the same cloth but tailor their moves very differently.
"It's a hard discipline and takes years of practice to learn. But it's also important how you present it to the world," says Chaudhary, who is working on a clothing line and his own music on the side while he travels for breaking jams and battles in India and abroad.
His family was never discouraging but only sceptical of a dance form that would have their son crack his bones on the street for dubious fame or money. And one that he would drop out of college for. "We are not that well to do, so all they want is a stable career for me," says Chaudhary.
The windmills and jackhammers that he adapts to his style come with no security on the streets in India.
Breaking is a prospective Olympic sport that the government does not recognise, promote or sponsor, yet. Some kids practise in studios, most others make do with empty parks, beaches and streets.
"Kids start as young as six these days. People only started recognising breaking after Red Bull BC One came to India for the first time (in 2015) and Flying Machine won the India Cypher," says Johanna Rodrigues, 23, aka B-Girl Joe, the woman who won the first-ever B-Girl India Cypher this year.
BC One has been slow to recognise the b-girl talent in India, but they are not entirely to blame.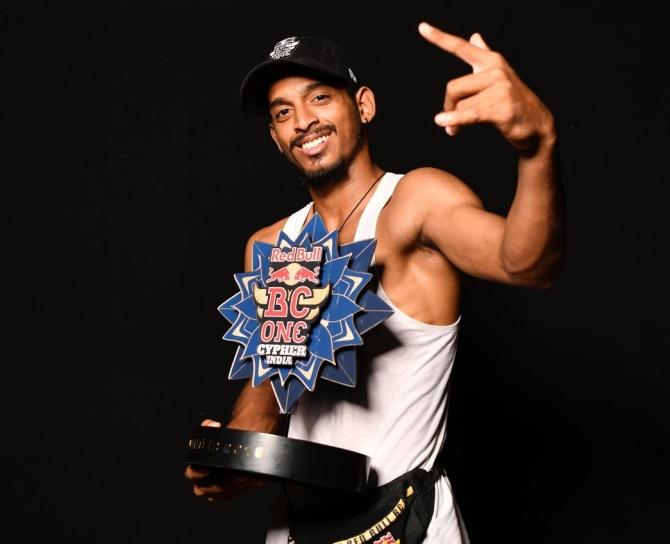 Women in India have been competing in jams and gender-neutral battles since 2013, right around the time this Bengaluru girl jumped into the fray.
"At Freeze, we would participate in mixed one-on-ones battles for the learning. There were no solo battles for b-girls back then," says Rodrigues.
The cool Bengaluru jam that people travel to today used to be held in a sweaty basement. She was 18, in Class 12 and already a bit of a dancer when she attended her first jam.
Her family valued her talents and pushed her towards contemporary. She chose to break with the established Black Ice Crew instead.
The rise of Indian b-girls continues, but slowly. From a handful in 2013, it's a close-knit group of about 40 today.
Perhaps only to be expected in a country that worries less about their talent and more about their marriage prospects.
"People often say to me, 'You are so thin, Joe, and what is it that you keep doing? Who will marry you like this?'" she says. Rodrigues has her own way of giving it back to them.
She breaks hard, but in her cool, expressive style and oozing confidence like she's got nothing to prove. Her signature mudras and freezes reveal the other facets of her life.
She fuses her breaking with the Bharata natyam she trained in as a child and the yoga that she teaches at her studio in Bengaluru.
Rodrigues is also more composed than the two starry-eyed boys with big dreams. She speaks slowly, choosing her words carefully and asks for a minute when she needs to think.
And she does not struggle to distinguish between passion and profession. "I'll be a b-girl for life. But I don't recommend leaving everything for breaking, at least not in the beginning," she says.
Now that the BC One is coming to a close, the three Indian stars who have helped put India on the breaking map have chosen their next battles.
Yadav is preparing for Europe, Chaudhary for Taiwan and Rodrigues for South Korea. They are going to keep moving.
Photographs: Kind courtesy RED BULL