HR guru Mayank Rautela provides a three-point plan.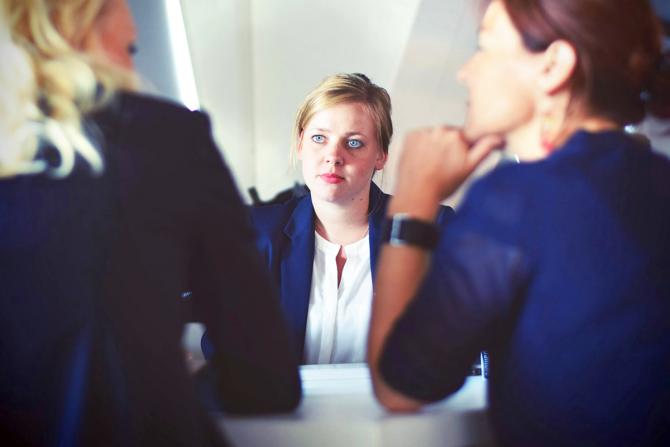 Dear reader, are you just starting out in your career and want to know the right steps you need to take?
Not sure how to prepare for your first interview? Or your first online interview?
Struggling with office politics? Or with working from home?
Have a bad boss? Or a colleague who is undermining you?
Nobody seems to listen to you at meetings?
Have you hit a dead-end at work and see no way out?
Send in your concerns to our HR guru Mayank Rautela at getahead@rediff.co.in. (Subject: Mayank, can you help?).
Hi Mayank,
Hope you are doing great.
I am Jitendranath, 45 years, from Hyderabad. I am writing this after reading your article on Rediff.
Basically I am a mechanical engineer having 20+ years of experience in the EPC (engineering, procurement and construction) and manufacturing industry in the procurement/SCM function.
I worked with companies like Fenner and Kirby in Hyderabad before moving to Thermax, Pune, where I worked for 6+ years. I then returned to Hyderabad with the intention of starting a small business.
But, even after four years, I couldn't succeed in establishing my business and lost all the capital. So I started searching for suitable positions.
I have had no success since the past two years as the EPC and manufacturing industry is itself struggling for several years (since 2012) from scams like coalgate, policy paralysis, demonetisation, GST and now COVID-19.
Even though there are a few jobs in the market, I may not be meeting their requirements.
Could you please help me?
How I should change and develop my skills to meet current and future demand so that I get a suitable job? I am the single source of income for my family of six.
Thanks and regards,
Jitendranath V
Hi Jitendranath.
I believe you have the right foundation to restart your corporate career.
You can plan that with these specific points:
1. With your background in EPC, and with the economy looking up, you can focus on infrastructure and the real estate industry.
2. You can also explore opportunities in international markets like the Middle East and Canada.
3. With 20 years of experience, you must continue to focus on managerial and leadership competencies.
All the best.
Sir,
I am still a fresher in the job market due to the lockdown.
I have failed to get selected in both online interviews as well as interviews I have personally attended.
I am feeling very demoralised.
Please share your valuable guidance.
With regards,
Mohit Dabra
B Tech (electrical), graduated in 2020 from YMCA Haryana
Applied for sales and marketing as a business development executive
Hi Mohit.
You are a qualified engineer, yet you are applying for sales and marketing roles. That's like a footballer wanting to get into the Ranji team.
Please focus on your core area of expertise and look for opportunities in the engineering field. In order to do so, you may have to supplement your skills with additional certificate programmes.
With global markets opening up, do keep your options open for international roles.
A master's degree in electrical engineering could also be a good option for you.
If sales is your area of interest, then focus on engineering product/services companies to make use of your educational background.
Dear Mayank,
I have been in the banking retail sector for 20 years and have been doing my private consultancy business for financial products since September 2019.
COVID has impacted me very badly as I have not been getting enough business since it started.
All my savings are exhausted.
Should I do a job again to make ends meet? There is age and package issue also (my age is 48 and my last package was Rs 12.50 lakhs).
Please suggest what I should do.
Regards,
Pradeep
Hi Pradeep.
Let me assure you that most of us have been impacted by COVID.
If you enjoy your consultancy business, continue with it and it will surely bounce back.
Else, banking as an industry will always be the backbone of the economy. If you equip yourself with the right skill sets, you can come back into the corporate world.
Dear Sir,
First of all, I would like to keep my question anonymous.
I am in Bengaluru and have completed my PGDM in marketing.
Immediately after I graduated, I got a marketing internship offer from a reputed FMCG company and worked there for six months.
But I failed to get any employment in marketing thereafter and had to satisfy myself with sales/operations in small companies despite my wish to be in the field of marketing.
Thus, for the past two years, I have been working in an edutech company with the hope that I can shift to my dream job in the FMCG sector in marketing.
Unfortunately, the COVID pandemic is going on and I am still continuing my job in the edutech company.
Can you suggest any way out so that I am able to grab my dream job?
Thanks and regards,
Name withheld on request.
Hi.
You seem to be missing out on what you have in life by regretting that you are not doing what you want to do.
Trust me, in today's world, there is nothing like a dream job.
Having just started your career, I don't think you should be fixated on an FMCG marketing job.
To be a successful marketing professional, you must have a long and intense sales stint and your experience in the edutech company will provide you with that. So hang in there and give it your best shot.
You are in a good place; make the most of it.
Dear Sir,
I got a job in mid-February 2020 in the UAE. All medical tests were done.
However, by mid-March, the COVID lockdown was announced by government of India, which resulted in the cancellation of the project. I came to know about this in November 2020.
My work experience has been abroad for 15 years and many employers are sceptical about employing me in India.
I started a tie-up of apparel business in September 2020 in the Mumbai region. But, due to COVID, no one is buying new apparels after Diwali.
I am into daily prayers, exercise and yoga but I am at times depressed due to the current pandemic and the slow economy. There have been numerous fights in my house due to no income.
I am seeking your necessary professional help to revive my career again.
What should I do?
Shivaram Viswanathan
Hi Shivaram.
Let me address your points one at a time.
1. If you have the right skill sets, most of the companies in India would be open to providing you job opportunities.
2. Spending levels in the market are bouncing back to normal and soon your apparel business will pick up. Hold on to that and do not exit in a hurry and make losses.
3. COVID has impacted most of us so please don't take out your frustration in arguments with your loved ones.
It's good to know that you are focusing on your health. Continue doing that and take care of your family. Shower them with your love.
---
Mayank Rautela is the chief human resources officer at Care Hospitals.
He is a management graduate from the Symbiosis Institute of Management Studies and holds a master's degree in labour laws from Pune University.
He has over two decades of experience in the field of general management, strategic human resources, global mergers and integrations and change management.
He has held various leadership positions across marquee companies, including the Piramal Group, the Tata Group and multinational healthcare organisations like CR Bard and Becton & Dickinson.
Send in your workplace concerns to Mayank Rautela at getahead@rediff.co.in. (Subject: Mayank, can you help?), along with your name, age, where you work (eg, Mumbai, Lucknow, Agartala) and job profile. Do let us know if you wish to keep your question anonymous.
Please Note: This is not a recruitment service. This column is an advisory.