In this weekly self-help series, mental health and life coach Anu Krishna tells you how to take control of your life.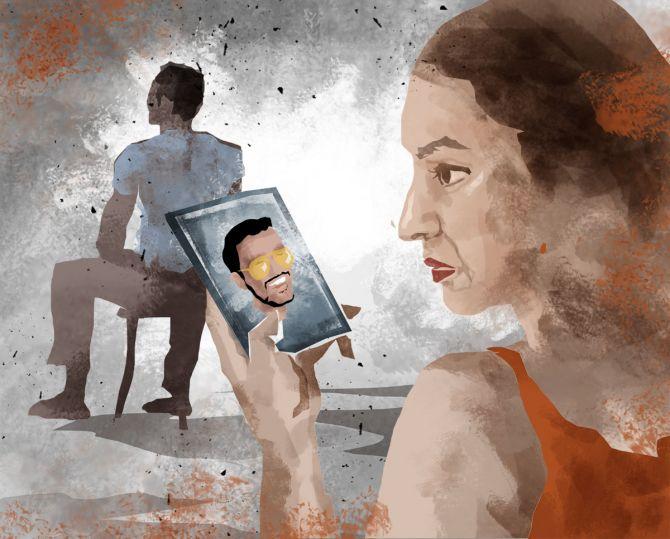 Is your relationship causing you stress?
Are you feeling lonely, helpless, indecisive?
You are not alone!
As part of an initiative to help Rediff readers, mind/life coach, NLP trainer and mental health guru Anu Krishna wants you to talk about your problems.
Every week, Anu will answer your queries, address your concerns and offer expert advice on how you can take control of your life.
Dear readers, if you have a question for Anu, please e-mail it to getahead@rediff.co.in (Subject: Ask ANU) for her advice.
Meanwhile, here's the unedited excerpt from Anu's latest offline session with readers:
---
JH: Hi I'm 40 yrs now and. I have a male friend of 23 years old we r good friends. I helped him financially and emotionally and take care of his house his expenses and he too is good but I love him as I have feelings for him but he is more into girls.
Initially I managed all his things but he is now into serious relationship with a girl and also wants to marry her but I'm unable to digest that.
I know he is right he is moving ahead in life but I'm struck there loving him and he also wants to make his career and be with me, go abroad.
We both want to plan to go together but I'm worried as will I tolerate him in all this aspects?
Will I see him happy with someone else whom he loves?
Should I ignore his relationship and focus on our friendship which is hard. Don't know what to do kindly suggest plz.
Dear JH,
Hang on! Let's get all the facts right here…
1. He loves you and you love him
2. You supported him financially and emotionally
3. He also wants to be with other girls
4. He is currently in a relationship with another girl and also claims that he will travel abroad
5. You both plan to be together
Did I get all the facts right?
Take a step back and just figure out if he is just missing a 'Mother Figure' in his life and if he is actually thinking of you as one.
That's what you will always be to him if that is the case. Watch how you are playing with your emotions here as whatever be the age, when a heart breaks, it really does break!
Ask yourself: What is it that I am getting from this relationship? Is it love, it is eliminating loneliness, is it validation OR is it you wanting to share love that you have?
These are not reasons enough to be with a person and lock your emotions with. The future is always unknown and uncertain but delve into your heart and simply ask: Do I really want to test the waters OR Do I create my life the way that I want on my own terms as a 40-year old who is complete charge of life? You will clearly get your answer.
All the best and create a beautiful life for yourself.
SS: Hi Anu Ji,
I am in a relationship with a guy from one year who is from a different state and different background.
I am from north and he is from South. As of now the relationship is perfect when we both are together but I am stressed about my future as this guy had warned me that future is very difficult due to family issues and all.
Our relationship also started on a very different note. We were close friends for a few years and then got close over a few incidents.
I have gone out all the way to put my efforts in the relation because it looked picture perfect what I was creating. He has given me no promises of the future telling things are very different in our state.
Earlier he used to ask me to be casual, but both of us know that my nature is not casual, he has apologised also feeling that he is wasting my time.
He also asked if I want to look for a proper marriage partner.. all his words show this and makes me scared that in future we will be separated.
On the contrary his actions are so sweet and romantic. Multiple times I thought I should think straight and leave but I guess I am too attached and so is he.
My parents keep on pushing for rishtas as I am in prime age to be married, and I am only delaying this because of this guy, what should I do?
Why are his actions and words not in sync. I have also informed my parents about him. If he is not willing to take it forward he should leave me and go na. Why should I initiate any breakup when I like my life with him.
Help me with ways to talk sense into this guy so that he has courage to take us up at his home and family.
Any guidance will be helpful. Please keep it anonymous.
Dear SS,
When his words and actions are not in sync, what exactly are you pushing for?
Are you hoping for him to see things your way? He seems to have made it clear that he wants this to be casual.
It could be one of two things:
1. He isn't ready for a commitment as of now
2. He isn't ready to stir the hornet's nest back at home and face the music
Either case, this is holding you up and your movement in life. Why do that?
Ask yourself:
How long do I want to wait for a strong commitment from him? After which, you most certainly must move ahead
Will he ever be able to convince his parents of this relationship? Now, if it's a NO, you know what to do
How fair is it to keep my life on hold for him? – If it's a NO, check what is this hold up costing you this very moment
Please have an honest discussion with him on how this is affecting you and what you exactly want.
Take a call based on his responses and his involvement in the discussion that concerns the future of your relationship.
Best wishes and take charge NOW.
BPH: Anu, I have been married for 3 years now, and things are not good between me and my wife.
We have a kid of 2 years, but my wife is angry with me. She went to her home for pregnancy and she is not ready to come back to our house. I am not able to convince her to get her back to our home. Even my in-laws are not doing any effort to convince her.
I spoke to her regarding is she really interested in continuing this relationship, but she is not ready to break this relationship.
I am fed up of this and don't know what to do. Please help me.
Dear BPH,
I have no clue what led to this breakdown in your marriage. Whatever the reason, I wish the two of you know what this is doing to the child.
I am not judging either of you but there is something that is keeping her away from coming back. Kindly involve a Marriage therapist or any expert who can step in.
She needs to know that moving on or leaving, one of that has to happen. At least, the mind can fathom how to manage either of the paths.
From the little information that you have given, this is what I can guide you with.
Speak with her about involving a marriage therapist or you appeal to her with love and compassion to start the discussion for the way ahead.
All the best and make a move on this soon.
SB: Dear Ma'am, I have been in a relationship since the last 4 years with a person 8 years older to me.
We're of different caste plus I'm still in my career building phase and I can't even think of taking it to the next level.
Also, since last few months the relationship has been a pain in my neck, it has been damaging my inner peace and equilibrium.
He leaves and then comes back, each time I'm firm that I won't resume it but I do love him more than anything else so we get back together.
In this entire process, I feel too exhausted now and the damage feels beyond repair. He's 31 already and his parents are forcing him for marriage now.
Considering the impracticable situations, I know he has already given up on us but continues to be around for the emotional comfort he gets from me.
He doesn't understand that it's damaging me, I can't run around in circles.
He thinks let's continue it till we can, but what after that? He'll suddenly tell me he's getting married and what then? What would I do with all the anger and dissent within? Everyone around me keeps telling me to leave him because of all these reasons. Also, I'm in my early 20s and I have an entire life in front of me, I want to build my career.
Also, I don't feel the need to see someone else just as a relapse or desperate situation, I'm a very conserved person that way. But I do need to break this toxic cycle and regain the control over my life. I want to grow and prosper, but this entire myriad of emotions drags me down..
Please tell me what to do? Thanking you in anticipation.
Dear SB,
What are you? His emotional sponge?
One thing I want to appeal to you is: Self-respect is something that we are so ready to give up for just a little love and attention. And the way you treat yourself is how others will treat you.
You are in your early 20s and you have an entire life in front of you and you want to build your career.
With the current space that you are in, do you feel you are choosing wisely to fulfil what you want from life and for yourself?
Also, are there other ways in which you can bring this relationship together. Like sitting him down and talking; maybe an elder in the family can do this.
If nothing works, remember, your life, your choice, your terms…nothing and no one can mess with your peace of mind unless you give them the permission to do so.
You want to prosper, then think and act in a manner that will allow you to prosperity and think of losing all that is keeping from feeling this prosperity.
Step up, take charge of your life NOW. All the best.
---
Disclaimer: All content and media herein is written and published online for informational purposes only. It is not a substitute for professional medical advice. It should not be relied on as your only source for advice.
Please always seek the guidance of your doctor or a qualified health professional with any questions you may have regarding your health or a medical condition. Do not ever disregard the advice of a medical professional, or delay in seeking it because of something you have read herein.
If you believe you may have a medical or mental health emergency, please call your doctor, go to the nearest hospital, or call emergency services or emergency helplines immediately. If you choose to rely on any information provided herein, you do so solely at your own risk.
Opinions expressed herein cannot necessarily provide advice to fit the exact specifics of the issues of the person requesting advice.
---