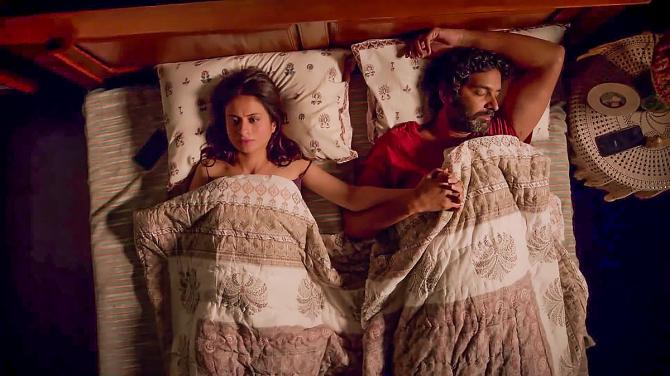 'My wife and I haven't had sex for many years.'
'I don't feel intimate with my partner after having a baby.'
These are some common questions asked by our readers.
Why do couples stop feeling intimate?
Is this normal? Or is it a sign that your marriage is on the rocks?
According to Anu Krishna, mental health expert and NLP (neuro linguistic programming) trainer, "Sex is not the only thing that matters in a relationship."
At the same time, the lack of physical intimacy could cause friction between couples.
In this edition of our self-help series, Anu explains why couples struggle to talk about their sex lives and what they can do to overcome their differences.
Interview: Divya Nair/Rediff.com
Videos: Rajesh Karkera/Rediff.com
It's exciting when you are in a new relationship.
Even if you have dated each other before, the courtship continues post-marriage because "there is a need to feel wanted".
Anu calls this "the peacock mentality", where both the husband and wife want and try to impress each other.
But as the days and months pass, we start to take our partner for granted. And that affects intimacy.
Anu explains some of the reasons why couples feel less intimate a few years into their marriage.
Why is physical intimacy so important among couples?
How is intimacy different from sex? Anu explains it beautifully in the video below
A lot of people begin to worry or get angry if the spouse doesn't meet his/her expectations in bed.
And the advice, even if it is well-meaning, one can get about improving one's sex life "could be subjective".
According to Anu, it's important to "keep a third person out of the relationship" and "enjoy the journey" instead of worrying about the destination.
"I feel less intimate with my spouse after having my baby."
This is another common concern among young couples post marriage.
Anu explains why men and women go through different emotions and thoughts post parenthood, how it gradually impacts the relationship and what you can do about it.
Coming soon, Part 2, in which Anu explains how lack of privacy and miscommunication between couples can affect their sex life.