In this series on unusual careers, we introduce you to people who've quit the 9-to-5 grind to find their passion and pursue interesting careers.
Today, meet Mumbai-based animal communicator Akshaya Kawle. She talks to pets and help find lost animals.
Akshaya shares some exciting stories and learnings from her professional journey.
I was born in a joint family and lived in a 2 BHK in Dadar (central Mumbai) with 16 people.
I would spend my free time with the cats and dogs in the society.
I have grown up watching madaaris (street artistes who perform with monkeys) and playing with pets and strays. I was always drawn towards animals and felt I could connect with them.
After completing my BA from St Xavier's College, Mumbai, and earning an MBA, I was placed at Larsen and Toubro in the human resources department.
I realised that I wasn't cut out for a 9-to-5 job so I began to train people in image management, corporate communication and soft skills.
I always wanted to work as a communicator, with a focus on non-verbal cues and soft skills; I even worked as a spoken English language teacher for some time before I became a corporate trainer.
How I became an animal communicator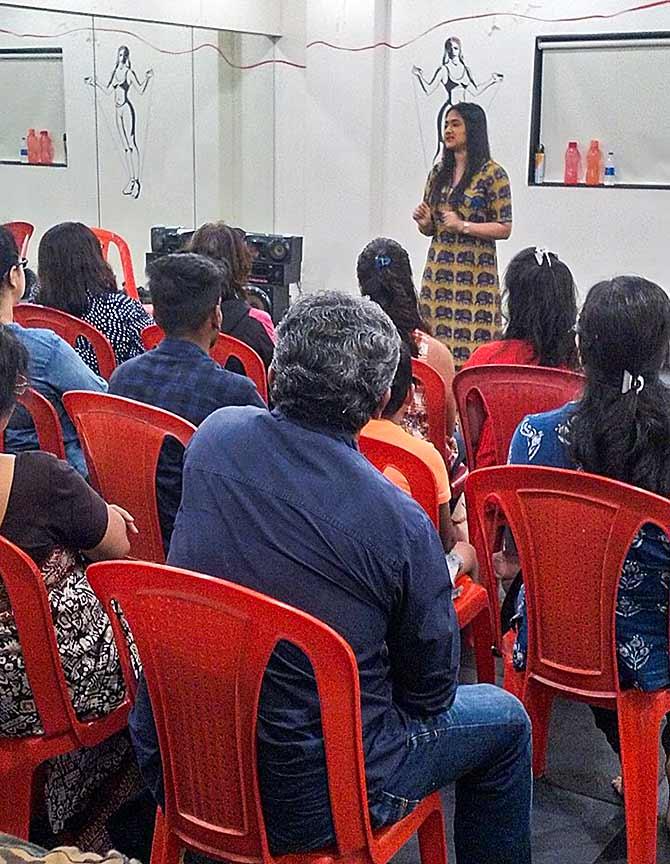 In 2014, I got married.
Post marriage, I took a sabbatical from work so I could explore something new.
That's when I saw this video by (South African inter-species communicator) Anna Breytenbach on YouTube.
She was invited to visit a black leopard that had been rescued and was now in a sanctuary.
The caretakers were worried because the animal was aggressive and wasn't responding to them.
In the video, which went viral, Anna enters the sanctuary and, within seconds, the black leopard responds to her. Everyone was surprised. I could really relate to that video.
I had heard about telepathy and that animals can communicate with humans, but this video made me research the topic.
I remembered a similar black cat with green eyes that refused to communicate with anyone and Anna's video took me back to the time I used to talk to the cat.
I used to often ask my mother where the cat was and tell her if it was uncomfortable or missing something.
My mother realised I had special skills; she encouraged me to pursue it professionally.
In 2017, I signed up for online courses in animal communication.
It required us to practise with pets of people you don't know, so you could have an unbiased learning and understanding.
I mostly worked for free at the time to gain experience.
I worked with rescue groups and helped find missing pets.
The people at the NGO I worked at would often say that I was their lucky charm because I was a natural at it.
In January 2018, I saw an ad for a workshop by (experiential learning and animal communicator) Manjiri Latey in Pune.
It was scheduled for March and cost Rs 11,800.
In order to pay for the course, I began charging for my services.
I started with Rs 500 for a session. Within two months, I made more than enough money to enroll for the workshop.
I signed up for it more out of interest.
Today, I get as many as 8-10 requests a day from different parts of India. I charge Rs 1,000 for a WhatsApp consultation and Rs 2,000 for an hour long phone consultation.
Interesting experiences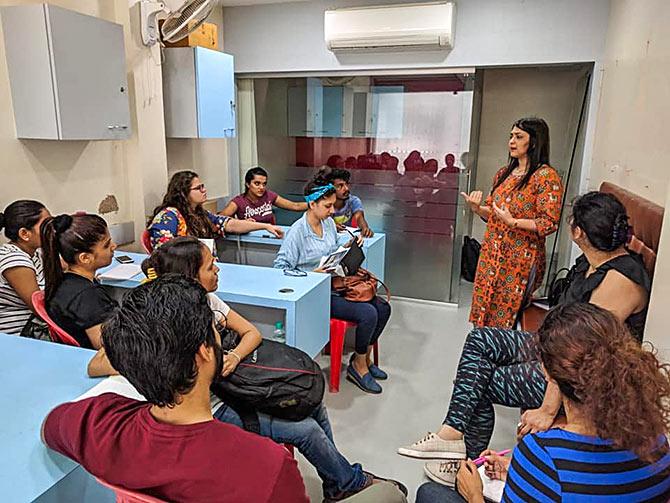 There are some incidents that are hard to believe.
For example, I remember communicating with this really old labrador. He was 13 at the time and had a tumour.
The owner was a girl and she called me because she couldn't see her dog in pain.
Her veterinary doctor had suggested she speak to me. When I interacted with the lab, he told me that he had physically detached himself from his body.
He wanted to tell his owner that he was not in pain any more. That he would go on his own, but only after celebrating his 14th birthday which fell on February 22.
He also told me that he was connected to the girl from his past life. That he was her sibling who had left her early.
When I shared this with the girl, she broke down. I had to console her before she told me how her 11-year-old brother had died 15 years ago. Her family got her this Labrador to make up for his absence.
I didn't realise it all then because I was just doing my job. But when I came home, I realised the depth of what I had done that day.
In another incident, the dog was being physically abused by his owner.
I asked him why he was suffering and he told me that he had a karmic connection with the owner. Even if we sent him away or rescued him against his will, he would come back to the person in some other form.
It was really difficult to understand.
I received a request from this woman whose dog would often get seizures. He'd jump as high as a foot or more when he got them; it was really painful to see.
When I sat down to talk, the dog wanted me to tell his owner not to give him any medication. The medications, he said, were stopping him from leaving his body. But he also admitted that he realised why she was doing it. She couldn't see him in pain so she would medicate him; it became a cycle.
I explained it to the owner but I know it isn't easy to see someone you love suffer in pain. It was for both of them to mutually decide what was going to be best for the pet.
I was invited by a lady who was experiencing problems with her cat. She said it wasn't responding to her.
After I saw her cat, I told her that it was upset that she had started smoking. She confessed that she had started smoking recently but refused to accept that the cat would have spotted it.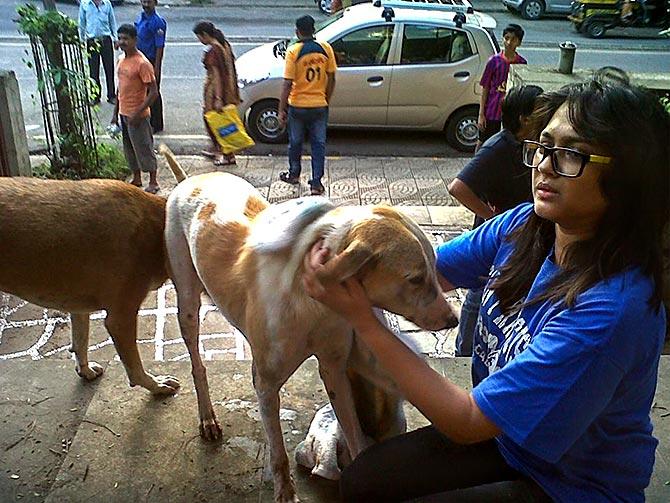 Career learnings
Every human being is born with this quality. After the age of 6-7, when we don't acknowledge or use it, it lies there in the subconscious state.
It's like the energy between a mother and a child. A mother can sense if the child is unhappy, uneasy or upset about something.
It's the same with animals. It is difficult for humans to accept that animals know everything about us.
The human ego believes that we are an evolved species. That is not true. Animals are very evolved and have a higher sense of perception and understanding.
For humans, death brings sadness. We cry when we lose someone close to us.
Animals, especially dogs, have accepted that life and death are part of a bigger cycle.
When they die, they know they are leaving this body and will enter a new form.
They may feel sad but don't experience pain about death like we do.
They understand that the body is a source of energy.
In science, we learn that energy cannot be created or destroyed. Animals realise that their energy will manifest and take another form in the journey forward.
Challenges of the profession
It is the human element that is more challenging.
When I share my feedback with people, they look at me as if I created it. They say things like, 'Aisa billi ne bola? Aise kaise (Did my cat say so? How is that possible)?'
Their instant reaction is to deny. As a communicator, it is not my job to convince them.
Whether they accept what I say, and change or reflect on it, is up to them.
Tips for aspirants
You have to be able to love and understand animals really well to be a good communicator.
Since it is telepathic communication, you need not be physically present. You can work from anywhere you want to.
If you are not sure, you can sign up for some workshops and try it on your own pets to see if you really have the skills before investing any money. Some people don't have any training but are naturally good at this; some others have attended several workshops but are unable to communicate.
Don't get into this profession simply for the sake of money. It is a service that cannot be equated with financial return.
Don't get emotionally involved with the animals. You have to be non-judgemental while communicating with them.
You can consult or follow international communicators like Maia Kincaid, Carol Gurney, Penelope Smith and Anna Breytenbach.
As told to Divya Nair/Rediff.com