At 27, India-born Uppma Virdi is telling stories, connecting cultures and making a killing out of chai.
Not just in Australia, but in the US and Canada as well.
How does she do it? Find out!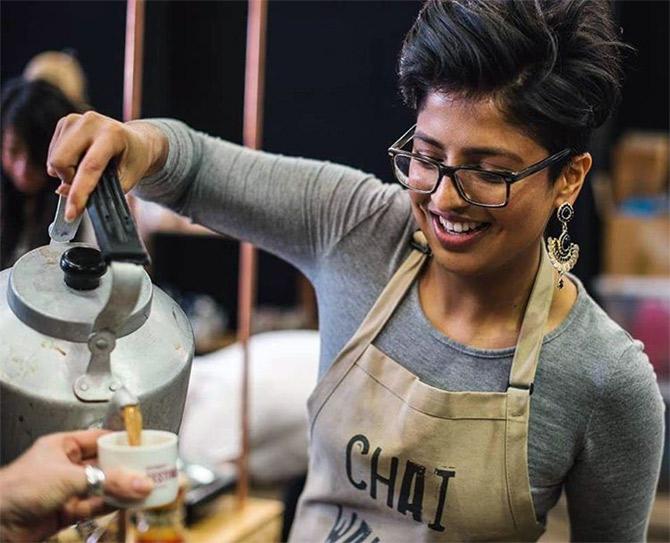 IMAGE: Uppma Virdi, founder, ChaiWalli
All photographs: Kind courtesy Uppma Virdi
How did a 20-something lawyer living and working in Australia think about chai as a business opportunity?
And that too, in a country as alien to tea as it is famous for its coffee!
Well, Uppma Virdi, now 27, took that "accidental" plunge some two years ago -- juggling between a lawyer in the day and moonlighting as a chaiwali after work.
Slowly, but steadily, she brewed a powerful success story out of it.
Her success rate? "200 per cent" she tells Rediff.com's Divya Nair.
Uppma was the toast of the Internet when her name was announced for the IABCA Business Woman of the Year Award 2016.
No points for guessing why her venture is called ChaiWalli.
The #BossLady (that's how she likes to call herself) from Australia tells us more about her journey and obsession for all things chai.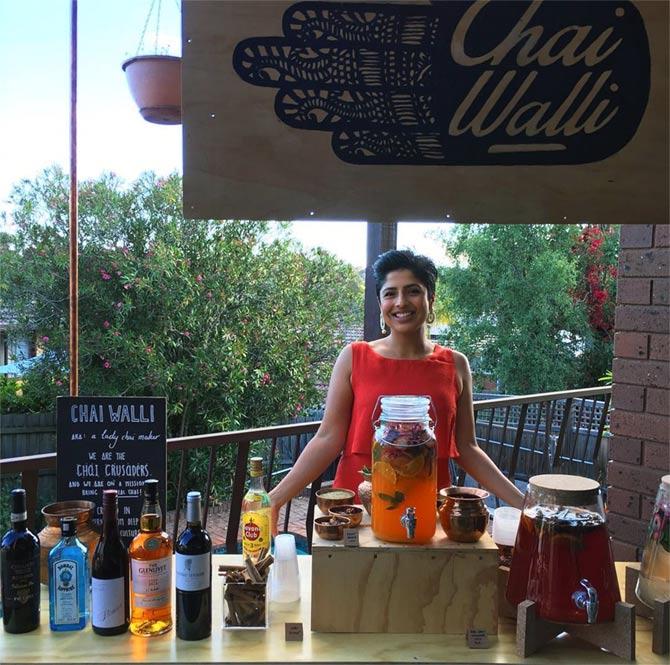 IMAGE: Uppma likes to blend herbs and spices to create multiple variants of tea.
She organises workshops to educate people on the benefits of tea and travels to India often to pick the right spices.
What does your name mean?
Wherever I go, people ask me this question thinking it's the name of some food (laughs). But it's not.
I am very fond of my dadaji (paternal grandfather) and so is he.
Between Mehma and Uppma, my dadaji picked the name Uppma for me. He told me, that in Sikh, Uppma means 'praise to God.'
From a lawyer to Chaiwalli -- why and how did the transition happen?
When I was growing up, I had suggested that I wanted to pursue philosophy. But my parents being parents insisted that I should focus on getting a more 'serious' and 'professional' degree.
That's how I took up law. All these years, I always felt there was something missing.
I found that connection in chai. Every sip would bring back memories of India, my dadaji...
When I started making chai for friends and people here in Australia, they'd tell me stories -- of how the aroma reminded them of their childhood, their mothers and took them back to their roots.
I felt that chai had the potential to connect people from across cultures and that's how Chaiwalli happened.
It was not planned at all. I'd like to call it an accidental business.
Tell us about your dadaji
My dadaji was too modern for his time. He used to make Ayurvedic tea and serve it to the people who came to him for help.
He mixed herbs and spices to cure vatha, pitha, kapha. He'd use a mortar and pestle to blend stuff.
Through him, I got educated on the different types of chai, which I am now using in my venture.
Was it difficult to break into a market that wasn't familiar to tea?
I won't say difficult, but each drink has its own merits and following. Coffee, for instance, has its own place.
I am not competing, I am creating my own space for chai lovers.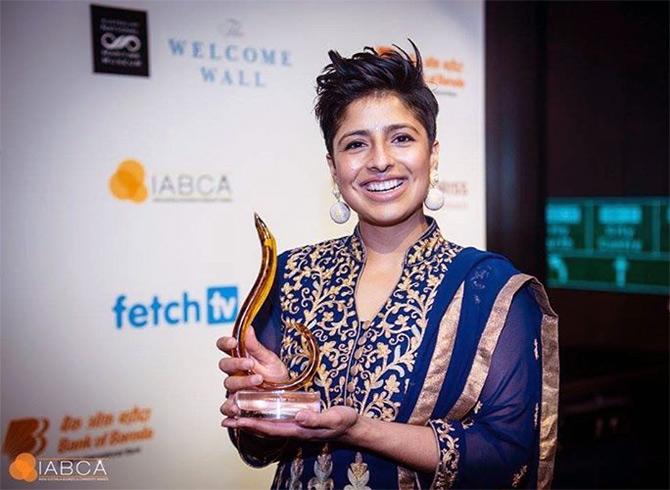 IMAGE: Uppma, IABCA Business Woman of the Year 2016.
Photograph: Kind courtesy IABCA
Were you expecting to win the (India Australia Business & Community Awards) IABCA Business Woman of the Year Award 2016?
Not at all. I was glad to be invited to the event, because I was hoping to interact with entrepreneurs and learn from them.
The organisers had told us to prepare speeches in advance, but I guess, I was least expecting to win, so I wasn't prepared at all.
I wasn't even carrying a piece of paper.
When my name was announced, I was shocked. I had to listen again to reassure that it was indeed me.
Everyone was congratulating me. I was too thrilled to win the award.
As for the speech, whatever I said came from the heart.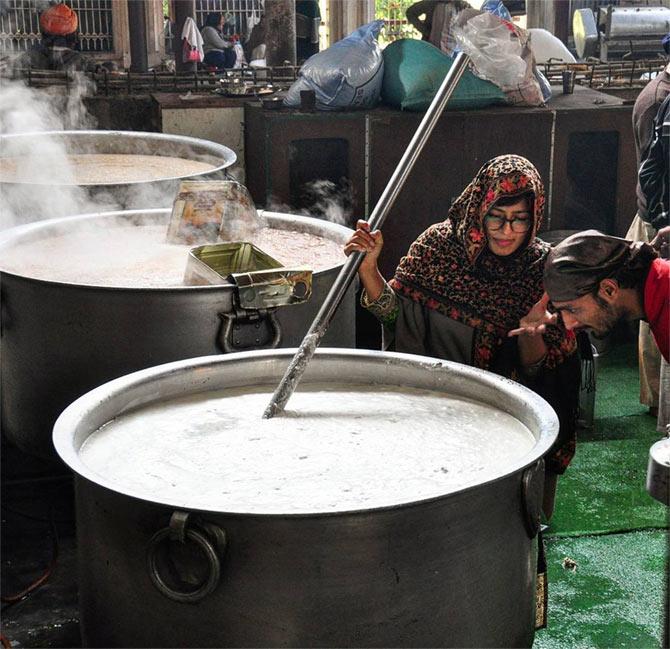 IMAGE: Uppma helping out at the Golden Temple, Amritsar, making 2,400 litres of tea.
Teams at Sikhism's holiest shrine serve about 100,000 cups of tea every day..
Has living in Australia changed you? How do you stay connected to India?
We migrated from Chandigarh when I was one. But I constantly travel to Delhi and South India to meet my folks and friends.
I also travel to India for work. After living in Australia for all years, I can proudly say that I have managed to strike a balance and bring out the best of both cultures in my life.
Have you ever dealt with racism or discrimination of any kind?
Not yet. And I believe that racism is misunderstood by most of us.
I believe that be it India, Australia or any other country in the world, you have to adapt to certain things when you live in a society.
I am not saying that you need to change yourself, but you must integrate your talent, embrace and acknowledge other cultures.
To my Indian friends too, I'd say, don't segregate yourselves as Tamilians, Punjabis or South Indians.
In my own life and career, I have used chai as an element to introduce and connect people to Indian culture, and I can proudly say that people are loving it.
How has been a lawyer helped you as an entrepreneur?
It has helped me immensely. I am currently working with a small team of people.
My experience and understanding of legal terms and clauses has helped me negotiate terms and make more profits.
Imagine, I also do my own trademark and save so much money :)
What challenges have you faced as a first generation entrepreneur?
Lots of learnings. I am learning everything from scratch. I spend a lot of time researching, procuring materials, negotiating with dealers.
Since we are a small team, one person does multiple things. I do the sourcing, tasting and pick the right spices.
I work with a team of three who look into research, marketing, packaging and social media.
There are other challenges too.
There was this one time, I remember I was carrying some herbs in my bag. At the airport, the customs officer asked 'Is it marijuana?' (laughs)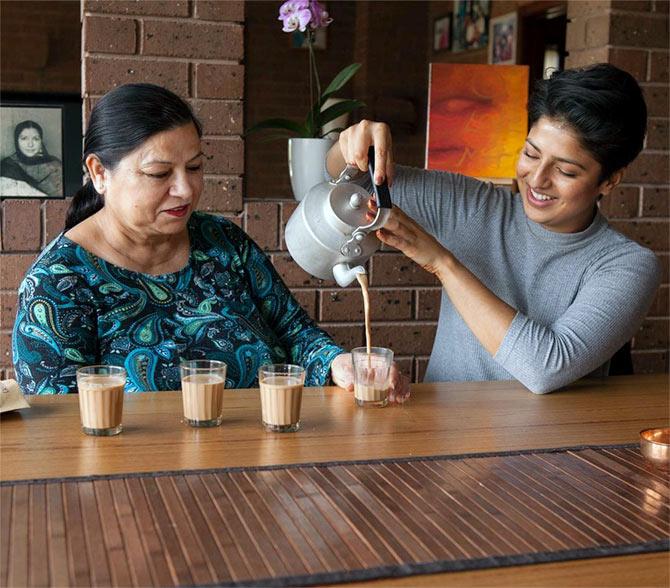 IMAGE: Uppma finds immense support in her mentor, her mother, also a chai lover.
Who inspires you?
My mother. She's been my mentor all along.
She had an arranged marriage and was determined to work even after marriage and kids.
In her younger days (in India), when girls her age discontinued education for marriage, she's worn jeans and rode motorbikes.
Even today, she works full time and encourages all women to pursue their careers and become independent.
She's a big influence on me.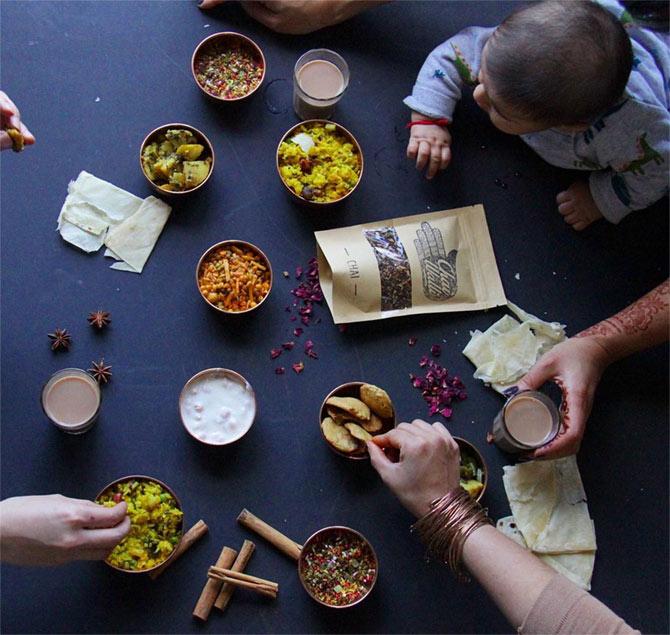 IMAGE: The entrepreneur feels that a well made cup of tea has potential to connect people and create memories.
What's next for ChaiWalli?
I look at ChaiWalli as a global project to unite chai lovers from across the world.
For instance, if you see a chaiwali -- which I believe is a rare sight -- I want you to take a picture of her and share it on our Facebook Page.
Through your portal, I'd like to appeal to passionate people who have interesting ideas to write to us and tell us how we can work together.
Your advice to aspiring entrepreneurs
The world needs more women entrepreneurs. I understand that a lot of people are hesitant to risk everything they have and start up.
I'd say, start small.
Understand the values of your business idea and have a goal in mind.
I worked on my project after work.
My work space was my kitchen and my first customers were my friends, colleagues and family.
It took time, hours of hard work, research and patience, but the results have been amazing.
Also, don't follow the crowd.
Don't take up something because everyone else is doing that.
Create your own unique path and make it successful.