Did you know that a food security officer in a leading company can earn upto $84,000 a year by just protecting data?
Nidhi Pant lists some new and interesting career options in the food and technology industry.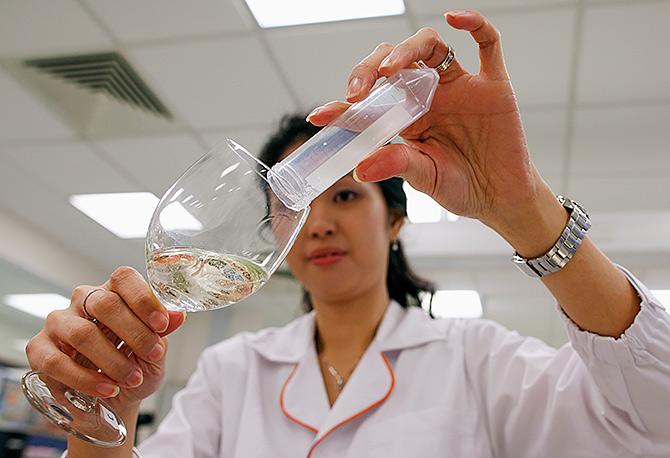 Photograph: Eggar Su/Reuters
About a decade ago, when science and technology were still evolving, career oriented students had very less options.
Now, with the remarkable changes and unthinkable discoveries not only have our lives become simpler, they have also opened avenues for aspirants in more than the ways one could imagine.
When we think of career opportunities in the field of science, we now have advanced learning subjects that are beyond the apparent ones such as engineering, architecture and medicine.
Similar to this is a vertical less experimented and even lesser talked about in the households today, i.e. food and technology.
For students aspiring to take up highly promising careers of the modern day, an industry as niche as this could be the best.
These are some emerging career options you can consider:
1. Data Science
Data exists in every part of your daily life -- from the things you buy at an online store to the accounts you pursue on Instagram.
Even the words you type in Google is all a part of Big Data.
Associations consider this information highly important since it helps them comprehend examples and patterns and settle for business choices as indicated by the inferences drawn from the data.
For instance, internet shopping stores process information from a huge number of clients to improve item suggestions.
Information Scientists, Big Data Engineers, Data Analysts, Data Managers are required to understand this information and discover patterns in it to empower basic leadership.
In a 2017 report, LinkedIn positioned Data Scientists and Big Data Engineers among the best developing occupations.
How to pursue it: A qualification in software engineering (BTech/BSc/BCA) will enable you to create a career in programming dialects such as Python, Java, Perl, and more.
Alongside that, you can take up accreditation in Business Analytics and Intelligence, Data Analytics and Data Science.
Remuneration: According to a 2018 report by Burtch Works' (a data science and analytics recruitment firm) study, an entry level data scientist can earn up to $95,000 a year.
2. Cyber Security
In 2017, a food app called Zomato confronted a noteworthy hacking attack where the information of 17 million clients was stolen.
In 2016, the password and member information of nearly 68 million Dropbox clients made circles on the Internet.
With organisations choosing cloud for storing all their information, they are more defenseless than ever in the history, owing it to the increasing risks to their cyber-security.
Consequently, Ethical Hacking, almost certainly, is a standout among the most requesting career choices of the present world.
An Ethical Hacker is a PC and system master who endeavours to enter an organisation's security framework to distinguish shortcomings in it.
They are quick and important in helping organisations enhance their Internet security.
How to pursue it: A foundation course in Computers is suggested. You can also take up certificate courses in Certified Ethical Hacker (CEH), Computer Hacking Forensic Investigator and Certified Security Analyst.
Remuneration: According to Glassdoor (a career site that reviews companies based on employee reviews and data), the median salary for a food security officer with a masters degree can go up to 84,000
3. Robotics
Amidst all the inventions and discoveries, what is going to stay permanent is the introduction of robots to mankind.
It is so apparent that even a not-at-all science fiction fan would know that 'Robots' are going to be a part of everything in future.
It won't be long before they become an essential part of our present day world.
Robots are already being utilised to perform medical procedures, computerise modern errands, research space, defuse bombs and perform assignments that are unreasonably risky for people.
Not simply this, progressions have rendered us with humanoid robots that can walk, talk, and express feelings like us (one such example is Sophia).
With the field of Robotics moving with such incredible power, there is a necessity of practitioners to manufacture and program them.
Robotics engineering require the information of mechanical designing, hardware building, PC programming, computerised reasoning, machine learning, neural systems and related territories to become a specialist.
How to pursue it: You can take up BTech in Mechanical/Electronics/Robotics Engineering, trailed by a Master's or an MTech Program in Robotics.
Remuneration: According to Payscale (a salary comparison and career site), a robotics engineer makes an average of $24 per hour.
4. Moral Police of Food Waste
Food wastage is regarded as unethical in a country where hunger and poverty are still a part of five-year sustainable goals.
When food dumped in landfills gets spoiled, it discharges ozone depleting substances.
Food wastage continues to bother governments and environmentalists since it is both ethically deplorable and to a great extent avoidable.
The target of the food surplus and waste manager is to stop this wastage and guarantee that the surplus food reaches to our general public who require it the most.
Those working in this department have to find ways to curb it at source and not let it escape and go to landfills where it could be hazardous for the environment.
How to pursue it: To establish a career in this area, a graduate degree in agriculture, horticulture, agronomy or any of the sub-fields of agribusiness is required.
Remuneration: A food waste manager, according to Glassdoor, earns approx $8 to $10 per hour.
5. Food Science Technician
A food science technician is commonly engaged with investigating, creating, and enhancing harvest and assembling forms.
Most researchers will in general work in an explicit region research about the production closely.
Depending upon your area of expertise, you could be deciding the nutritional content of items, inquiring about new ingredients, or implementing government initiated food regulations.
How to pursue it: To have a career as a food science technician, a bachelor's and post-graduate degree in food science, animal science or any of the sub-fields of agribusiness is required.
Remuneration: As per Payscale data, a food technician earns an average $46,000 annually.
Remember that innovation is taking place in almost every part of our lives. Food and agriculture is no exemption.
The dish on your table today can arrive fresher and quicker if you know how to put technology to use.
The right knowledge of technology in agribusiness will turn out to be perpetually mechanised in the decades ahead.
So, if you want to stay ahead of the race, be prepared.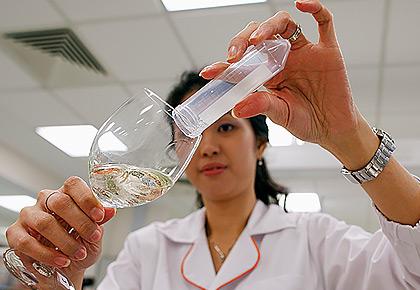 Lead image published for representational purposes only.
Nidhi Pant is co-founder, Science for Society-S4S Technologies, a food preservation company.