A mixologist is pretty much like a well-trained chef.
Gitika Saxena finds out how to make it from the top Indian mixologists.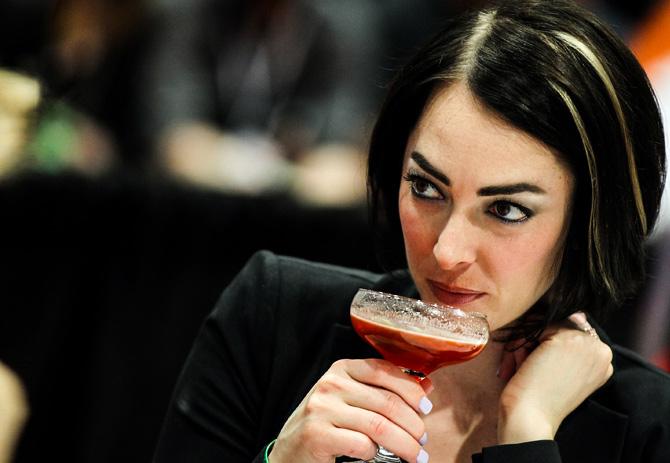 Leann Kruger, director of Mixology for Southern Wine & Spirits of Nevada, judges the Shake it Up! competition at the annual Nightclub & Bar Convention and Trade Show in Las Vegas.
Mixology is viewed as a combination of art and science.
Photograph: Isaac Brekken/Getty Images.
Cooking is an art for chefs, and when a mixologist readies a glass of drink to meet the customer's expectations and satiate his thirst, it's both art and science at play.
While one may think of preparing a drink as a cakewalk for a bartender, mixology involves a good chemistry of ingredients to dish out innovative and classic cocktails -- a masterpiece served in a glass, feel experts.
"It's a very eminent and skilled profession across the globe where one needs a lot of potential to make things happen; it's an art and science behind creating something new inside a glass," says New York-based mixologist Hemant Pathak.
A mixologist is pretty much like a well-trained chef.
Before any new creation, they look into the freshness of ingredients, inspiration, technique and of course a flavour combination, Pathak says.
Noted Mumbai-based mixologist Shatbhi Basu says professionals like her have to take into account an understanding of the heritage of products they work with and the nuances of various flavours.
"Speaking simply, when you see a cocktail that looks beautiful -- it's the art at play. The play of colours and contrasts, the elegant receptacle in which the drink lies. The nose and taste gives you the nuances of flavours," she says. "The temperature and texture is science at work with its knowledge of friction and heat, solutions and emulsions and, of course, the molecule that is alcohol!"
"The end result is a glass of liquid pleasure," adds Basu, who takes pride in her signature cocktails like Hazelnut Espresso Martini and Marmalede spiced Old Fashioned.
Pathak feels experimentation, when accepted, prompts creativity.
"The Indian palette has always been spice driven and we all know the history of spices. For centuries, foreign traders have come to India just to get access to these products, they even colonised us for it," he says, when asked what prompted the inclusion of Indian spices into cocktails.
Spice-infused cocktails had a lot to do with the Indian patrons appreciating new creations, thus prompting "me and others into the unchartered waters of mixology," he says, adding that this creations include a Jalapeno-Curry Cocktail and Blood Orange Sour.
For Basu, who is often referred to as the Queen of Mixology, every single day is an interesting experience.
"Every project brings new excitement and experiment as each one's ideology and cuisine experience is different. This pushes me and my team to explore further to bring out the best possible experience for customers," she says.
It was her passion for this "amazingly skillful part of beverage operations" that drove her to where she is today, says Basu, who has spent more than 35 years understanding and studying the skills of bartending and mixology.
She says the most important qualification that a mixologist needs is a passion for beverages.
Pathak, meanwhile, wants to see Indian mixology at par with global mixology.
"Everything that I observe and learn here, I try and take it back to India. Be it through coaching bartenders, writing articles, or conducting seminars," says the mixologist who has widely featured in the national and international media.
Basu says it is essential to grow into a great bartender before allowing oneself the luxury of being a mixologist.
"Go beyond the ordinary, deep into the underbelly of the spirited world. Emerge steeped in the hows and whys of every bottle that sits on the shelf. Respect every drop that goes into making your cocktail creation.
"Walk inside the minds of the customer. Understand and interpret his psyche. Then you can walk in the shoes of the mixologist," she says.