'Children should include their parents in the group health insurance cover provided by the employer at the earliest.'
'However, the elderly should not depend on it alone and should also buy a personal health cover,' suggests Sanjay Kumar Singh.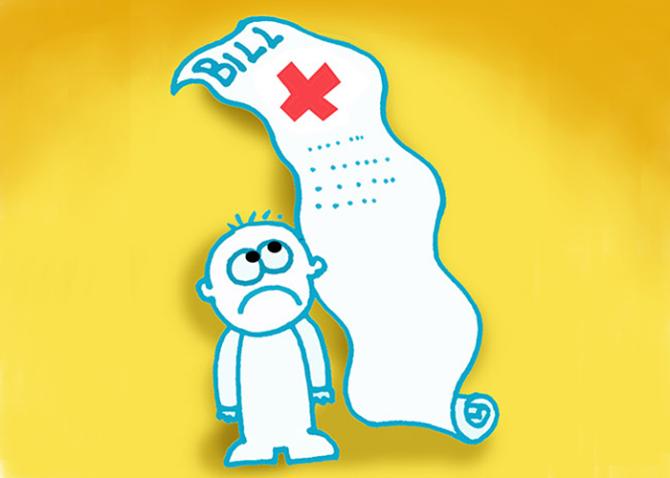 Health-related problems grow as one enters the sixties.
Senior citizens themselves, and their children need to plan for these needs.
The planning, in fact, needs to begin from the early fifties.
A recent survey by Aditya Birla Health Insurance reveals that parents and their children need to do much more to take care of the healthcare needs of the former.
Things become more difficult to handle within double-income families.
With children moving to other cities, or even abroad, often no one is present with the elderly parents when medical emergencies arise.
Create a health contingency fund
One should start building a health corpus from the early fifties.
"A systematic investment plan started in an equity fund 10 years before retirement should suffice to create a reasonably large corpus," says Renu Maheshwari, Sebi-registered investment advisor, and co-founder and principal advisor, Finscholarz Wealth Managers.
While it is difficult to state the exact amount that the corpus should have, Maheshwari says it should be sufficient to take care of any co-payment requirement in case of hospitalisation; outpatient department expenses for minor ailments; and commuting, travel and other ancillary expenses when a health event occurs.
She adds that adequate money should also be available to take care of payments that may have to be made to nursing staff, and also any additional help that may have to be hired to take care of other responsibilities while the primary caretaker attends to the patient.
The contingency fund, once created, should be kept in a mix of savings deposit, liquid funds, ultra-short-term debt funds and fixed deposits.
Add parents to employer's cover
The group health insurance cover provided by the employer is cost-effective.
It also covers pre-existing ailments from day one.
Children should include their parents in this cover at the earliest.
However, the elderly should not depend on it alone and should also buy a personal health cover.
"Many corporates don't offer a cover to parents any longer. Even if they do so now, they could remove it in future to cut their costs. These covers are also often inadequate as they don't usually exceed Rs 2-3 lakh. Moreover, if a person changes his job or starts his own business, his parents could lose this cover," says Amit Chhabra, head, health insurance, Policybazaar.com.
Many people also depend on group health policies purchased from banks.
"Here too the risk is that the bank could one day stop the plan or make it more expensive," says Chhabra.
Buy the right sum insured
Health insurance costs tend to rise with age.
Nonetheless, senior citizens should make sure they purchase adequate cover.
"How much sum insured you buy should depend on whether you live in a metro or a smaller town, the kind of lifestyle you are accustomed to, your present health condition, and your affordability," says Prasun Sikdar, MD & CEO, ManipalCigna Health Insurance.
Those living in a metro, or wanting a single room during hospitalisation, need to buy a higher cover.
The range for an elderly couple should be Rs 10 lakh to Rs 20 lakh, suggest experts.
Stricter norms apply to the elderly
By the time a couple enters the fifties, they should already have a health insurance cover.
If the sum insured on the cover is inadequate, they should hike it (or augment it with a super top-up policy).
After 60, buying a new policy, increasing the sum insured, or even buying a super top-up becomes more difficult.
"Typically, stricter underwriting rules apply once a person enters the sixties. A pre-policy medical check-up becomes mandatory," says Sikdar.
Those with pre-existing diseases may get turned down by insurers.
Nowadays, plans catering specifically to senior citizens have become available.
They cover people with pre-existing diseases, but come with a variety of limitations, which the insured should be aware of.
Watch out for co-payment clause
Co-payment means that a percentage of the claim, say, 10-30 per cent, will have to be paid by the insured.
Only the balance will be paid by the insurer.
Ideally, a policy should not have a co-payment clause, or customers should try to buy one in which the level of co-payment is minimal.
Be wary of sub-limits
Senior citizen plans may also have sub-limits or caps.
These could be condition-wise or benefit-wise.
The sub-limit could be a fixed amount or a percentage of the sum insured.
For instance, a policy may say that it will not pay above Rs 3 lakh for a heart-related ailment, or above Rs 25,000 for cataract.
A bill above these levels will have to be borne by the insured out of his own pocket.
Some policies may have sub-limits on room rents (say, one per cent of sum insured) or for ICU (say, two per cent).
Again, read the fine print and opt for a cover that has the least limitations.
What is the waiting period? Senior citizen policies typically come with two types of waiting periods.
The first is for pre-existing diseases, which varies from two to four years.
The second type of waiting period is for slow-growing diseases, like cancer, cataract and knee replacement.
This is typically for two years.
If within buying the policy the customer wants to, say, get cataract surgery done, the insurer will not pay the claim.
Again, buyers should understand the fine print and make the best choice from the options available.
Senior citizen covers: Available but expensive
Insurance Company
Plan Name
Annual premium (Rs)
Religare Health Insurance
Care Senior
39,374
Star Health Insurance
Senior Citizen Red Carpet
43,135
Aditya Birla Health Insurance
Activ Care Standard
55,598
Apollo Munich Health Insurance
Optima Restore
61,312
HDFC ErgoHealth
Suraksha Gold Smart
65,785
Premium rates are for a floater cover for male, 63, and spouse, 61, for sum insured of Rs. 10 lakh living in a metro. Source: www.policybazaar.com