While the steep rise in premiums is a definite worry, it is essential to look at the co-pay (percentage of the claim amount to be borne by the insured) conditions and the cap on room rent, suggests Sarbajeet K Sen.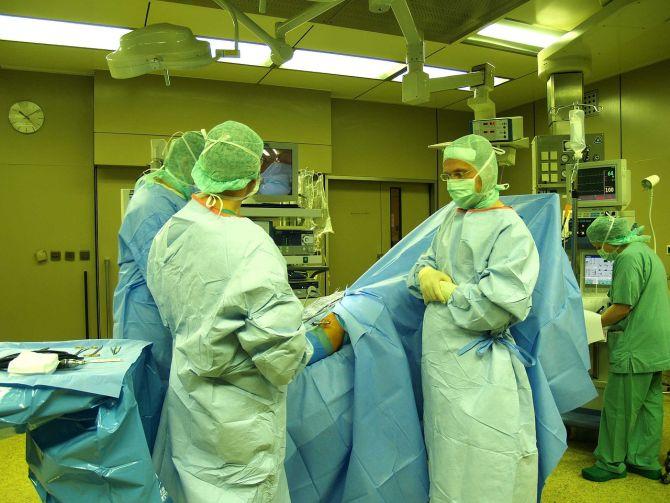 Healthcare costs have been going up consistently, and insurance companies have responded by increasing premiums.
In cases, where the employee and his family are covered under company insurance policy, many have gone on co-payment system for family members.
However, this is one insurance policy that no one can ignore.
It is a necessity, plain and simple.
So, whether one buys a family floater or a standalone one, adequate health insurance is a must.
The problem arises that many people, in their over-zealousness to get tax benefits or for some other reasons, end up loading up on all kinds of policies.
And suddenly they find themselves in a situation where the premiums begin to pinch.
Sometimes, even the products they have purchased turn out to be inadequate, and demand a review and possibly, a replacement of the existing product with something more suitable.
A look at some of these situations that should prompt you to have a relook at your health cover and the ways to de-risk yourself from the burden of future medical costs.
Steep rise in premiums
In recent times, the hike in health insurance premiums was especially significant in certain age brackets.
Senior citizens have seen their premiums go up substantially, often more than doubling in a short period.
Should such rise in premium prompt a rethink on the existing cover? "Normally, medical inflation grows at approximately 11-12 per cent annually, while on an average, insurers revise the premium once in three years.
"If the increase is within the 25 per cent range, it is reasonable, and the customer may continue with the same company," says S Prakash, joint, managing director, Star Health & Allied Insurance.

Biresh Giri, appointed actuary, head of product development & CRO, Acko General Insurance says that one should consider porting a policy if there are steep premium hikes.
"Most health insurance products are priced optimally to take into account risks of different age brackets. However, there are certain points of inflexion where the premium increases considerably. The insured should evaluate the product benefits before porting the policy because such premium hikes occur at higher age brackets where co-pay is introduced by companies to minimise price hike," he adds.
Top-up alternative will reduce costs
If the policy terms are going against you and you have a top-up cover, you can opt to discontinue the base policy while keeping the top-up policies.
With this, the larger expenses can be taken care of by the top-up plan at a relatively lower premium, while the person will have to bear the expenses that were covered by the base policy.
Lowering of co-pay and room rent caps
While the steep rise in premiums is a definite worry, it is essential to look at the co-pay (percentage of the claim amount to be borne by the insured) conditions and the cap on room rent.
Insurers have been introducing the co-pay condition for the elderly to reduce the claim outgo.
The net effect is that the insured end up getting less payout in case of claims.
For policies, which have run for a long period of time, the cap on room rent or other variables needs to be studied.
For example, you may have bought a policy with Rs 2 lakh sum insured with room rent capped at one per cent of the sum assured.
This may have been sufficient at the time of purchase, but not now.
You should either seek revision of room rent cap or opt for another policy.
"Inclusion of clauses like co-pay or limiting room rent is a good way of lowering premiums. However, for the insured this means additional financial burden during claims since limiting room rent increases the burden on the insured at the time of claims, in case a higher category of room is availed. Hence, it is advisable to go for policies without co-pay unless the insured has considerable amount of money," says Giri.
Critical illness cover to the rescue
You may also consider purchasing a critical illness cover or enhancing the existing cover.
"Life insurance companies offer critical illness plans, where a lump-sum is paid to the insured on diagnosis of specified critical illnesses. This helps in taking care of expenses not covered under health insurance. Senior citizens must have a critical illness cover in their insurance portfolio to ensure that their savings are not eroded during a medical emergency in their golden years," says Tarun Chugh, MD & CEO, Bajaj Allianz Life Insurance.
Disease-based caps can create problems for the elderly
This becomes a serious issue as you age.
Complications arising out of a health condition may make you stay in a hospital for a longer period of time than the average patient of a much younger age.
In such circumstances, disease-based caps can be detrimental for your interest.
It is better to either shift to some other plan offering higher cap or to one having no cap at all.
Build own medical corpus: While having a health insurance cover is essential, you should also try to build a separate medical corpus of your own at an early age.
This fund will supplement your medical treatment costs at a later stage in life.