What are the various insurance covers in your portfolio?
Are they adequate to protect you and your dear ones in the event of your demise?
Sarabjeet K Sen explains what you need to know.
Illustration: Uttam Ghosh/Rediff.com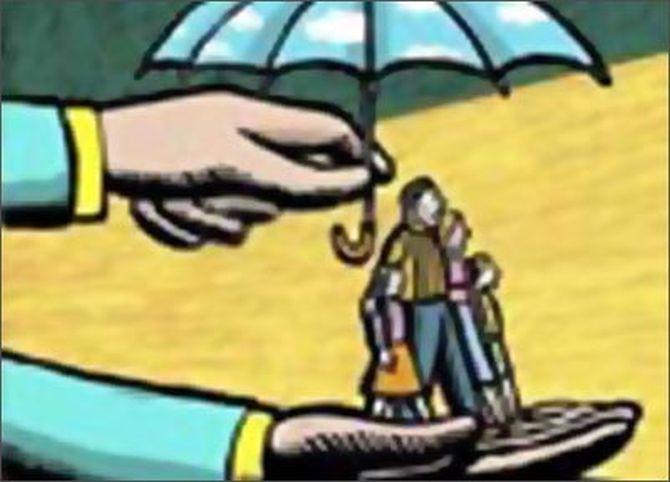 If you approach a financial planner seeking advice on your finances or to review your existing financial plan, one of the first things to figure would be the extent to which you are protected against risks.
So, the obvious questions would be: What are the various insurance covers in your portfolio?
Are they adequate to protect you and your dear ones in the event of your demise?
Have you missed out on any of the insurance covers -- be it life or non-life -- that each of us must have in our financial portfolio?
For many people, insurance may appear to be a financial commitment that can be postponed to a later date.
The regular premiums that you need to pay may appear to be burdensome and avoidable.
However, having adequate insurance protection against the exigencies of life may be one of the wisest decisions you can take for a financially secure future.
Of course, it does not mean that all covers need to be bought.
The two most important ones are health cover and life cover, preferably term insurance.
In general, a base health cover of Rs 500,000, and Rs 15 lakh top-up or a super top-up from another insurer should be sufficient.
The cover can be increased as one ages since the possibility of higher medical expenses become more likely.
Similarly, a life cover with a sum assured of 10 times of your annual income should be the minimum one should consider.
Thus, if one is earning an annual salary of Rs 500,000, the minimum life cover should be of Rs 50 lakh.
"A person should have a healthy mix of life insurance policies. The most important of this is a term insurance plan, which is pure protection," says Rahul Agarwal, CEO, Ideal Insurance Brokers.
"After having purchased a term plan with enough sum assured," adds Agarwal, "one can consider buying an endowment plan for the savings element involved."
"A small exposure to ULIPs for the long term can get good returns," points out Agarwal.
Besides these two important ones, there are some more that you should have. These include:
Child insurance plans:
Once a family expands with children coming into one's life, parents should consider purchasing child plans.
These plans invest for the higher education of the child and help build a large corpus over time.
With the rising cost of education, setting aside a sum for purchasing a plan for each child will come handy for future.
A premium waiver option that triggers off in case of untimely demise of earning parent will be of great help to the child when the payout happens at age 18.
Pension plan:
The earlier you plan for your retirement years, the better.
Pension plans of insurance companies provide a good option to create a stream of income during retirement years.
"A person should have an investment in a pension to secure her/his post-retirement life," says Naval Goel, CEO, PolicyX.com. "During the golden years of life, a pension/retirement plan is a must so that you can enjoy every moment of that golden period."
Home Insurance:
If you have bought a home, which would be one of your largest single investments in life, do protect it by buying insurance protection.
Buying home insurance would ensure that in case of an untimely demise, your near ones are not left in the lurch and can pay off the home loan through the insurance cover.