The Alibaba tycoon is all about Love Quotient, not IQ or EQ.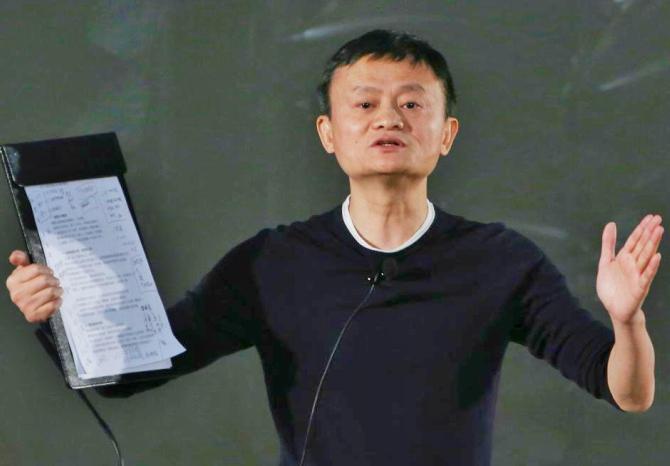 Photograph: Reuters
The story of Jack Ma, the founder of Chinese e-commerce giant Alibaba, is the kind of rags-to-riches tale usually reserved for books and films.
He grew up poor, failed exams, got rejected for many jobs. But today he is worth about $29 million.
jack Ma revealed his key to success at this year's World Economic Forum summit in Davos.
He said, 'To gain success a person will need high EQ; if you don't want to lose quickly you will need a high IQ, and if you want to be respected you need high LQ -- the IQ of love.'
It is a point that Ma has made earlier too.
At the Bloomberg Global Business Forum last year, he had explained LQ as 'the quotient of love, which machines never have.'
While in Davos, Jack Ma spoke at length on various topics, 'delivering a stream of perspectives and guidance' according to the WEF. The highlights:
Learning from failure
'Learn from your mistakes -- no matter how smart you are you will learn from them. We must share the mistakes with others.'
'My thinking is that if you want to be successful, learn from the other peoples' mistakes, don't learn from success stories. The book I want to write is 'Alibaba: 1,001 Mistakes'.
Value of teamwork
'You don't need to know a lot of things, but you need to find the people who are smarter than you are. My job is to make sure smart people are working together.'
'The best way to promote your company is through your product or services, or employees.'
Education challenge
'A teacher should learn all the time; a teacher should share all the time. Education is a big challenge now -- if we do not change the way we teach, 30 years later we will be in trouble.
'We cannot teach our kids to compete with the machines who are smarter -- we have to teach our kids something unique. In this way, 30 years later, kids will have a chance.'
Women in business
'If you want your company to be successful; if you want your company to operate with wisdom, with care, then women are the best. 37 per cent of senior management in Alibaba are women. Part of the "secret sauce" of our success is because we have so many women colleagues.'
Future of globalization
'I think globalization cannot be stopped -- no-one can stop globalization, no-one can stop trade. If trade stops, the world stops. Trade is the way to dissolve the war not cause the war.'
'Global trade must be simple and modernised; it must be inclusive so everyone has the same opportunity. The next generation of globalisation must be inclusive.'
Recommended for you
The AI debate: Sundar Pichai vs Jack Ma