It is changing the lives of students who show the potential to shine academically but are likely to drop out due to economic compulsions.
Anjuli Bhargava reports.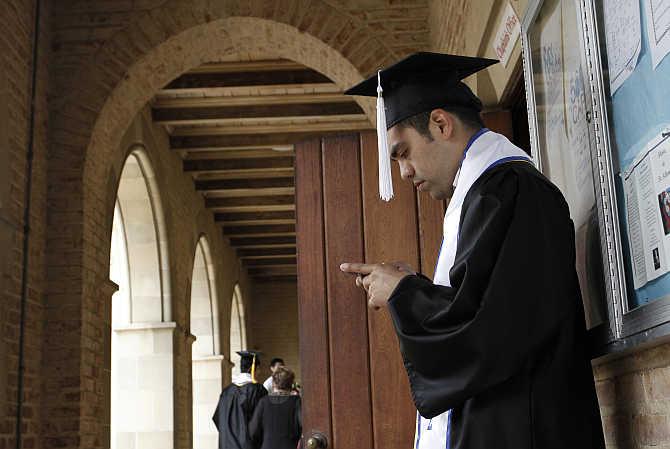 Sometimes as early as 13, life can feel not worth living.
Ajay Kumar was in the eight standard in a Kannada medium local government school in Bengaluru when his father deserted the family of four.
His mother was in hospital undergoing a surgery and his 10-year-old sister hadn't grasped the dire straits the family found themselves in.
To Kumar however -- despite the fact that he was only a child -- life seemed hopeless.
To ensure that his family survives, he started working in a local dhaba, cleaning tables and washing utensils.
He took on as many jobs as he got and could physically manage to feed himself and his family while studying for his Class 10.
Despite not being able to devote much time to his studies, he managed 84 per cent, the highest marks in his school.
After the 10th, he thought he'd leave school and start doing any jobs he came by as his family's needs were paramount.
Just as he was resigning himself to the drudgery of earning three square meals, Sunita Abraham, an associate with EY's foundation in Bengaluru, turned up at his house.
She said he should not give up at this stage and EY would bear the cost for his further studies although he'd still have to work to support his family of three.
On that assurance, Kumar finished his schooling and joined a three-year diploma course in computer science at a polytechnic in the city.
His fees, books and any courses he needed to improve his English skills were financed by EY.
Abraham was always available for any mentoring he needed and she worked to help him develop soft skills.
"Above all, those from my background and similar set ups are very scared to speak in front of others due to lack of facility with English, lack of confidence and the fear of being mocked," explains Kumar.
But after he finished his diploma, he didn't get a job.
Like millions of other youngsters in India, he found his qualifications didn't count for much.
Dejected, Kumar began to mentally prepare himself to eke out a living doing menial jobs.
Again, it was Abraham who sought him out, mentored him and argued that since he'd come so far, he could go a bit further.
She said that he should explore backing up his diploma with an engineering degree, specialising in computer sciences.
EY would continue to finance his studies.
Kumar heeded her counsel and spent the next four years pursuing his degree even as he continued to do all odd jobs that came his way to support his mother and sister.
Life was not easy, juggling his studies with the continuous pressure of trying to make ends meet, but Kumar didn't give up.
The jobs he did he disliked -- as would anyone -- but they helped feed his family.
After finishing his degree however, a job with a company still proved elusive.
He had two qualifications under his belt but still ended up as a security guard.
Eventually, however, life did take a turn for the better.
He landed a job with Mindtree as a software engineer at an annual package of Rs 3.2 lakh, a game changer for him and his family.
He worked there for five years, slowly progressing both in terms of learning and earning.
From the possibility of cleaning tables and utensils for a lifetime, Kumar's life trajectory had now reached an altogether unimaginable path.
Kumar's story is just one of the 10,000-odd turnaround stories that the EY scholarship programme has been able to produce since 2007.
The scholarship is offered to students of government and aided schools, many of who are likely to drop out of higher studies due to economic compulsions but demonstrate the potential to shine academically with support.
The programme is now runs in Hyderabad, Bengaluru, Mumbai, Pune, Kolkata and Chennai.
What makes the scholarship unique is the extent of hand holding that is offered.
Through the five-to-six-year period, the team and 500-odd mentors work closely with the students to make them into fully functional individuals, ready for the job market.
"Few appreciate the fact that the gap these children need to overcome is not just financial," says Sridhar Iyer, who heads EY's foundation in Gurugram and has designed and spearheaded this scholarship from inception.
The primary message that the EY programme tries to inculcate in the students it supports is to give back to society in whatever way they can.
Abraham says that of all the students she's worked with, the most gratifying are the ones like Kumar who keep her informed on their progress and give back in whatever way possible.
She lists a series of actions of his over the last several years with pride.
Kumar, now 27, has moved from MindTree to another IT firm in Bangalore where he works in cloud research and development, earns over Rs 15 lakh annually, something he and his family could never have imagined.
He's constructed a three storied house and one of the floors is used by his sister -- who has earned a B Ed degree along the way -- to give free lessons to children of the neighbourhood, another way of giving back.
Every time he gets a promotion or something good happens to him, he informs Abraham who, he feels, dropped like an angel from heaven in his life.
And if the ease with which he tells his story to this writer is anything to go by, he's crossed many bridges when it comes to confidence.
From a dhaba worker to a security guard to an IT engineer focused on the cloud, Kumar's journey has been the stuff of dreams.
Do you know someone who has helped the economically disadvantaged? SHARE their story in the message board below.
*Image used for representational purposes only.