'We want to be in kids' learning like what Disney is to kids' entertainment.'
When Byju's raised a whopping $540 million in a fund raising round, it became the world's highest-valued edtech company.
Now, it is close to launching a new product in the kids learning segment globally.
"We want to become that company in education across the world which will change the way students learn," Byju Raveendran, founder and CEO, Byju's, tells Rediff.com's Shobha Warrier in this exclusive interview.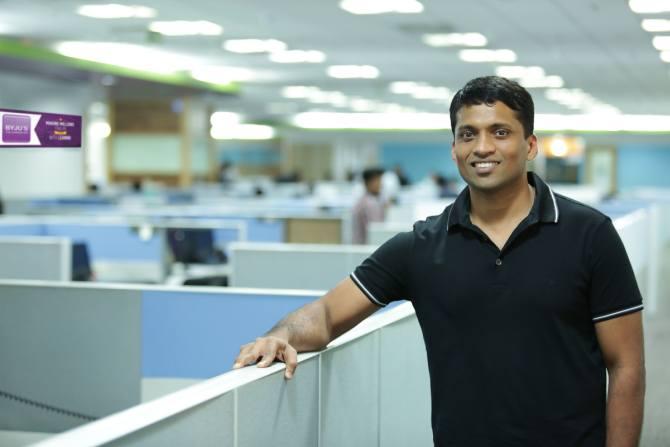 Last time when we spoke, you had said that money was not important for you. But money has been pouring in to Byju's. You are described as a billionaire and Byju's as the largest edtech company in the world...
What I said was, money was not important to me personally. It was a personal comment. But for the growth and aspiration of the company, money is important and we are using it well.
Not only me, but the whole top management is driven by passion. All the people who are there from inception in 2011 are still with me and that is a validation that we are mission-driven.
It is easy to make the company mission-driven because we are in education.
Education is close to every Indian. So, it is easy to attract top talent. Yes, attracting top talent is one thing, but making sure that they are all aligned to the single direction in terms of what we want to achieve is a bigger challenge.
The advantage we have is, we are in a sector which is close to all of us. Every single parent and student also understands the importance of education.
When we are described as the largest edtech company in the world, we look at it as the validation that we are moving in the right direction. Beyond that, it doesn't mean anything. To me, money beyond a certain point is just a number.
But to the company, doesn't money make a difference?
Yes, to the company, money makes a difference. It is important for us to continue to grow like this.
The biggest thing is, valuation growth is in tandem with business growth. It helps us increase our aspiration level to do bigger and better things.
When I say bigger things, I mean reaching out to more people across geographies. That is our next aspiration.
Last time when we spoke, you mentioned about your plans to move to other countries. Now, have you decided on where to move first?
For the last 12 to 18 months, we have been fully concentrating on product development. We are now ready for a global launch of our international product by the beginning of the next academic year.
When you say a global product, is it targeted at any particular group or country?
It may vary from market to market. But it is targeted at the age group of 3 to 8 in the kids learning segment. It is more mainstream and aimed at the English-speaking market where there is a large percentage of students who want to learn in English across the developing market.
We see that what happened in India 10, 15 years ago is happening in more and more countries across Latin America, China, parts of Africa, etc.
In India, you see today, a large percentage of people speaking English because English became aspirational 10, 15 years ago. It is more than ever before.
In the developing countries, there is a certain percentage who wants to learn English and the percentage is growing. I am talking about the countries where English is not the primary language but English as a secondary language is gaining popularity there.
Maybe because of the tech intervention and also the several platforms that are built on English language.
Is your product on English or science and Maths?
The medium of instruction is English, but the subject is basic science and basic maths. It is structed around what they are supposed to learn in school but we include a lot of other things too.
The challenge for us is making it match the curriculum. The way we build our content is in modular format so that it is easy for students to grasp.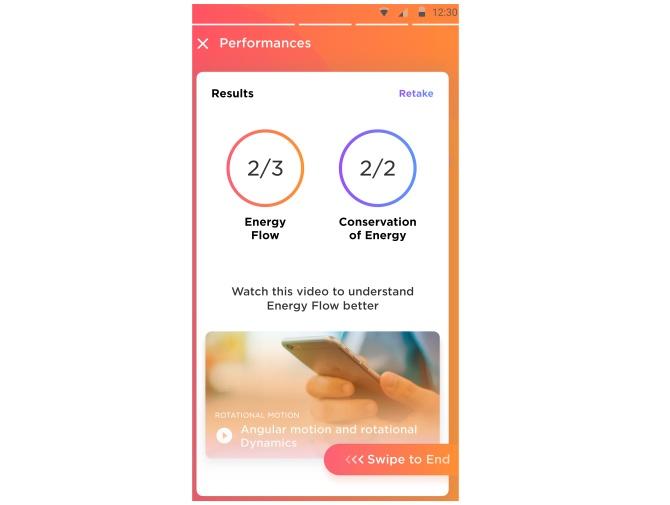 Since you are targeting the kids learning section, does it vary from country to country?
Not much. Generally, the subjects are universal in the kids learning segment. It might vary in terms of what a 5 year old learn in India may be for a 6 year old in the UK or the other way around.
The curriculum of the UK and the Commonwealth countries are very closely aligned. There is some difference in the curriculum followed in the US though. Still the framework is the same. That is why we want to be in that segment.
No big global brand comes to our mind when you think of the kids's learning segment. We want to be in kids' learning like what Disney is to kids' entertainment.
Yes, we have to do a lot of things right to get to that level. That's what we want to become. That is our aspiration.
What about India as a market?
India will continue to be our primary market. There is a lot to be done and it is growing faster in the coming years.
Our brand is becoming popular and the segment awareness also is increasing year after year.
What I am talking about is on the kids learning at home. They are becoming active learners from passive learners today.
A few decades ago, taking extra lessons or extra learning was not there in India. We were happy with whatever was taught in class, but today, every student wants extra classes. Is it because of competition or because there are gaps in our education system?
The extra classes are mainly targeted at competitive exams which are taken when kids are in Classes 9, 10, 11 and 12.
But our product is for those students in the 4 to 8, 4 to 9 classes which is a very large segment.
Why do they go for supplementary learning? It is because in all the countries where there is a large population, the challenge is the same. India has the largest school age population in the world.
There are lot more students in schools than a few years back and there are not enough good teachers for these many students.
The biggest challenge in all these markets is to get good teachers and it will continue to remain a big challenge. It is common across all the large markets.
Though teaching is respected in most parts of the country, it is not well paid, so we are not able to attract good talent.
Then, it is very difficult for even the best teachers to make classes personalised. The ratio in classrooms is mostly 1:35 or 1:40 and a classroom format can only be a standard format.
Now, the format of learning. Mostly students learn to write the exams, and not understanding the concepts.
Though we started with competitive exam coaching in the offline format, in the last few years, our focus has moved to making students understand the concepts.
If they understand the concepts and subjects, they retain the knowledge and it will help them in the competitive exams.
So, we explain the subjects with all the technological tools.
We have used media and technology as enablers though contents and education are our main strategy.
We create movie like compelling videos and games like interactions which the kids like, as tools to make students understand the concepts.
Most global companies in the education segment have not achieved in scaling their model and very few companies have achieved our kind of scale. Yes, we are also far away from calling it a revolution.
There are so many companies in the education sector in India itself, but they don't get the kind of attention of investment your company gets. What do you think makes Byju's different from other initiatives?
First, we have been able to create a model which is scalable.
Since we offer it in a product format, it is easy to scale compared to the services format which most other initiatives offer.
Our product is loved by a large number of students in such a short span of time. We have more than 30 million free users and 2 million annual paid users.
More importantly, the diverse set of global investors who have invested in our company say that they are impressed by the kind of impact we have been able to achieve in the way students learn.
The end user is the student and the person who is paying for it is the parent.
When students spend time on it, parents realise that it is useful. We have used technology in such a way that kids enjoy learning like the way they enjoy entertainment.
Otherwise, they won't engage with it and if they can't engage, you can't make it effective.
We have to make learning engaging to be effective. There is no teacher sitting next to them and forcing them to learn.
Our motto is, making students fall in love with learning and like learning. This strategy of using a platform and content effectively has been working for us.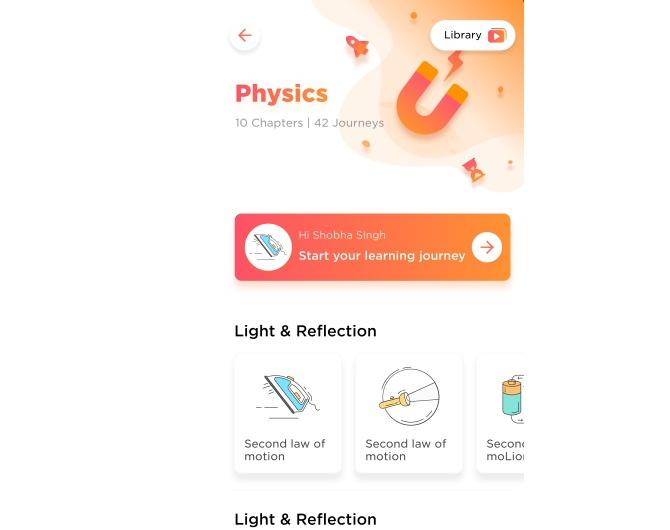 Where do you want Byju's to be in the next 5-10 years?
Yes, it is very important to have a long-term goal or vision, but I always say that to be successful, we have to break it down to a monthly goal or a weekly goal or from the personal point of view, even a daily goal. That's why we are able to do what we have done so far.
Dreams remain dreams if you don't have goals. Our long term goal is, we want to become that company in education across the world which will change the way students learn. But we want to do that first in India.
The way we are growing, we will be able to reach there in the next 3-4 years. When 5-10% of students in a classroom start learning like this, the others will follow them.
Where do you see this change happening, in the urban areas or rural areas?
We expected good response from small towns and the response from small towns is equal or better compared to the metros. Kids and parents in small towns are more aspirational.
That is why investors are interested in us. 60% of our users come from outside the top 10 cities and close to 30% of our users come from outside the top 100 towns.
A person who had no passion to start a business, how do you feel now? Has passion in business overtaken passion in teaching?
What I can do as a teacher, I am doing with a product involving a lot more people with much bigger impact. This is the format today's kids like.
I am so convinced about this format that I will rather give the product to my son than teach him one on one.
We are in a business where doing well is equivalent to doing good. For every student we convince to learn like this, the benefit will be long term.
I would say I am in this business because I have a passion for teaching. However busy you are, however large business you run, I believe that you can always find time to do things you are passionate about.
If someone complains that he has no time, it is just an excuse. Teaching will always remain a passion for me and whenever I get a chance, I do teach.