'Adaptability is what is needed right now and students have to continuously learn the new tools to remain relevant in the career they choose.'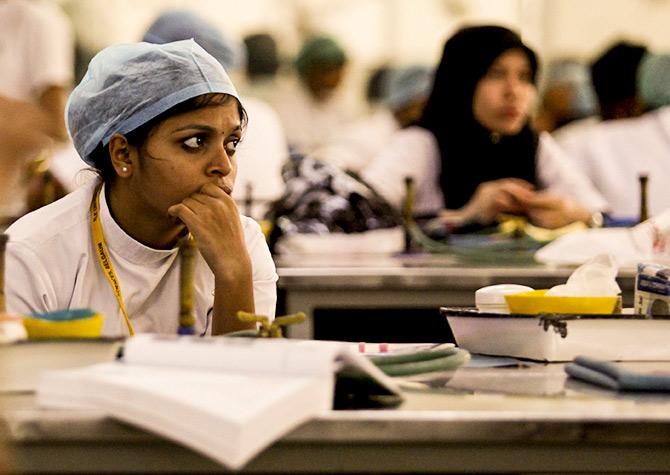 The complaint Indian industry has is that the students emerging from various educational institutions are not employable. Along with this arrives the news of jobless growth and job loss.
How does the All India Council of Technical Education -- that coordinates the development of technical and management education system in India -- plan to overcome these grim challenges?
AICTE Chairman Anil Sahasrabudhe discusses the changes in education with Rediff.com's Shobha Warrier.
Employment growth is at an eight year low. How worrying is it for educational institutions and students who are graduating now?
Certainly, it is worrying.
Low job growth is happening not only in large-scale industries and multinational companies, but even in government undertakings.
This is because most of the work is getting automated. Added to that is the introduction of robotics, cloud computing, IoT etc in industries. All these are reducing the requirement of manpower.
You need a different type of skill sets in these circumstances. All the educational institutions have to start adapting to this new reality.
Some young entrepreneurs told me recently that to recruit 10 people, they had to interview 100 people, and still they could not get even 2 people with the right skills.
This is an indication that our curriculum has to be revised with the requirements of the job market of today.
AICTE has revised the syllabus of all core disciplines of engineering and offered as model curriculum for universities and autonomous colleges to adopt/adapt and make their curricula relevant to the needs of the society and industry.
Is entrepreneurship the answer to jobless growth?
Yes, that is the only answer.
We must start a culture of entrepreneurship. Large industries are not offering as many jobs as they used to earlier.
We are of the opinion that students should be trained in entrepreneurship.
There has to be not only theory courses, but hands-on practical courses as part of the college curriculum so that they can learn how an entrepreneur builds an enterprise; the entire process involved, right from registration to getting finances to converting an idea into a product to building a team to marketing the product, etc.
Budding entrepreneurs should have an idea of all these before they venture into entrepreneurship.
Students should get an exposure to all the nitty-gritties of entrepreneurship in the 4 years in college itself.
By the time they graduate, they should be well prepared to plunge into being an entrepreneur.
AICTE has a start-up policy and through that we are conducting workshops and seminars at various places and asking institutions and universities to build such a curriculum.
We only showcase a model and it is up to the respective universities and colleges to fine tune it and use it to help the students.
The general complaint about the Indian education system is that the syllabus is outdated and it is not updated based on the changes taking place in the relevant field...
Yes, you are right. Many of the institutions do not even have the wherewithal to revive the curriculum. Some have and they revise once in a while. Unfortunately, many of them do not know what the industry requirements are.
So, what we at AICTE do as a regulatory body is we have constituted committees which include the best experts for all the disciplines. We have also included a person from the industry on all the committees.
This way, we have prepared a model curriculum. By next year, all the universities will be able to adopt this curriculum so that students can be trained in what the industry needs today.
Industry has been complaining that students coming out of educational institutions are unemployable.
Academia says that industry demands a lot from fresh graduates.
Do you feel there will be a change in quality once students start learning from the new curriculum?
What you say is partially correct. The academic curriculum has to be in line with what industry requires.
In fact, I would go a step further to say that it should be in line with what society needs.
Internship has been mandatory by the AICTE.
Every student should go for internship at least two times during the summer vacation while still a student in college.
This has to start in the first year itself. Only then they will know what is happening in industry.
Industrial training along with theoretical knowledge will make them understand how they can put to use what they have learnt in college in industry.
Internships need not be in the big industrial houses, it can be in small companies, start-ups, etc.
This will make them more employable, give them a 360 degree viewpoint of the industry. Some of them even become entrepreneurs in the process.
I often add a note of warning that we have to give a realistic picture of entrepreneurship -- that only about 10% of the initiatives succeed ultimately. This is the reality even in the best environments worldwide.
All the budding young entrepreneurs should realise that there is a lot of hard work, persistence and passion necessary behind entrepreneurship.
If one idea fails, they should not get dejected, but should be ready to start another one.
If the second one also fails, they should go and try a third one.
But each time one fails, avoid the mistakes done in the previous attempts. Only then can one achieve success.
They should be mentally trained for such an eventuality while still in college so that they will not get into dejection mode if one idea does not work out.
It has to be taught that hard work, passion and persistence should remain even after failures.
It is said that young entrepreneurs should be able to identify the problems in society and learn to find solutions for these problems.
Should they not be taught this in colleges?
It is for this that we have the programme called Unnat Bharat Abhiyan under which every college has to adopt at least 4 to 5 villages, and send students to these villages at regular intervals.
Just by going to the villages and observing the challenges villagers face will give students several ideas to improve the conditions.
This will give them the problem-solving ability, which in turn will help the villages.
Last year we had started an initiative called Smart India Hackathon,/strong> in which the problems of different government departments (the pain point of citizens) were addressed.
We asked various government departments to give us the problems they encounter and after compiling we gave them as a challenge for the students to offer ideas and solutions.
More than 45,000 students comprising teams of 6 each with at least one female student in each team sent their ideas from which 1,600 plus ideas of 10,000 students were shortlisted.
These 10,000 students were called to 26 different centres. They solved these problems in a 36- hour non-stop hackathon -- and mind you by remaining awake for 36 hours.
We gave the award-winning teams more funds and asked them to make these solutions robust and fully usable by the government departments.
53 such solutions were so attractive that the respective ministries have accepted them to use in real life.
This year, 50 ministries and 22 state governments have come forward to participate in the hackathon.
In the last 10 years or so, there has been a mushrooming of engineering colleges in India but the quality of students has come down. Is AICTE satisfied with the quality of students?
Mushrooming of colleges in the last one-and-a-half decade has certainly created problems of quality.
That is why we are trying to improve the quality through various reforms like revising the curriculum, changing the nature of question papers, making internship mandatory, teacher training programmes, industry institute interaction, support for innovation etc.
We are also introducing a new programme called student induction of three weeks duration.
This will help creating a level field for students from rural areas and those who have studied in regional languages.
A group of 20 to 25 students will be assigned to a dedicated teacher during the three weeks.
Activities such as morning exercise and yoga for physical fitness to discussions on a variety of topics, expert lecture by eminent persons, learning at least one of the art forms, screening excellent classic movies, picnic etc arranged during three weeks help them come closer developing a strong bond with the teacher and the college.
This builds confidence, better communication skills leading to better learning by students in their remaining period of study.
In this grim scenario of job losses and jobless growth, do you see any bright light?
Of course. It's not that I am being optimistic though one has to be always optimistic.
Whenever change takes place, there will be turbulence and it takes some time to settle down.
Adaptability is what is needed right now and students have to continuously learn the new tools to remain relevant in the career they choose.
DON'T MISS the other features in the RELEVANT LINKS
IMAGE: Photograph: Danish Siddiqui/Reuters. Kindly note the image has been posted only for representational purposes.