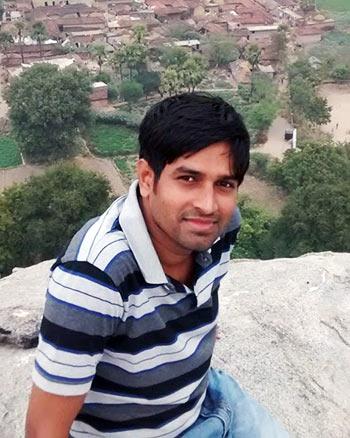 'In June 2014, I got placed as associate software engineer at Quickr for a monthly salary of Rs 1 lakh.
'Back in my village, my grandfather could not believe that I could earn so much.
'I had to show him my bank passbook to convince him I was doing well for myself.'
Anup Raaj, 23, describes how Super 30, a free IIT-JEE coaching institute located in Patna, Bihar, changed his life. Divya Nair/Rediff.com listens in.
Earlier in this series: For this IIT grad, even a newspaper was a luxury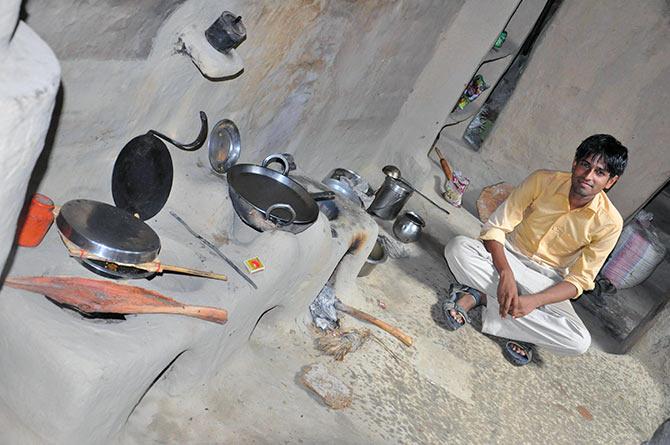 Anup Raaj sits in the kitchen of his clay house in Chenw. Photograph Courtesy: Anand Kumar
I come from a small village called Chenw which is located in the Aurangabad district of Bihar.
Ours is a joint family… our clay house is shared by 22 people.
I have two elder brothers; I am the youngest.
My father, Rampravesh Prasad, had a bachelor's degree in history; he was one of the most educated persons in our village.
After completing his education, my father could not take up a teaching job nearby so he chose to work on our family farm, helping the family grow paddy.
Growing up years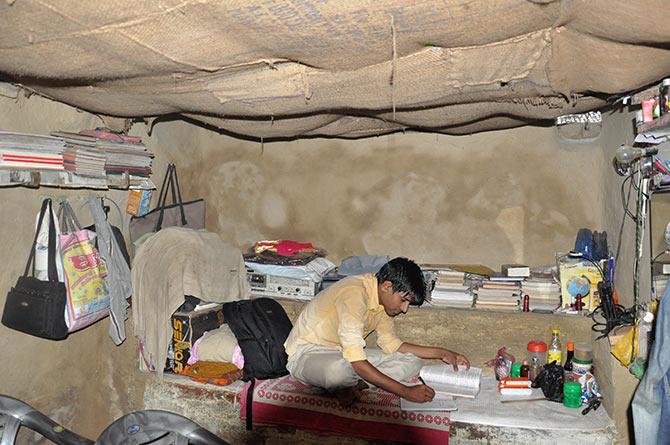 Anup Raaj studies inside his clay house in Chenw. Photograph Courtesy: Anand Kumar
Like all other children in my village, I never went to a school until Class 5.
Chenw used to be a Naxalite area. There was no functional primary school in the village.
When I grew older, I learned that the only primary school in our village was shut down by the Naxals.
A group of five-six prominent people in our village had joined the Naxal movement and they had warned the teachers to stop coming to the school.
They wanted more people to join their movement against the government.
This group did nothing productive -- they would just gather near the temple grounds, do some performances and make speeches.
Since going to school was out of question, young kids spent their childhood helping their families in the farm.
We would kill our time playing goli (a game played with marbles).
I was good at it and had a collection of close to 1,000 marbles.
My father, however, insisted his children should have basic education.
Every time he went to Rafiganj, the nearest town, he would buy second-hand textbooks and teach us basic mathematics and grammar at home.
Sensing my willingness to learn, my father decided to approach one of his friends who worked at the Jain Missionary School in Rafiganj.
Usually, the school management would not enrol non-Jain kids but my father's friend managed to convince the authorities to consider my case.
It helped that I was smart for my age -- I could solve basic mathematical problems and understand grammar.
I was admitted into Class 5 at the age of 10. This was in the year 2002. I studied there for a year.
Anup crawls out of his house in Chenw which was shared by 22 people. Photograph Courtesy: Anand Kumar
When you are living in a village, you can survive even with one square meal a day, but the day you send your children to school, your family will start feeling the pinch of expenses -- books, uniforms, etc.
After I joined school, I could not work on the farm because I had to study, attend school, do my homework…
In 2003, I directly applied for admission into Class 7 at Ranibrajraj High School, Rafiganj.
I was asked to take a test in mathematics and I stood fourth in the exam. I was enrolled into Class 7.
During this time, I decided to help my family.
I started taking home tuitions in Rafiganj.
There were about three to four students and I would get Rs 250 per month, per student, to teach all the subjects.
Fortunately, the school I went to was funded by the government which meant I paid a nominal Rs 10 per month as the school fee.
Everything was going smoothly until, in August 8, 2006, my father left home never to return.

He did not leave behind a note or message.
We searched for him everywhere, at all possible places.
We registered a missing complaint at the police station too.
The incident shattered us.
My mother stopped going to work. She would cry and pray all day, hoping my father would return home.
I was in Class 10 and could not focus on my studies for at least four months.
I kept hoping he would return soon and our lives would get back to normal, but the day never came.
Meanwhile, since we were living in a joint family, my grandfather and relatives started feeling the financial burden and indirectly conveyed to us that they would not be able to help us for long.
We realised that we would have to fend for ourselves financially.
Taking over responsibilities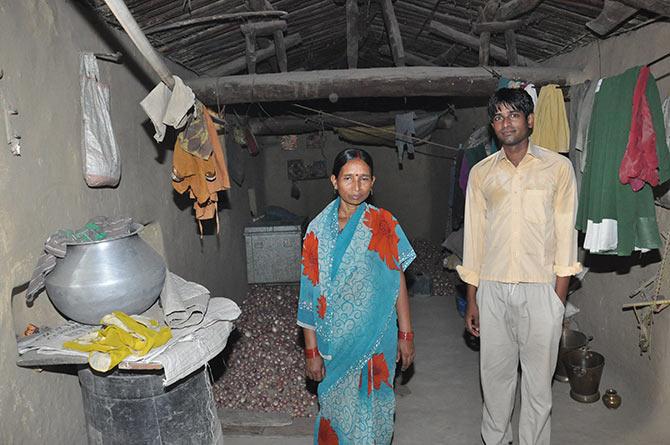 Anup with his mother in Chenw
I went back to taking home tuitions.
It was a challenging time for my family. It wasn't easy to accept the fact that our father had left us and gone, just like that.
My friends and teachers from school helped me get through the dark phase and focus on my studies so that I could prepare for the board exams.
My hard work paid off and I ranked No 15 in the state examination conducted by the Bihar School Examination Board.
For the first time, I felt there was hope for me and my family.
Travelling to Patna
I scored 84.8 per cent in Class 10 and secured admission at Gaya College in Gaya, Bihar.
Gaya is 40 kilometres away from my village.
I would leave home at 7 am and take an express train from Rafiganj.
I would reach Gaya by 9 am and walk for about a kilometre and half to get to my college at 10 am.
After college, I would take tuitions in Rafiganj and return home late in the evening. It was tiring but I did not have a choice.
The home tuitions took care of my college fees -- Rs 1,300 per year.
Joining Super30
It was in Gaya that I learned more about engineering as a career option from my friends and seniors.
I had noticed numerous posters advertising JEE and medical entrance coaching in Gaya. But the fees for these private coaching centres were too high. I could not afford it.
I did not want to pursue medicine, so I decided to study without attending any coaching classes and appear for the JEE in 2009.
I scored three marks in JEE Chemistry that year.
Since I was from the Hindi medium, I could not understand most of the questions; the paper was set in English.
It was my first attempt and I realised I wasn't well prepared.
After writing my Class 12 examination in April 2009, I had the opportunity to visit a Janta Darbar held by chief minister Nitish Kumar.
I drafted a letter detailing my financial condition and requested him for financial aid to pursue engineering.
When I took the letter to the party office, one of the workers suggested I meet Anand Kumar of Super 30.
I waited for the exam results. I scored 81.80 per cent, topped the district and secured 11th rank in the state.
In June 2009, I found the address of Super 30 and met Anand Sir.
Like all students, I was asked to appear for the Super 30 entrance examination.
After the exam, Anand Sir met me and I narrated my story. He could instantly connect with me -- he told me of his own struggles as a student. He was impressed with my academic performance.
In August 2009, I was selected in Super 30 programme and since then there has been no looking back.
Life @ Super 30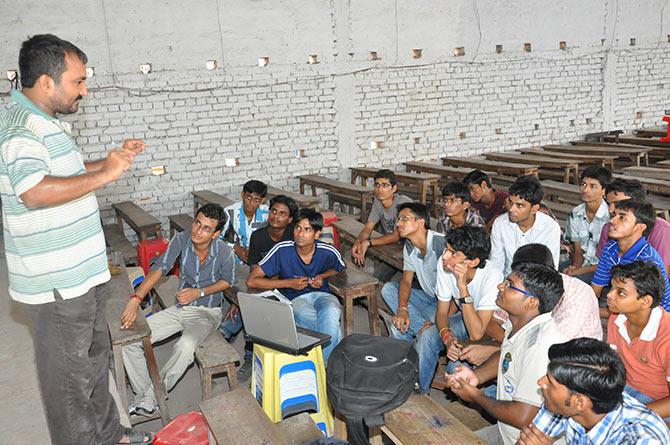 Anup (sitting, fourth from left) attends a class by Anand Kumar at Super 30 in Patna
When I first reached my room on the ground floor, I was thrilled.
It was spacious and overlooked a green patch of land.
There were three or four beds in each room and it was quiet -- just the kind of environment a student would need to prepare for his career.
Even the IITs, I feel, do not offer that kind of study environment.
Once you join Super30, your food and accommodation is taken care of till you appear for the exam.
A meal of rice, dal and bhujiya would be served for lunch and dinner.
On special occasions, we would look forward to a meal of kachori, kala chana ghugni and sevai kheer.
We never forgot we were there for a purpose and we were always motivated to work towards it. We used to study for 14 to 15 hours a day.
I was bad in Chemistry and there was another guy who was weak in Mathematics. We helped each other.
At one point, I had asked Anand Sir if I could appear for the paper in Hindi as I was weak in English. But he explained that I should not run away from my weakness.
He told me that even if I attempted the paper in Hindi, I would still have to deal with the English language when I joined IIT.
Anand Sir would help us if we came across new or difficult terms.
In the beginning, I would take longer to understand a question and solve it. Slowly, I got better and could attempt more questions.
I appeared for the JEE in 2010.
Despite all the preparation, I still skipped questions worth more than 20 marks in Physics because I could not understand them.
I scored 237 out of 400 in the entrance examination and was ranked 997.
I had the option of studying computer or mechanical engineering in any of the lesser known IITs. But I opted to study civil engineering at the Indian Institute of Technology-Bombay because I wanted to come to Mumbai and become an entrepreneur.
I wanted to start something of my own and knew Mumbai would be my dream city.
With the help of Anand Sir, I secured an education loan from the Patna United Bank which would take care of my engineering fees.
I still have a year to go before I start paying off the EMIs.
Bombay dreams
Coming to Mumbai was a culture shock.
The schools in Rafiganj did not have more than four or five classrooms.
When I reached IIT, I was quite shocked to see so many hostels and buildings for students.
My grandfather didn't believe me when I told him that the IIT-Bombay campus was bigger than our entire village. He thought I was exaggerating, but it is true.
As far as challenges were concerned, it was just the beginning.
I still did not have a good command over English and most of the students at IIT-B spoke very good English. I did not know how to strike a conversation.
In my first year, I had a lot of difficulty in understanding the subjects. I would carry a dictionary to class. I'd mark all my doubts and ask my teachers for help.
For the first few months, I kept to myself. By the time I reached second year, I took extra classes to learn programming and coding and that kept me busy.
I realised that computing is the only language that does not require you to communicate face-to-face with the other person.
In my second year, I managed to convince my bank manager to help with an extra loan to buy a laptop.
Travelling to Dubai
Now that I had a laptop and an internet connection, I subscribed to several groups of young coders across the country.
The internet became my best friend and guide. If I did not know something, I could always Google and learn without feeling embarrassed.
Towards the end of third semester, I had learned to create websites and write programmes.
After attending lectures, I would build websites and write programmes for start-ups.
I would earn anything between Rs 5,000 to 10,000 for a project. At one point, I was making Rs 60,000 a month.
In my third year, I travelled to Dubai for two months for a summer internship with AlumNexus. The experience was unforgettable.
When I landed in Dubai, I felt the way I did when I first reached Mumbai.
Everything seemed so glamorous -- the multi-storeyed buildings, the clean roads -- I was awestruck.
My office was on the 54th floor and the view from there was splendid.
My work experience in programming helped immensely during campus placement.
It did not matter that I was a civil engineering student.
In June 2014, I got placed as associate software engineer at Quickr for a monthly salary of Rs 1 lakh.
Back in my village, my grandfather could not believe that I could earn so much.
I invited him and my mother for my convocation last year. I had to show him my bank passbook to convince him I was doing well for myself.
An entrepreneur at last
In January 2015, with the help of a group of friends -- Pratik Chinchole, Shirin Shinde and Rahil Momin -- I founded PSTakeCare, a healthcare start-up.
Pratik and Rahil are from IIT-B and Shirin graduated from the Institute of Chemical Technology.
With this start-up, I feel my journey has finally begun.
I feel fortunate to have come so far.
A lot of things have changed for me ever since I joined IIT. People's attitudes have changed. They look at us with respect.
When I visit my village, people come and ask me how to pursue higher studies, a thought that was non-existent until some years ago.
Teachers like Anand Kumar have taught me the importance of patience. It is the greatest of all virtues.
Even in difficult times, you must learn to trust yourself.
In 2013, I had the opportunity to receive our late President, A P J Abdul Kalam, as the chief guest for 54th foundation day of IIT-Bombay.
During the brief interaction with Kalam Sir, he shared an advice I will never forget.
He said: 'If one person decides to do something for himself, s/he is sure to excel, but if s/he decides to do something for the betterment of others, the society, or nation, s/he will do 1,000 times better.'
It was Kalam Sir's dream to create more jobs in India for our youth; I hope I can contribute in some way to that dream.