In 2021, there is the risk of interest rates spiking.
Investors should tackle duration risk with a longer investment horizon, suggests Sanjay Kumar Singh.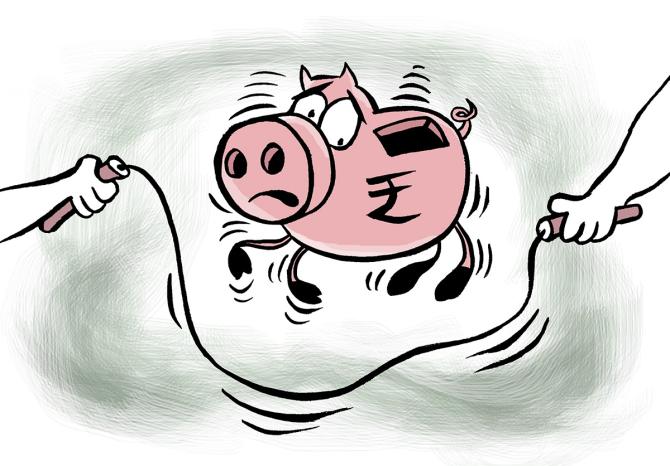 The year 2020 had one silver lining -- investors with diversified portfolios registered handsome gains.
Among debt funds, longer-duration funds outperformed; among equity funds, mid and small-cap funds fared better.
For 2021, in keeping with the law of mean reversion, analysts have modest return expectations from last year's outperformers.
Debt funds: Be wary of credit risk
In 2020, longer-duration debt funds gave good returns as interest rates fell.
Returns from shorter-duration funds were muted.
Credit risk funds underperformed.
Events like liquidity seizure in the debt market and the closure of six debt funds of Franklin Templeton Mutual Fund brought home the reality that taking aggressive credit risk can be painful.
On the interest rate front as well, the year was unpredictable.
While interest rates were expected to rise at the start of the year, the pandemic forced central banks to cut rates.
Returns from longer-duration funds could moderate in 2021.
"After the rate cuts by the Reserve Bank of India in 2020, do not expect similar returns from longer-duration funds in 2021," says Dwijendra Srivastava, CIO-fixed income, Sundaram Mutual Fund.
According to experts, credit risk has got masked currently, but could re-emerge.
The bulk of a retail investor's debt fund portfolio should be in shorter-duration funds that take neither credit nor duration risk.
When investing in such funds, check the portfolio for the presence of lower-rated papers.
In 2021, there is the risk of interest rates spiking.
Investors should tackle duration risk with a longer investment horizon.
"If you decide to invest in a longer-duration fund now, hold it through one complete interest-rate cycle. This will enable you to earn a reasonable return," says Mahendra Jajoo, head of fixed income, Mirae Asset Global Investments.
As for credit risk funds, Jajoo says if a credit accident happens, the recovery is poor and the loss tends to be permanent, so conservative investors should avoid them.
Srivastava says investors with high-risk appetite may invest 10-15 per cent of their debt portfolio in these funds.
Select debt fund categories based on your risk appetite.
Match your investment horizon to the average maturity of the fund category.
Finally, make use of the recently introduced risk-o-meter while selecting funds.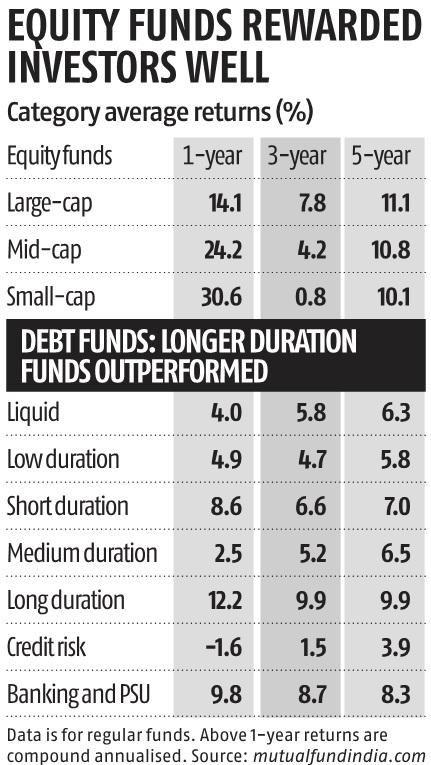 Equity funds: Keep an eye on liquidity flows
Diversified equity mutual funds gave robust returns ranging from 14.1-30.6 per cent in 2020.
According to S Naren, executive director and chief investment officer, ICICI Prudential Mutual Fund, "Market sentiment is robust on account of the revival in the economy, as can be seen through various high-frequency data points, the decline in interest rates, pick-up in credit growth, decline in Covid infection numbers, etc."
The market, according to him, is in the midst of a developed world central bank driven the bull market.
"The current trend may continue in the near-to-medium term because of global liquidity," he says.
Increase in inflation in the US and rise in the crude oil price are key risks.
Large-cap funds:
Earnings growth will be the key driver for these funds in 2021.
"Nifty earning is expected to rise 30-35 per cent in 2021-22 over the previous year, aided by the low base of 2020-21," says Shridatta Bhandwaldar, head-equities, Canara Robeco MF, whose large-cap fund was the top performer in 2020.
But, valuations are not cheap, so the scope for P/E re-rating is limited here.
Mid and small-caps:
After languishing in 2018 and 2019, mid and small-cap funds rewarded investors well in 2020.
These funds still have the potential to reward investors over the next three-five years as earnings recover.
"Ancillary businesses related to auto and real estate are at the bottom end of their earnings cycle. In segments like these and others like mid-cap IT, there is scope for earnings to improve over the next two-three years," says Aniruddha Naha, senior fund manager, equities, PGIM India Mutual Fund, whose midcap fund was the top performer in 2020.
Naha adds that returns may also come from P/E re-rating, for which there is a good chance within the mid and small-cap space.
He says investors should have more moderate return expectations of mid-double-digit compound annual return over three-five years.
Feature Presentation: Aslam Hunani/Rediff.com