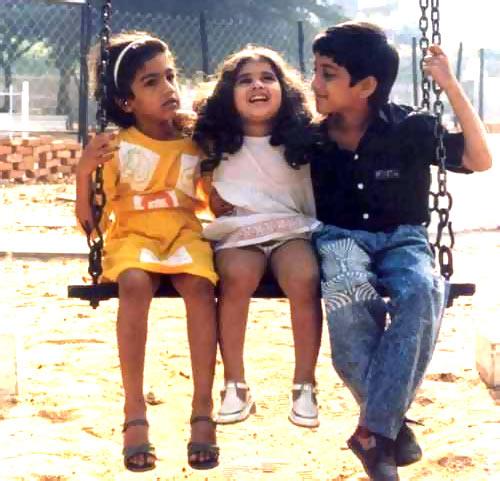 Holidays, slurping on ice golas, fights in the school bus for the window seat and visiting grandparents are some of the things Rediff.com's Anita Aikara misses dearly.
With Children's Day coming up in a couple of days, a waltz down memory lane... and what we miss on childhood...
1. Vacations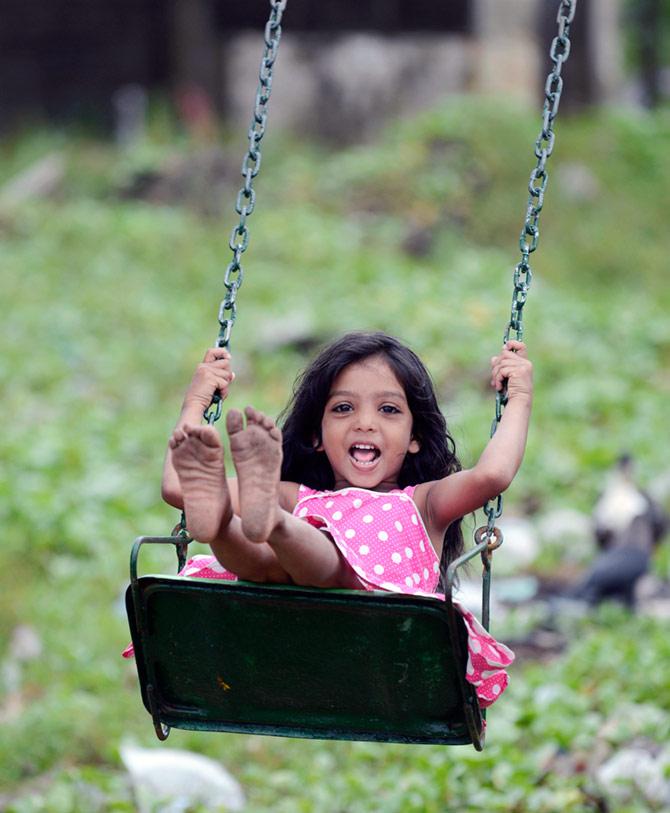 IMAGE: Don't you miss swinging with the wind? Photograph: Philip Brown/Reuters
We miss the concept of vacations as adults.
Remember the awesome trips we took to our grandparents' homes during the vacations?
The thought of yummy pickles, sweets and delicacies our grandmother would treat us to still makes us salivate.
From early morning cricket on playgrounds, to afternoon board game sessions, playing on see-saws and slides at the neighbourhood parks in the evening as the sun set, vacations meant more time outside the house with friends.
2. Best friends, recess and school bus fights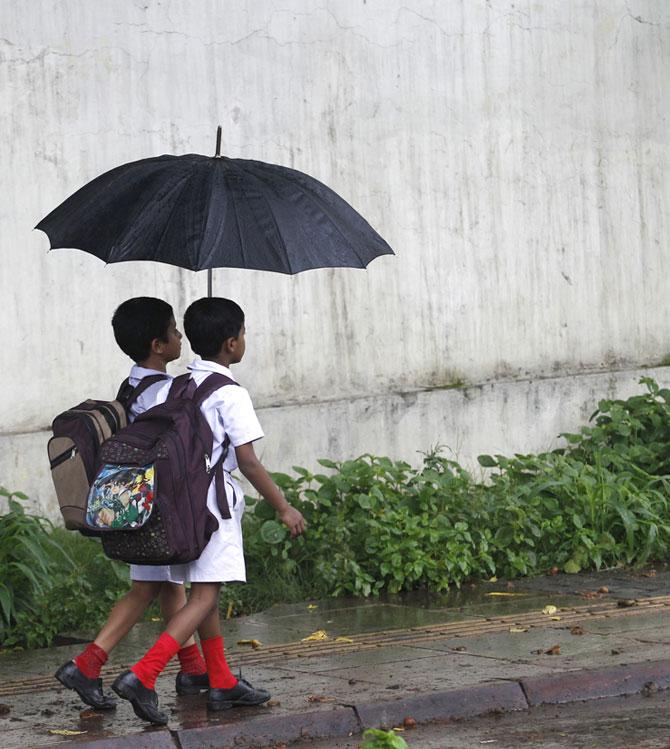 IMAGE: The concept of best friends seems so passe now that we have grown up, right? Photograph: Anindito Mukherjee/Reuters
Raise your hands if you didn't hate waking up early to go to school.
Looking back, wouldn't you be willing to trade anything to relive those days?
Who wouldn't want to relive the euphoria when the bell would ring for recess and you'd rush out with friends to the playground to open your tiffin and find out what your mother had packed for dabba.
When returning home, we would reserve seats in the school bus for our best friends, which would always result in a fight. There were always plenty of stories to share at the dinner table.
3. Renting cycles from the neighbourhood cyclewallajh on weekends
IMAGE: A childhood is complete with a bicycle trip with your best friend. Photograph: Ajay Verma/Reuters
Were you one of those who didn't own a cycle and would head to the neighbourhood cyclewallah to rent cycles over the weekend? For as low as Rs 2 we could rent a cycle for an hour.
What a thrill it was cycling around the neighbourhood with friends.
Some of us have learned to cycle on rented cycles and lost track time racing with friends. Not to mention the annoyance of the cyclewallah uncle when you went to return it late.
4. Trips to the library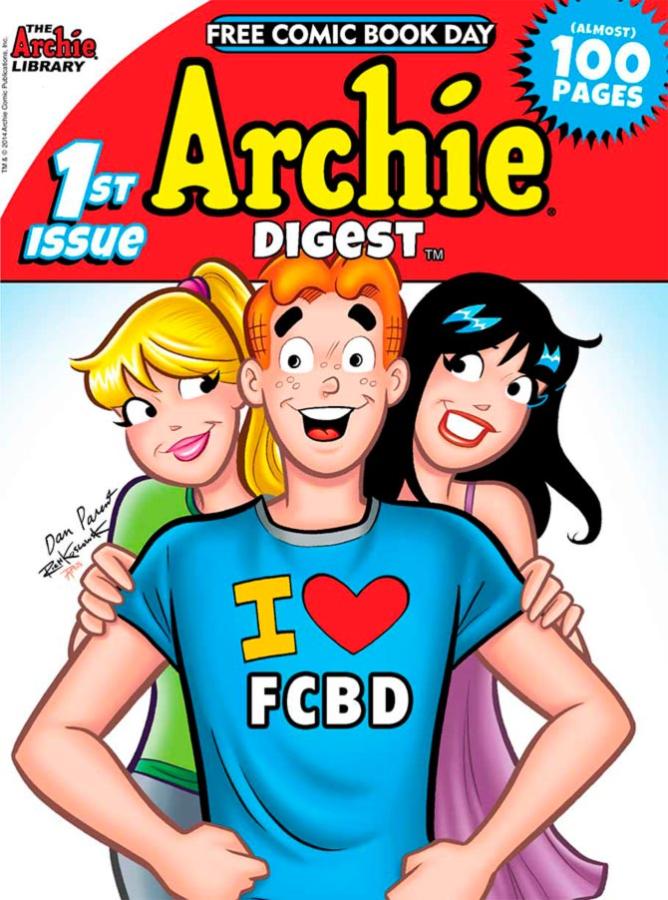 IMAGE: We got introduced to love triangles thanks to Archie :) Photograph: An Archie Comic cover.
Books were expensive and a novelty back then.
Thanks to the local and school libraries, we managed to get hold of our favourite books and series like the Nancy Drew Mysteries, The Hardy Boys, The Famous Five, Archie Comics, Amar Chitra Katha, Champak, Tinkle etc.
For those who didn't like reading, there was always the option of renting video cassettes -- of course, it meant you had to spend an extra hour convincing your parents.
5. Family time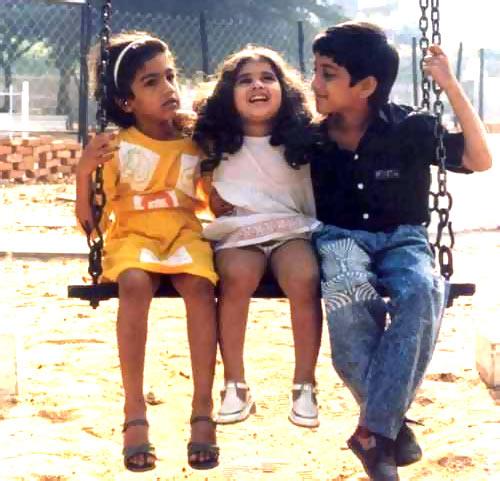 IMAGE: We could trade anything for this 'adorable' moment with our siblings, what about you? Photograph: A scene from the movie Anjali.
From playing on your dad's shoulder to licking off the kheer made by your mother and having petty fights with your siblings over toys and the remote control, childhood also meant quality time with family.
Oh! Not to forget the family picnics to national parks and zoos we never got tired of.
Today, given our hectic schedules, it is so difficult to spend a few hours with our parents.
Childhood was the only time when we got to sit on our parents' lap while travelling :). Which brings us to the next point...
6. Double deckers and travelling half-ticket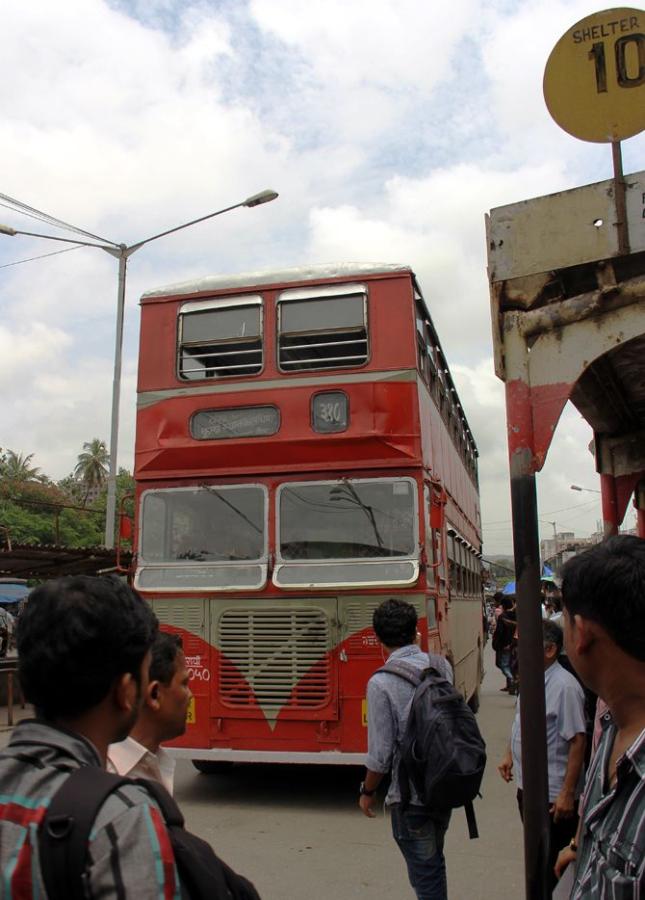 IMAGE: Bus rides were so much fun. Photograph: Uttam Ghosh/Rediff.com
Childhood is the only time in our lives when we got to travel half-ticket, yet occupied the entire seat.
Some of us still have bus/train tickets collected from our childhood.
7. Birthday parties...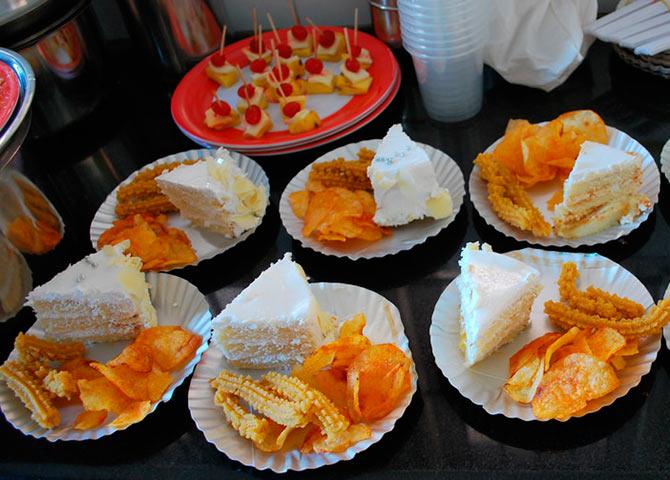 IMAGE: This is what most of us attended birthday parties for! Photograph: Kind courtesy: Harsha K R/Creative Commons
The one thing we sorely miss about birthday parties is Rasna.
That was a special treat at all birthday parties when we were kids.
Then there were the usual potato chips, samosas and Monginis slice cake placed on paper plates served with Rasna.
So happy we would be to play Passing the Parcel, Musical Chairs and Antakshari :)
8. Mango Frooti and Mango Bite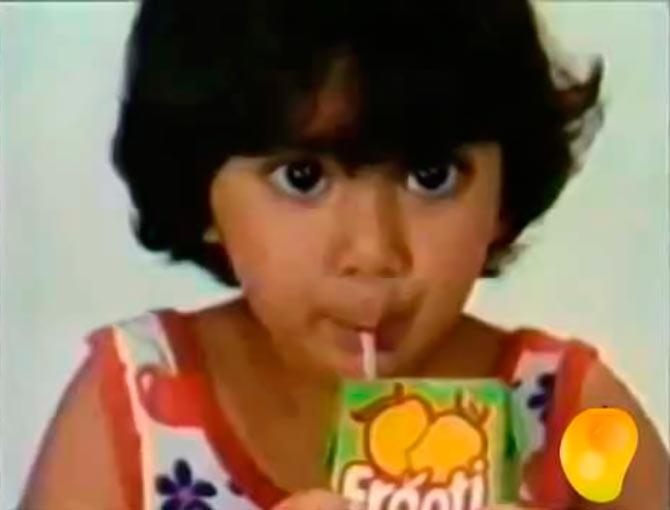 IMAGE: People who have grown up in the 1980s will remember sipping Frooti from a green colour pack! Photograph: A Frooti commercial back in the '80s.
Just the mention of these toffees reminds you of childhood, doesn't it?
Most of us have pretended to smoke Phantom Cigarettes.
And how can you forget Gold Spot, Melody, Coffee Bite and Parle Kismi?
9. Dekh Bhai Dekh and Shaktimaan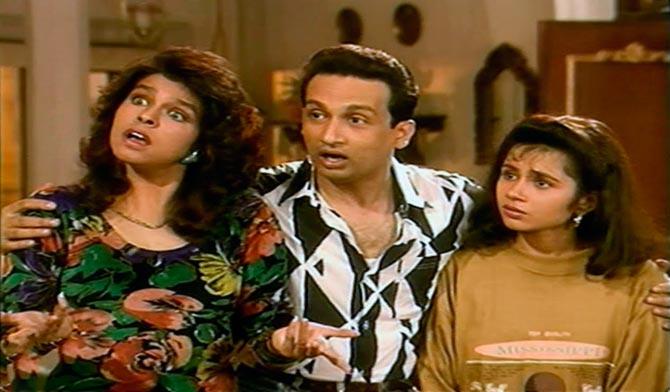 IMAGE: Dekh Bhai Dekh was the beloved show at that time.
People who have grown up in the '80s will remember watching these serials.
Duck Tails and Tailspin were our favourite Sunday morning serials.
10. Homework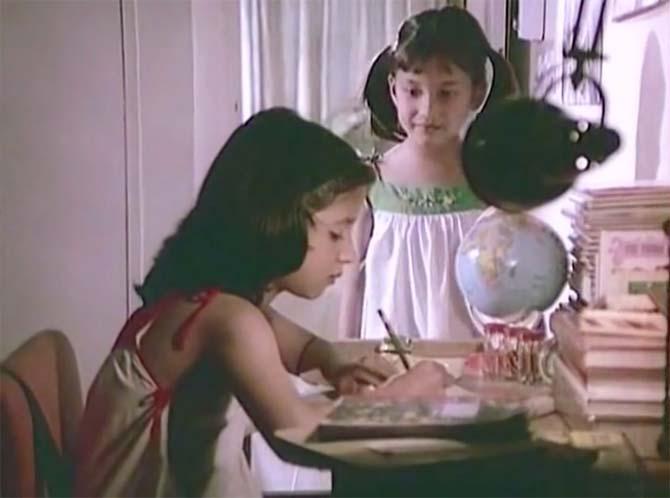 IMAGE: Late afternoons were always dedicated for homework. Photograph: A scene from Shekhar Kapur's first film, Masoom.
Once we left school, one doubts if they ever used the word homework again!
In colleges, we were only burdened with 'projects' and 'internal assignments'.
While we all hated doing our homework back then, looking back, we miss it too :)
And then there were those times when we would be trying hard to concentrate and focus on our homework and our younger siblings would want to play.
Now with Whatsapp and Facebook, don't we miss having our siblings coming over to pester us to play?
Our parents also believed that we had to develop other skills and always forced us to learn something new. So they'd send us for non-curricular coaching classes.
From cricket and football coaching, karate classes to swimming lessons for boys, and dance and music classes for girls, everyone had to make the best use of their free time.
And when guests would come visiting, our parents would always mention the skills we had newly acquired.
Don't we all miss those carefree, fun-filled, days?
Why don't you share YOUR favourite childhood pic?
Please click here to post YOUR childhood photograph.
Don't forget to add your name and do tell us when and where it was taken and how young you are in the picture.
We'll feature the best responses right here.