It is worth thinking about the deeper reasons that make people depend, often against their wishes, upon substances that ruin their health and their relationships, observes Chintan Girish Modi.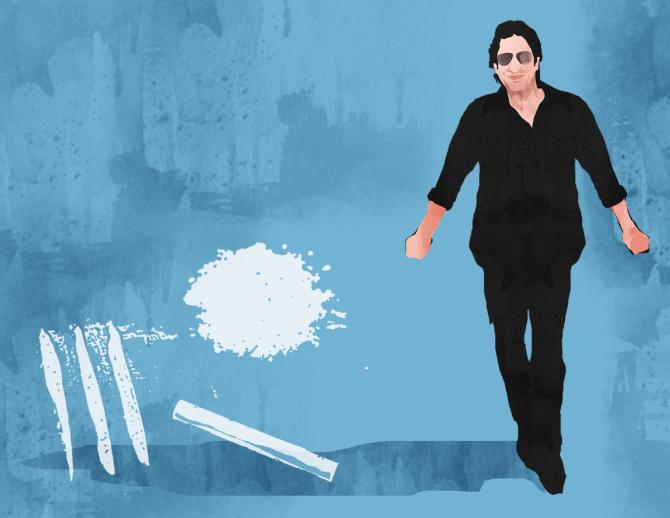 Every time I walk into a cinema hall in Mumbai, the city where I live, the movie is preceded by public service advertisements warning viewers against the dangers of chewing gutkha.
While I appreciate the intention to create awareness, I am also left with a sense of disquiet.
I wonder if addiction is being framed as a moral failing rather than an illness or a cry for help.
It is worth thinking about the deeper reasons that make people depend, often against their wishes, upon substances that ruin their health and their relationships.
Three recent memoirs offer us the opportunity to break the silence around addiction and to de-stigmatise it.
The first one is by Wasim Akram, former captain of the Pakistani cricket team, who writes about his 'dependence on cocaine' in his memoir Sultan, co-authored with journalist Gideon Haigh and published by Harper Sport.
Akram recalls, 'It started innocuously enough when I was offered a line at a party in England, but my use grew steadily more serious, to the point that I felt I needed it to function.
'It made me volatile.
'It made me deceptive.'
With support from his late wife Huma, he went to a rehabilitation centre in Lahore.
Sultan throws light on the lack of agency that addicts feel even when they want to give up something that is destroying them.
Akram had lost his sleep and appetite, and started having headaches and mood swings, because of cocaine.
He was relieved when his wife found out the exhausting secret that he had kept from her.
Unfortunately, the treatment did not help because it was 'essentially sedation, with fistfuls of tablets to take in the morning and evening, coupled with lectures and prayer.'
He left the rehab facility.
Looking back, Akram adds that he began to use drugs after his playing days as a cricketer were over, when he sorely missed the adrenaline rush of competition that cricket gave him.
Cocaine use also put a tremendous strain on his marriage.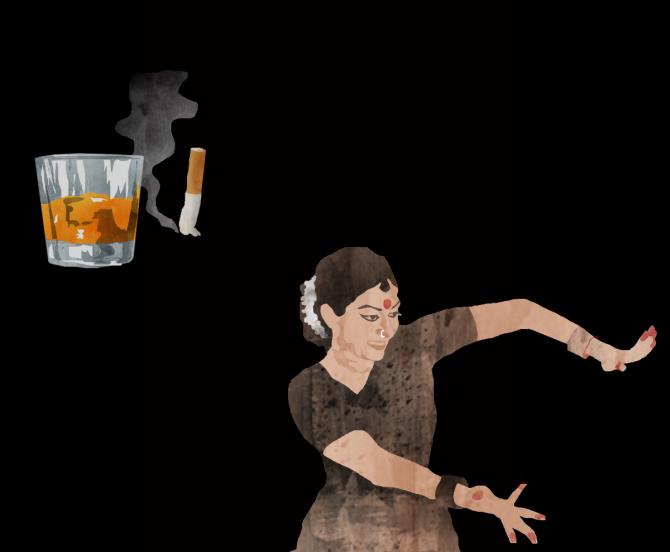 Dancer Mallika Sarabhai has a chapter titled The Smoking Gun and Other Addictions in her memoir In Free Fall: My Experiments with Living, published by Speaking Tiger.
While no one in her immediate family smoked, she picked up the habit from peers while studying at the Indian Institute of Management in Ahmedabad.
She writes, 'Smoking definitely cut down hunger pangs and became a part of my 'stay thin' regime.
'"Do I want to live fat or die thin?" was the idiotic question I used to ask myself.'
She tried quitting many times, but did not succeed until she met a hypnotist called Nathan Fleischer in New York.
40 years since then, she has never felt the urge to smoke.
Sarabhai also opens up about her dependence on alcohol that goes back to 2002, when she 'took on the government and started being hounded and hunted'.
She paid a heavy price for speaking out against the 'police and the authorities (who) stood by and watched, even aided the vicious mobs.'
As cases were filed against her, and her family was intimidated, she began to look forward to alcohol to calm her nerves.
She felt guilty, but could not stop.
Hypnosis did not work, so she tried homeopathy and panchakarma.
While she remains 'a work in progress', she also mentions that this 'abuse' of her body did not affect her too badly because she continued to practice yoga, eat well, and drink lots of water.
Actor Matthew Perry, who had his first drink at the age of 14, writes about his dependence on alcohol and drugs in the book Friends, Lovers, and the Big Terrible Thing published by Headline.
His parents were not at home when he got drunk one night with two of his friends. While the other two boys were puking, Perry was lying down in the backyard and gazing at the moon.
He recalls, 'I was in bliss. I had no problems for those three hours. I wasn't abandoned; I wasn't fighting with my mom; I wasn't doing lousy in school; I wasn't wondering what life was about, and my place in it. It took away everything.'
Perry reveals that he has lived half his life in a treatment centre or sober living house, and suggests that he knew more about drug addiction and alcoholism than the professionals working at these facilities but none of that helped.
The fear of being alone even when he was in relationships pushed him towards drugs and drinks.
He feels terrified that he might do it again because of 'a lurking loneliness, a yearning, clinging to the notion that something outside of me will fix me.'
While scientific studies are of great value, it is also important to learn from such narratives grounded in personal experience.
Those of us who do not depend on alcohol, drugs, or tobacco, ought to get off our high horse -- pun intended -- and make an effort to cultivate some empathy.
Feature Presentation: Ashish Narsale/Rediff.com