'He was a cricketer who come once in a lifetime...'
Cricket legend Bishan Singh Bedi passed away into the ages on October 23, 2023.

Regarded as one of the greatest spinners to have played the game, Bedi was part of the famed Indian spin quartet in the 1960s and 70s.

Bedi, who also captained India in 22 Tests, had a successful career of 266 wickets in 67 Tests and was renowned for his mastery in flighting the ball.
His record of 1,560 wickets in 370 matches in first class cricket is the highest by an Indian bowler.

He was not only renonwed for his cricketing achievements but off the field too he made great contributions to the sport. Some of India's top players like Kapil Dev, Kirti Azad, Mohinder Amarnath, Madan Lal, Yashpal Sharma, Maninder Singh, Navjot Singh Sidhu... all blossomed under his tutelage.

Bedi was also known to speak his heart out if things were not up to the mark. He was the first player to take on the BCCI over the issue of low payment to players in the 1970s, following which the Board was forced to increase the remuneration. He later on went to become the national selector and also coached the Indian team in the 1990s.

Former India player Surinder Khanna, whose century in each innings against Karnataka powered Delhi to their maiden Ranji Trophy title in 1978-1979 under Bedi's captaincy, was left devastated at the spin great's passing away.

Ever since making his debut under Bedi in 1976-1977, Khanna shared a close bond with him on and off the field, including nearly 12-13 years for Delhi before they worked together for 25 years in the sports department at Steel Authority of India.

In a conversation with Rediff.com's Harish Kotian, Khanna recalls his last meeting with Bedi.
"He was not only India's best spinner but one of the finest left-arm spinners in the world in the last 100 years or so.
He was a great brother, elder brother, fatherly figure and what a man!

I worked with him, not only played under him. When Delhi won their first Ranji Trophy he was our captain. Delhi won their first Ranji Trophy beating Karnataka in the final Bangalore in 1978-79.
Then I worked with him at Steel Authority of India Limited, we started a three day SAIL Trophy which was played in northern India. Railways, Delhi, Services, Punjab, Haryana, all of them benefited from it.
It was the first three day tournament of its kind, though Moin-ud-Dowlah Gold Cup and Sheesh Mahal cricket tournaments were there, but in Northern India there was nothing like the SAIL Trophy.
There was no three day tournament in Delhi in those days, there was no days tournament, it was all 40 overs cricket. He said 'You got to play days cricket, if you master days cricket you can adapt to 40 overs, 30 overs, whatever you want', but the basic skills have to be very good.

He stressed on physical fitness too. He said if a player was physically fit and mentally tough, then he can stand up to any kind of opposition.

He was a visionary, you know, and very strict when it came to cricket, he was a tough taskmaster.
All the cricketers like me, Kirti Azad, Mohinder Amarnath, Madan Lal, Rakesh Shukla, Yashpal Sharma, Ashok Malhotra and others, so many benefitted under his leadership.

Northern Indian cricket grew up under him. He never minced his words. He would speak up if any wrong was being committed. He had the guts and he would speak for the betterment of life of the cricketers. What a true leader!

It was a personal loss for me because we fought many battles on the ground of the field with him. He was always a philosopher, a guide, elder brother and a fatherly figure.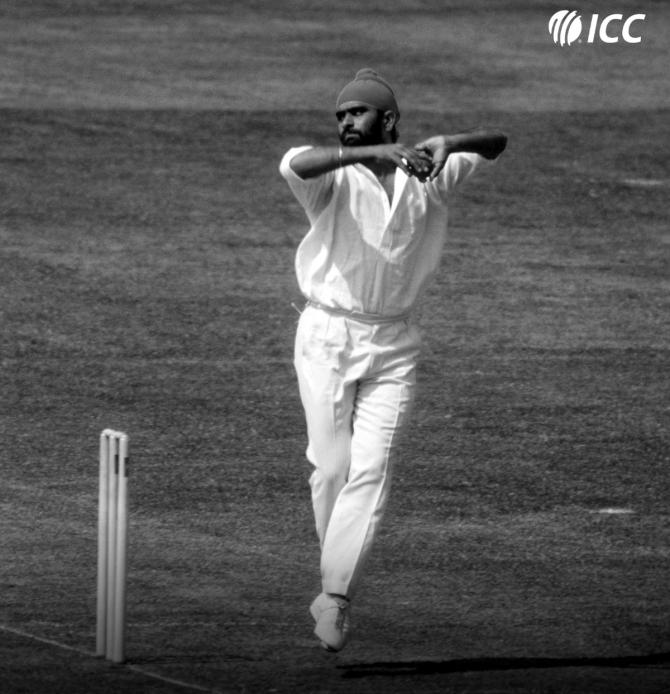 I had got a hundred in each innings of the Ranji Trophy final against Karnataka, the way he sent me in, you know, we were five down for 40 runs in the second innings. Madan Lal and Rakesh Shukla they were ahead of me, they were to go in to bat, but he sent me in ahead of them.
He knew how to get the best out of youngsters and the team-mates. He had the ability to bring everyone together. He was a larger than life personality, everyone respected him.

It is a great loss to the game of cricket as well the cricketing fraternity. It is a personal loss for me because I was very close to him.
The last meeting with him will stay with me forever. He walked from his room, he needed no help. Though he was on a wheelchair, he needed somebody to help him, he walked from his room for about 50 yards to meet me and Arun Bhardwaj when we visited him about two months ago.

He was all glow, he was like the Bishan paaji I had met way back in 1975-1976 for the first time.
He was so happy, his wife as well, they were so elated. I remember he said, 'I am gonna do cycling, I will walk, and I will get strong'. He was positive and a very strong-willed man, but eventually...

We were all in awe of him, he was such a personality. We all wanted to emulate him. He was playing for India, a certainty in the team for Delhi. He showed us the way to work hard.
Then I joined SAIL where he was working after leaving State Bank of India. We worked in the same sports department together for many, many, years, more than 25 years before he took voluntary retirement.

On the cricket field, he was always taught us the right way and made us work hard and be disciplined. He always believed in letting your performance do the talking rather than making noises that 'I am good and nobody is picking me'. 'Let your bat or ball or the gloves do the talking', he would say.
That is how Kapil Dev, myself, Kirti Azad, Yashpal Sharma, Madan Lal, Mohinder Amarnath, Surinder Amarnath, Ashok Malhotra, then later came Maninder Singh, Gursharan Singh, Navjot Singh Sidhu, so many of them... It was his towering leadership that showed us the way how to perform.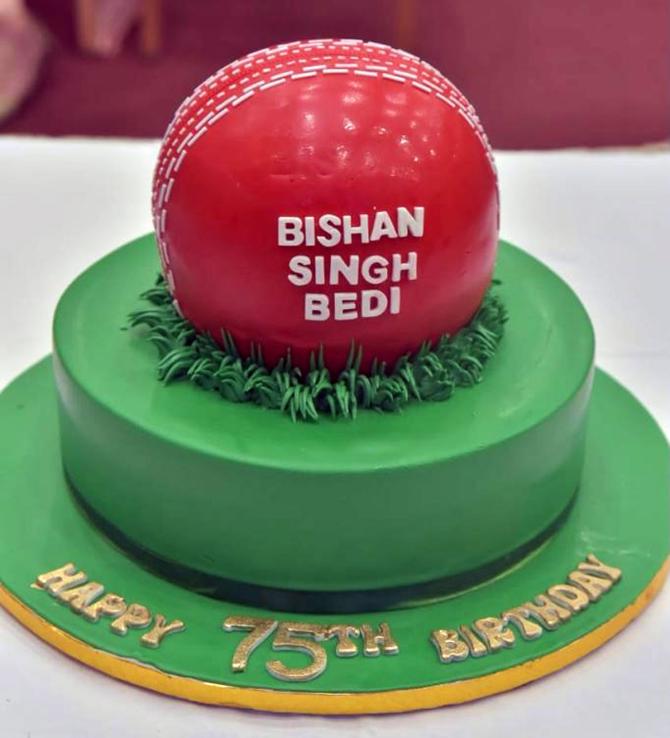 On the field, he was our leader. We enjoyed our cricket from the 1975-1976 season to 1988-1989. Delhi and North Zone cricket really benefitted and during that era we beat all the top teams in the country in their own home grounds.

The icing on the cake was Delhi's first Ranji win under his captaincy in 1978-1979.
Even though I got a hundred in each innings, it was a team win for us and not an individual victory, that was his way of thinking.
I had never seen him getting emotional on the ground, but I remember one incident even today so clearly. We were playing Bombay, I think they were 6 down, he was standing at mid-off and Madan (Lal) bowled a bouncer to Rajinder Jadeja, who was originally from Saurashtra but he was playing for Bombay at that point of time. He just hooked the ball and it went in the air and the fielders at square leg and fine leg were watching each other.

Mohinder Amarnath from the slips shouted at me, 'Suri run' and I ran about 50 yards to the boundary to take the catch.
And Bishan Paaji ran from mid-off to where I took the catch and picked me up and told me, 'Son, what you have done!' That is one of the memories that I still treasure.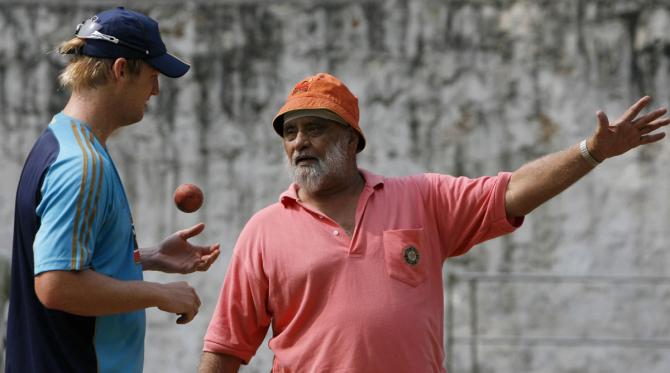 And when I got a hundred in each innings in the final against Karnataka, he asked me to open the champagne bottle. I didn't know how, so we had a good laugh at that. And when he asked me to have a sip, I nearly puked.
He was a fatherly figure, whom we always emulated, we always learned from him and he gave all his love and guidance.

He taught us the finer points and always allowed us to express ourselves in team meetings. Another thing which I learned, most of us learnt from him, was that you battled hard on the ground, but at the end of the day you must meet the opposition.

If there is any kind of ill will between any of the players it gets cleared, the air gets cleared after the game.
I remember playing Bombay in Bombay. And he spoke to Ashok Mankad, who was the Bombay captain, that we must have a glass of beer together after every day's play.
It was something we hadn't seen, because when you are playing an opponent for three, four or five days, you are not meeting them because on the ground you are playing each other.

And he said, 'No, you are cricketers, you are human beings, you have to speak to your opponents. You battle hard on the field, there is nothing wrong about that, but at the end of the day, you have to be good human beings.'
And that's how we learned because you learn from the opposition as well when you interact with greats like Sunil Gavaskar, Dilip Vengsarkar, Karsan Ghavri, Sandeep Patil, Paddy Shivalkar, many of the stalwarts.
When we played Karnataka they had Brijesh Patel, Gundappa Viswanath, Erapalli Prasanna, B S Chandrasekhar, Vijay Krishna, Sudhakar Rao. The same way Tamil Nadu you had Srinivasaraghavan Venkataraghavan, Bharat Reddy, V V Krishnaswamy, many greats. So when you speak to these stalwarts off the field, you always pick up some good point or the other.
Bishan paaji believed that when it comes to speaking also you must speak up, stand up like a man, don't be timid.
If something wrong is being done to your fellow mate or cricketers, you must stand up. And that's how we fought the battles of the field as well, but it was for the betterment of cricket, no personal benefits gained from those battles.

If he raised his voice for the increase in payment, in those days it was considered doing something against the Board. The Board never allowed somebody to speak up and still play cricket, but he always thought for the right points for the cricketers.
He always sat across the table to discuss things. He said, 'Cricket is a gentleman's game and it should always remain a gentleman's game'. You play hard on the ground but off the field, there are certain things that have to be maintained, the decorum has to be maintained'.

He was one of the finest left arm spinners in an era dominated by fast bowlers. He is the only Indian bowler to pick more than 1,500 wickets in first class cricket. He played county cricket he was lethal, he played cricket outside India he was a match winner there.

In India wherever he played, in his own style, the way he and Prasanna bowled. He always held Prasanna as his guru and he had a lot of regard for Tiger Pataudi. He used to say, 'Pataudi was one of the best captains he played, who has taught us how to get batsmen out, the best way to check the flow of runs is getting batsmen out.'

Salim Durrani used to tell me 'I can hit anyone for sixes, but with Bishan Bedi I could never do that. I could never get to the pitch of the ball, it was like he was holding the ball with a string and pulling it back'. Imagine one of the best hitters of Indian ccricket saying that.

Off the field, I remember he liked his drink, his jokes. He had the ability to laugh at himself, he would crack brilliant jokes. We couldn't crack a joke for the first five to seven years, we didn't have the guts to speak in front of him, but later on he made us at ease that we could crack a joke or laugh at him, even crack at joke at him.

He was a larger than life personality. He was a cricketer who come once in a lifetime...
There will never be another Bishan Singh Bedi."