30 years have passed since a team made Australia follow on at home!
India's first innings lead of 322 is their biggest ever in Australia.
Rajneesh Gupta has all the numbers.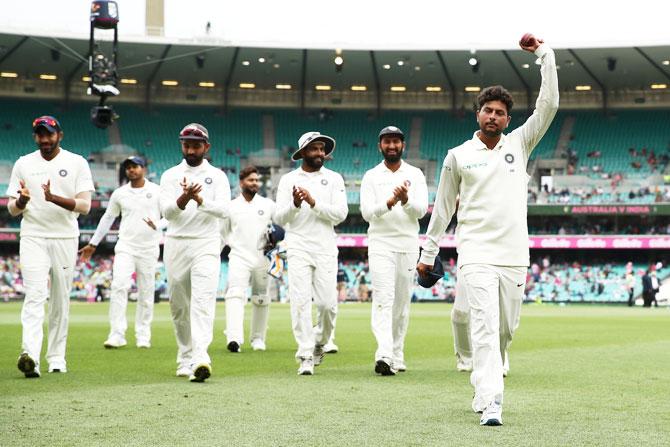 2005 The last time Australia suffered the ignominy of following-on (at home or abroad) -- versus England at Nottingham.
England went on to win that closely fought Test by 3 wickets.
1988 The last time a team made Australia follow on at home before India.
It was England at the same ground.
Between these two instances, Australia had a run of 172 consecutive Tests without ever following on at home.
322 India's first innings lead in this Test is their biggest ever in a Test in Australia.
The previous biggest was 292 in the last Test at Melbourne!
4 Number of times Australia have conceded a 250 run lead in the consecutive Tests of the same series.
England were the opposing side on all other three occasions: In 1911-1912, 1928-1929 and 2010-2011.
3 Number of times an Asian side has imposed the follow on over Australia in Australia: Pakistan in December 1981 (at Melbourne) and India in January 1986 and January 2019 (both at Sydney).
2 Number of left-arm wrist spinners to have taken a 5 wicket innings haul both at home and in away Tests.
Kuldeep Yadav joined England's Johnny Wardle today, January 6.
Kuldeep's other 5 wicket haul had come against the West Indies at Rajkot last year.
0 Number of Indian players from this playing eleven to have made their Test debut when Australia were last forced to follow on in a home Test.
Also, the number of Indian players who were born when India last enforced the follow on in Australia.