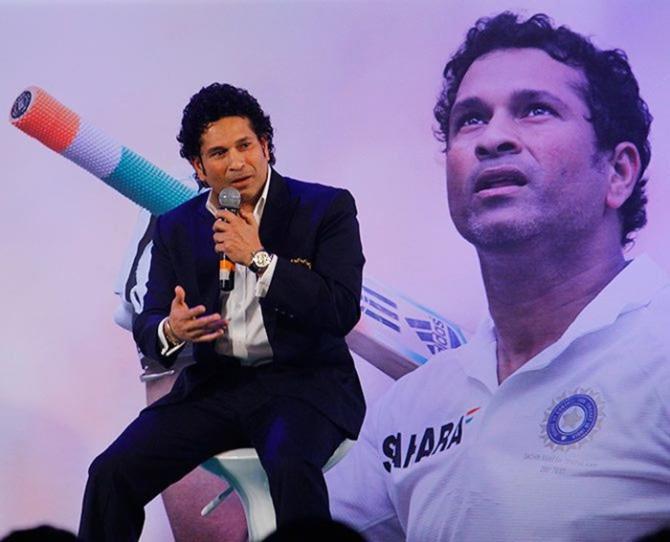 On Monday, April 24, 2023, Sachin Ramesh Tendulkar will be 50 years old.
For those of us who first saw him stride onto a cricket field aged 16 back in 1989, Sachin is like Peter Pan -- eternally youthful. It is difficult to reconcile that the ageless legend now has a son who wields the famous surname in the most competitive T20 cricket league in the universe.
During his 24-year cricket career, Sachin scored 68 Test and 96 ODI fifties, so here are 50 facts about India's God of Cricket which you'd want to know.
1. When Sachin was young, he wanted to become a fast bowler but was rejected by Australian great Dennis Lillee's MRF Pace Foundation in 1987. Lillee asked him to concentrate on his batting.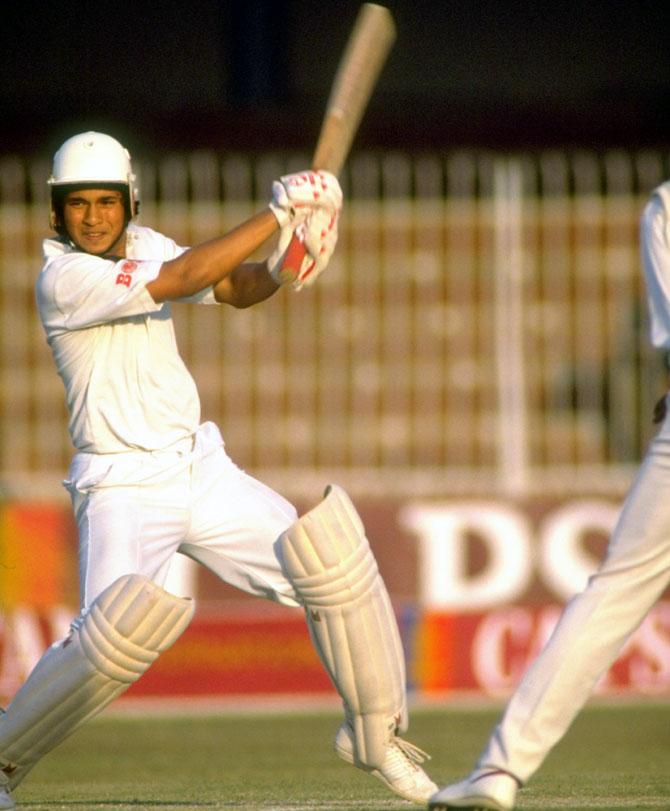 2. Sachin once fielded for Pakistan in a festival match against India in Mumbai in 1987, two years before his international debut. Javed Miandad and Abdul Qadir had left the field during lunch, after which he was asked to field for the visiting team.
3. Did you know Sachin has more five-wicket hauls in ODI cricket (2) than the greatest leg-spinner of our time Shane Warne (1).
While Warne has 37 Test five-wicket hauls, he managed a solitary ODI fifer in his 12-year career.
The spinning legend with 1,001 wickets is behind the greatest batsman of his time in a bowling record!
4. During the 1987 World Cup, Sachin was a ball boy for the match between India and Zimbabwe at the Wankhede stadium. He was 14 then.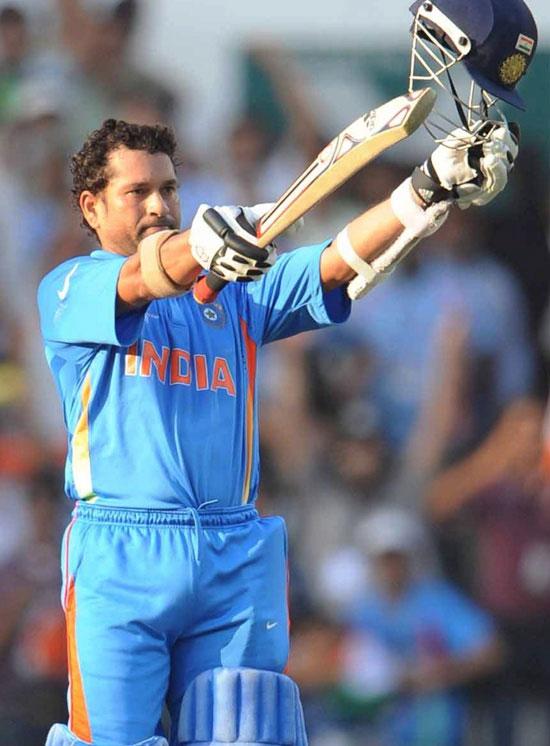 5. The first batsman to break the 200 run barrier in an ODI match when he scored 200 against South Africa in 2010.
6. In 1992, at 19, Sachin joined the Yorkshire County Cricket Club, becoming the youngest Indian to play English county cricket. He had an excellent stint with Yorkshire, amassing 1,070 runs in 16 matches.
7. Sachin's debut Test against Pakistan in 1989 was also legendary all-rounder Kapil Dev's 100th match in whites for India.
8. Sachin was named after the great composer Sachin Dev Burman. Sachin's father Professor Ramesh Tendulkar was a huge fan of Burmanda's music.
9. Sachin's mother Rajni Tendulkar saw him play from the stands for the first time -- in his final Test.
10. Sachin was the highest run-getter in IPL 2010; he scored 618 runs in 15 matches.
11. Sachin had the Tricolor pasted inside his kitbag throughout his career.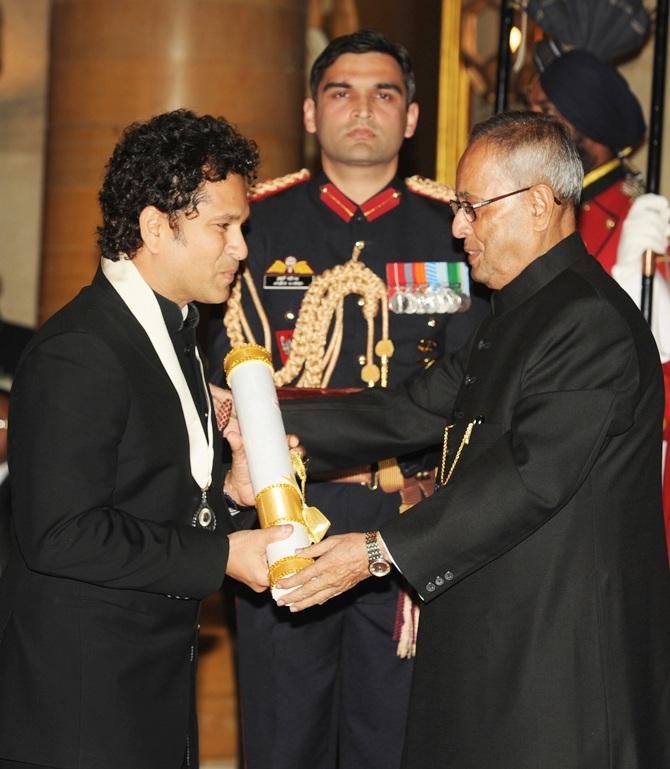 12. He was the first sportsperson to receive the Bharat Ratna, India's highest civilian honour, in 2014.
13. Sachin won the most number of Man of the Match awards (9) in the World Cup.
14. The first car which Sachin owned was a Maruti 800. He bought it with a loan. Later, his marvelous cricketing exploits made him a brand ambassador of the reputed brand BMW.
15. He was the first international batsman to be given out by the third umpire (run out) on the second day of the Durban Test against South Africa in 1992 when a Jonty Rhodes throw caught Sachin short of the crease.
16. Sachin had a start worth remembering in domestic cricket -- he smacked a hundred in the Ranji, Duleep and Irani trophies.
17. Sachin gave his bat to Pakistani all-rounder Shahid Afridi, who went on to score the fastest century in 1996 (a record which stood for 17 years) against Sri Lanka in just 37 balls.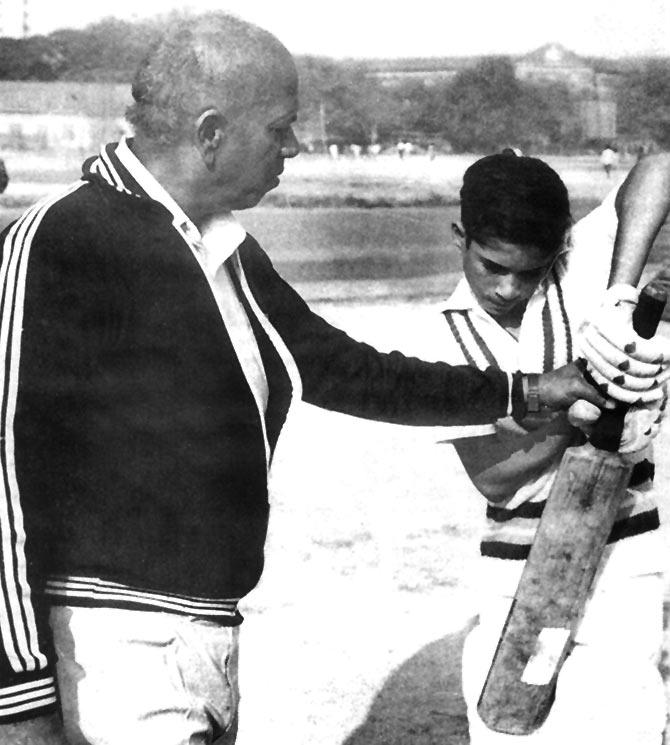 18. During his teens, Sachibn would win a coin from his mentor Ramakant Achrekar if he could last an entire session of nets without getting dismissed. He is the proud owner of 13 such coins.
19. Sachin became the richest cricketer in October 1995 after he signed a five-year contract worth Rs 31.5 crore (Rs 315 million) with World Tel.
20. Sachin used to sleep with his cricket gear during his junior days.
21. Sachin owns a fine collection of perfumes and watches.
22. Sachin promoted a sticking plaster in his first advertisement.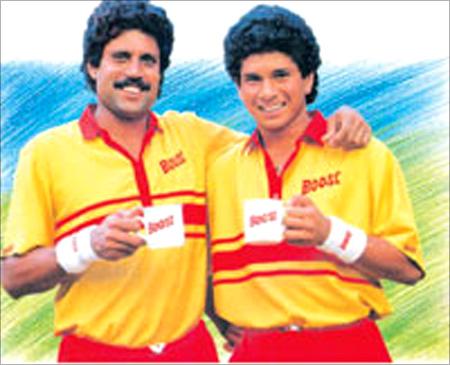 23. The first brand he endorsed was the health drink Boost.
24. Ravi Shastri led Sachin onto the field on his Ranji debut.
25. The 5' 5" batsman used a bat which weighed 3.2 pounds for most of his career.
26. Atul Ranade, a former cricketer and a dear friend of Sachin's, revealed that Master T used to be a big bully as a child and got into trouble because of his deeds.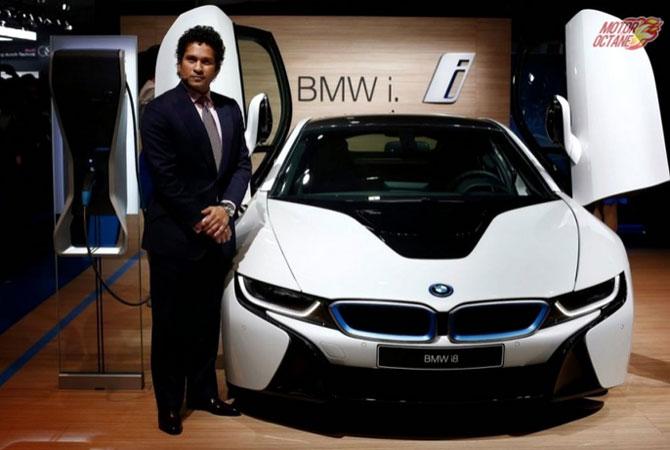 27. Sachin went to watch Roja in a movie hall with a beard and disguise. It all went wrong when his glasses fell off, and the crowd in the cinema hall recognised him.
28. When young Sachin fell from a tree on a Sunday evening during his summer vacation while Guide was being shown on national TV, his elder brother (and mentor) Ajit Tendukar sent him to cricket coaching class as punishment.
29. Sachin used to go fishing for tadpoles and guppy fish in the stream that ran near Sahitya Sahawas at Bandra East, north west Mumbai, the litterateurs housing colony where he grew up.
30. Sachin Tendulkar once told a Marathi television news channel that his weakness is vada-pav.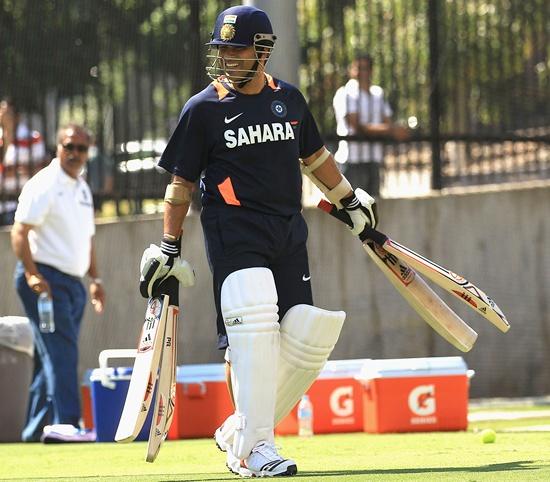 31. Sachin batted in his debut Test against Pakistan wearing pads gifted to him by Sunil Gavaskar.
32. Sachin was a huge fan of John McEnroe and grew his hair and tied a band around it ala McEnroe when he was young.
33. Sachin owned a restaurant in south Mumbai, near the Gateway of India, in the early 2000s, calld Tendulkars. Alas, it has since shut doors.
34. Sachin loves listening to songs by Kishore Kumar and the rock group Dire Straits.
35. Sachin loved to play tennis ball cricket and darts during rain breaks.
36. An incorrigible prankster, he once put a hosepipe in Sourav Ganguly's room and turned on the tap. Dada woke up to find his gear floating.
37. Sachin was without a bat contract until the start of the 1996 cricket World Cup. At the end of the tournament, the tire manufacturer MRF sponsored his willow.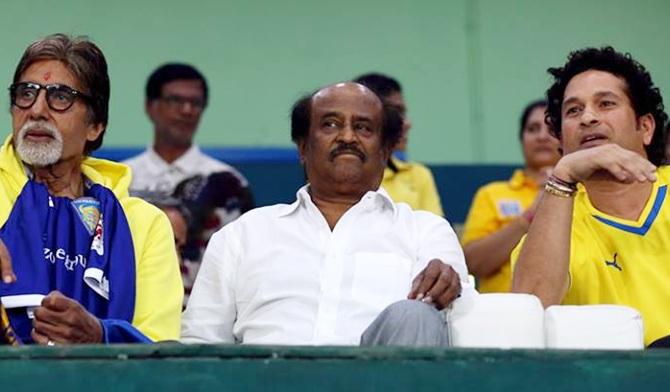 38. Sachin is a big Amitabh Bachchan fan. He is said to have become a die-hard fan after watching Deewar and Zanjeer.
39. Tendulkar is the only cricketer to be nominated to the Rajya Sabha.
40. He has played under the captaincy of Krishnamachari Srikkanth, Ravi Shastri, Ajay Jadeja, Mohammad Azharuddin, Anil Kumble, Sourav Ganguly, Rahul Dravid, Mahendra Singh Dhoni and Virender Sehwag in ODIs.
41. In 2002, Wisden ranked him as the second-best player ever after Sir Donald Bradman.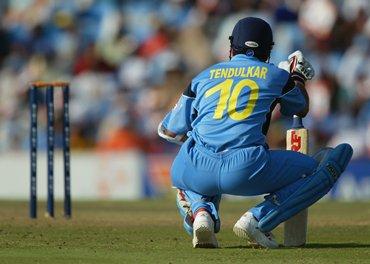 42. Sachin played in six cricket World Cups, the most by any player in the game's history (1992-2011). His dream came true in the 2011 World Cup when India lifted the trophy at the Wankhede stadium by defeating Sri Lanka.
43, Sachin's jersey number was 10, which was later worn by Shardul Thakur in international cricket. After facing criticism, the BCCI retired the number in 2017.
44. Sachin always put on his left pad before the right one while padding up.
45. During the game against Pakistan at the Ferozshah Kotla, where Anil Kumble took his record-breaking 10 wickets in an innings, Tendulkar handed Kumble's cap and sweater to the umpire before each of his overs. Kumble picked up a wicket each time Sachin did so.
46. Sachin is ambidextrous -- he bats and bowls with his right hand, but writes with his left. He shares this trait with Ludwig van Beethoven, Professor Albert Einstein, Jimi Hendrix, Tom Cruise, Rafael Nadal.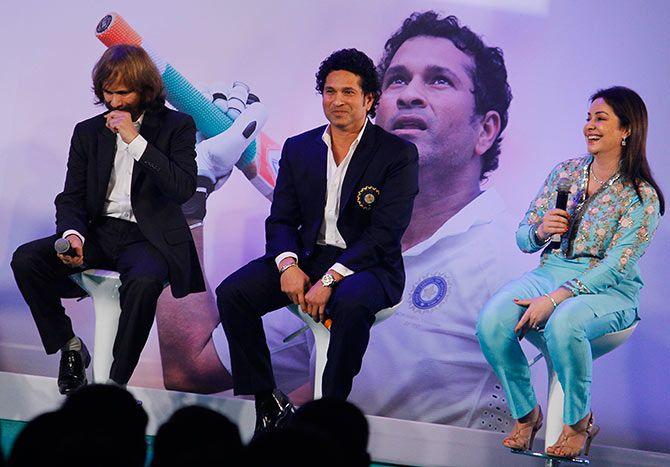 47. When Sachin won the man of the match award for his first Test century in 1990, he was given a bottle of champagne. But he couldn't open it as he was below 18 years old, the legal age for alcohol consumption in the UK. He opened it on daughter Sara's first birthday in 1998.
48. Sachin holds the record for scoring the most 1,000 Test runs in a calendar year. He achieved this feat six times: 1997 (1,000 runs), 1999 (1,088 runs), 2001 (1,003 runs), 2002 (1,392 runs), 2008 (1,063 runs), and 2010 (1,562 runs).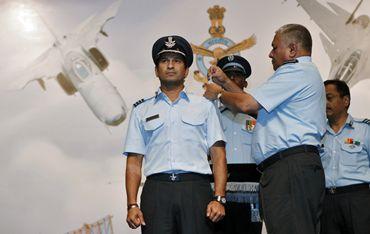 49. On September 3, 2010, Sachin became the first sportsperson to be awarded the honorary rank of Group Captain by the Indian Air Force.
50. Sachin has been dismissed in the 90s 23 times in his international career, including being dismissed for 99 in ODIs thrice, all three dismissals coming in 2007.
Staggering statistics that showcase both his excellence and his occasional heartbreak.