'He was not only middling every ball, but also timing it perfectly.'
'He hit quite a few balls in the air, but that did not bother me because he had a lot of power.'
Kunal Purandare recounts the first time a skinny lad named Sachin Ramesh Tendulkar met his eventual guru Ramakant Achrekar.
A fascinating story!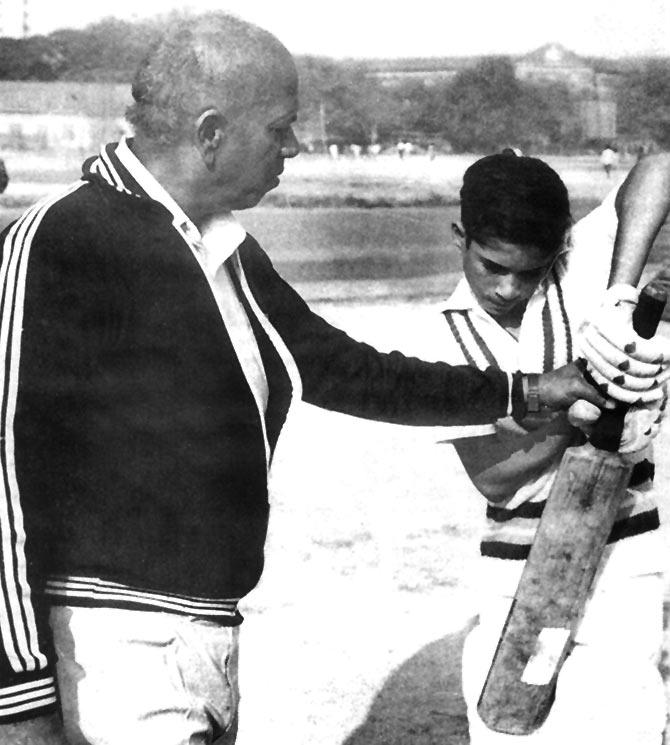 IMAGE: Sachin, right, gets batting lessons from his coach Ramakant Achrekar. Photograph: Kind courtesy Roli Books
Ajit (Sachin's elder brother Ajit Tendulkar) asked one of his friends, who had played for Achrekar's club, to introduce him to Sir. "I want my brother to join his nets," he told his friend.
When the meeting took place, Achrekar inquired about Sachin's age and asked Ajit if Sachin had played with a proper cricket ball before, and whether he batted or bowled. It was only then that he gave his consent for Sachin to attend his nets.
Sachin did not have much to do on the first day, but Achrekar said he could come the following day. Ajit was told to get him at 7.30 am sharp and ensure that he wore full trousers.

On his way to the ground the next day, Sachin wearing a T-shirt, jeans and sports shoes, kept asking Ajit whether he should attack or defend. Ajit's reply was a vague 'Let's see'.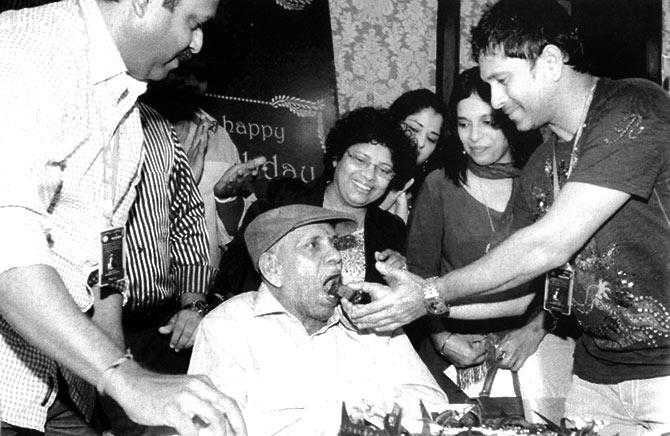 IMAGE: Sachin feeds his guru Ramakant Achrekar cake on his 79th birthday, December 3, 2011. Photograph: kind courtesy: Roli Books
Sachin, however, played every ball on its merit. When it was his turn to bat, even his defensive strokes generated tremendous power. He was quick to judge the line and length of the ball and was positive in his strokeplay.
The aerial strokes were unleashed too, but it wasn't as easy as hitting the rubber ball in his society. Also, at Sahitya Sahwas, the trees were a hindrance.
At Shivaji Park, Sachin could gauge whether his aerial strokes would lead to his dismissal. There was no dearth of confidence in the lad. Ajit was satisfied with his brother's first knock in the nets, but what did Achrekar think of him?

'The day I saw Sachin bat, I knew he was special. He was not only middling every ball, but also timing it perfectly. He hit quite a few balls in the air, but that did not bother me because he had a lot of power.'
'He was skinny, but he had a lot of strength. Also, young boys who bat in the nets for the first time are nervous; their feet don't move well and some are even scared of the ball hitting them.'

That wasn't the case with Sachin. He was extremely confident; it was as if he had been playing cricket for a long time, Achrekar revealed.

Achrekar's assistant, Das Shivalkar, saw Sachin from close quarters from the day the Bandra boy enrolled himself at Achrekar's nets. 'He was soft -spoken and very fair. After taking a round of the ground, his cheeks would turn red, Shivalkar remembers.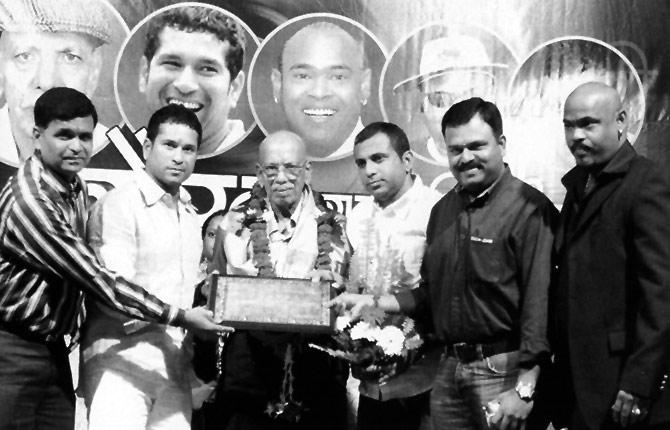 IMAGE: Sachin, second from left, Vinod Kambli, right, Pravin Amre, second from right, Sameer Dighe, third from right, felicitate their coach Ramakant Achrekar in Nagpur in 2009. Photograph: kind courtesy Roli Books
He says though Sachin was fluent during his first knock in the nets, he did not demonstrate what he was capable of. "He kept pushing the ball around with confidence, but was a bit hesitant."
It was then that Shivalkar opened the off side of the net. It did not take long for Sachin to caress the ball sweetly through the covers though most of the strokes were played towards the mid-wicket region.

After Sachin finished batting at Achrekar's nets for the first time, Shivalkar took him aside and explained that he must play with the same kind of authority that he showed at Sahitya Sahwas the other day. "Sir, you saw me play?" a thrilled Sachin asked Shivalkar, who replied in the affirmative.
When he was advised to play his natural game in the nets, Sachin replied in Marathi: "Udya bagha, Sir!" (Watch me play tomorrow).

"After watching him bat for a few days, Sir went up to Sachin and told him that cricket was his calling and that he should carry on playing it the way he did," remembers Ajit.
Sachin practised in the mornings; afternoons, and the evenings were reserved for his friends at Sahitya Sahwas. Achrekar told him to start coming for practice in the afternoons too. This flummoxed Sachin.
At his age, it was natural for him to want to spend time with his friends and so, he skipped afternoon nets once at their insistence. A livid Achrekar called up Ajit and complained. After that, Sachin provided no reason for complaint. He batted, bowled (he fancied himself as a fast bowler), and fielded with equal aplomb.
It was impossible to see Sachin stand at one place and not do anything. He was totally involved. Within months, he changed schools and joined Shardashram on Achrekar's suggestion. When his daily cricket routine and commute from his Bandra residence to Dadar got too much, he moved to his aunt's residence which was next to Shivaji Park.
Sachin's day was spent on the ground -- batting in multiple nets or playing several matches. He failed to open his account in his first two games, but after that his name became synonymous with big runs.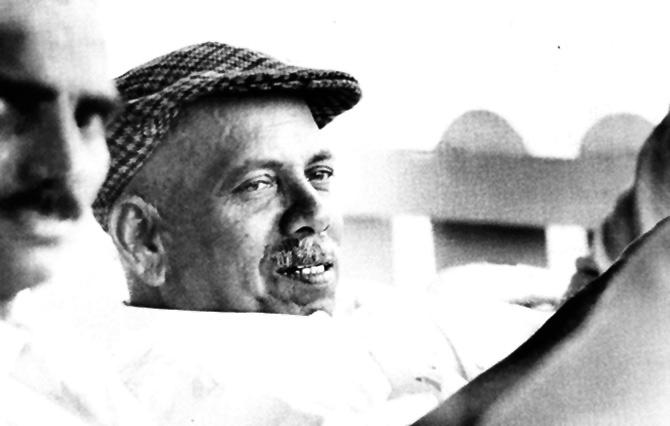 IMAGE: Ramakant Achrekar. Photograph: Kind courtesy: Roli Books
His schoolmate Mayur Kadrekar says: "In schools cricket, it was a big thing if someone scored a century, but Sachin would always score double and triple hundreds. There was no stopping him. He was the best player we had."

"Even a layman would have understood the difference between Sachin and the rest during our school days. At the Shivaji Park Gymkhana, there was constant talk about Sachin and his game. Everyone was so impressed with him that they would tell the others that 'That fair boy with curly hair is a very good player; he plays fantastic strokes.'
His talent was obvious, but he also worked hard. Sachin used to bat in five nets and then take a knock outside. He was madly in love with the game. We saw how legends were made -- a combination of talent and hard work.

Achrekar, too, believed that Sachin was one of his best players and so, he personally took him on his scooter from one ground to another and made him bat in ongoing matches at the fall of a wicket. And it really helped Sachin.
"If he was playing a match at Shivaji Park and he got out, Sir used to take him to the Sassanian Club wicket at Azad Maidan and send him to bat in a match after a wicket fell. He did not care what number it was in the batting order. If he got out there too, Sir would make him play another match close by. Most of the time, he had to retire after scoring a half-century so that the others could bat."
"He developed his hunger for runs this way ... It was amazing coaching without making the player conscious that he was being coached," Ajit shares.

Excerpted from Ramakant Achrekar: Master Blaster's Master by Kunal Purandare, with the permission of the publishers, Roli Books.
ALSO READ