Srinivas Bhogle and Purnendu Maji reveal IPL-12's Most Valuable Players so far.
It's IPL time again, and back to the world of sixes and fours and orange and purple caps.
It's also back to talk about high strike rates, low economy rates, wondrously held catches, agonisingly dropped catches, perfect Rabada yorkers, Ashwin's rule book (which is exactly the ICC's rule book), anger, despair, gloom and smiles.
The Most Valuable Player Index (MVPI) tries to encapsulate the cricketers's performances in terms of a run equivalent.
You score runs; that's really runs. But if you score them faster than par, that's more 'runs', if lower than par, that's less 'runs'.
A wicket is worth 16 'runs'. The bowler can score more 'runs' if he concedes less runs per over than par, can 'lose' runs if he leaks more runs than par.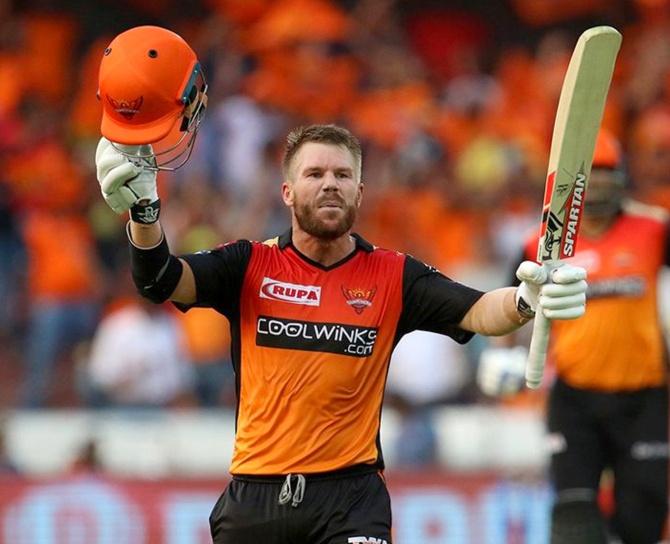 The player with the highest MVPI is the most valuable cricketer.
Currently, Andre Russell, with a MVPI of 420, is right up there.
Next is David Warner (385) who's batting as though there was no 12-month hole in his career.
Jonny Bairstow is third with a MVPI of 329.
The table lists the top 50 as at midnight of April 9, 2019.
Rishabh Pant is still India's most valuable player (he topped the IPL-11 list), Shreyas Iyer is doing pretty well, Virat Kohli isn't where you expect him to be, and Rohit Sharma and Shikhar Dhawan are way down at #39 and #34.
Suresh Raina is at #38 which feels kind of strange because Kohli and he are still the IPL's most prolific batsmen.
Best performing players so far in IPL-12 (after Match 23)
| Rank | Player | Team | From | Runs | Top Score | 4s | 6s | Strike Rate | Wickets | Economy Rate | Maidens | MVPI |
| --- | --- | --- | --- | --- | --- | --- | --- | --- | --- | --- | --- | --- |
| 1 | Andre Russell | KKR | WI | 257 | 62 | 17 | 25 | 212.4 | 5 | 9.7 | 6 | 420 |
| 2 | David Warner | SRH | AUS | 349 | 100 | 31 | 11 | 146.6 | 0 | - | 6 | 385 |
| 3 | Jonny Bairstow | SRH | ENG | 263 | 114 | 33 | 10 | 161.3 | 0 | - | 6 | 329 |
| 4 | Rishabh Pant | DC | IND | 176 | 78 | 15 | 10 | 172.5 | 0 | - | 6 | 264 |
| 5 | Shreyas Iyer | DC | IND | 215 | 67 | 22 | 7 | 122.9 | 0 | - | 6 | 225 |
| 6 | Kagiso Rabada | DC | SA | 3 | 3 | 0 | 0 | 60 | 11 | 7.6 | 6 | 224 |
| 7 | KL Rahul | KXI | IND | 217 | 71 | 19 | 4 | 122.6 | 0 | - | 6 | 222 |
| 8 | Imran Tahir | CSK | SA | 0 | 0 | 0 | 0 | - | 9 | 5.4 | 6 | 210 |
| 9 | Nitish Rana | KKR | IND | 169 | 68 | 11 | 12 | 155 | 1 | 9.8 | 6 | 206 |
| 10 | AB de Villiers | RCB | SA | 173 | 70 | 12 | 11 | 157.3 | 0 | - | 6 | 203 |
| 11 | Mayank Agarwal | KXI | IND | 184 | 58 | 14 | 8 | 138.3 | 0 | - | 6 | 203 |
| 12 | Robin Uthappa | KKR | IND | 183 | 67 | 20 | 5 | 137.6 | 0 | - | 6 | 201 |
| 13 | Mohammad Nabi | SRH | AFG | 40 | 17 | 2 | 2 | 133.3 | 7 | 5.5 | 4 | 200 |
| 14 | Prithvi Shaw | DC | IND | 169 | 99 | 25 | 3 | 152.3 | 0 | - | 6 | 194 |
| 15 | Virat Kohli | RCB | IND | 203 | 84 | 19 | 4 | 126.1 | 0 | - | 6 | 191 |
| 16 | Jos Buttler | RR | ENG | 176 | 69 | 25 | 4 | 130.4 | 0 | - | 5 | 188 |
| 17 | Hardik Pandya | MI | IND | 102 | 32 | 6 | 8 | 178.9 | 4 | 9.6 | 5 | 188 |
| 18 | R Ashwin | KXI | IND | 3 | 3 | 0 | 0 | 75 | 7 | 7.4 | 6 | 184 |
| 19 | Deepak Chahar | CSK | IND | 7 | 7 | 1 | 0 | 100 | 8 | 6 | 6 | 184 |
| 20 | Harbhajan Singh | CSK | IND | 0 | 0 | 0 | 0 | - | 7 | 5.1 | 4 | 182 |
| 21 | Chris Gayle | KXI | WI | 160 | 79 | 15 | 11 | 152.4 | 0 | - | 5 | 180 |
| 22 | MS Dhoni | CSK | IND | 156 | 75 | 10 | 6 | 124.8 | 0 | - | 6 | 173 |
| 23 | Parthiv Patel | RCB | IND | 172 | 67 | 21 | 2 | 123.7 | 0 | - | 6 | 171 |
| 24 | Yuzvendra Chahal | RCB | IND | 6 | 4 | 0 | 0 | 37.5 | 9 | 6.9 | 6 | 170 |
| 25 | Rashid Khan | SRH | AFG | 15 | 15 | 1 | 1 | 166.7 | 5 | 5.8 | 6 | 162 |
| 26 | Sandeep Sharma | SRH | IND | 5 | 5 | 1 | 0 | 250 | 8 | 7.2 | 6 | 161 |
| 27 | Quinton de Kock | MI | SA | 133 | 60 | 14 | 5 | 133 | 0 | - | 5 | 161 |
| 28 | Sanju Samson | RR | IND | 140 | 102 | 11 | 5 | 155.6 | 0 | - | 3 | 160 |
| 29 | Sunil Narine | KKR | WI | 87 | 47 | 9 | 6 | 185.1 | 3 | 8 | 5 | 159 |
| 30 | Sarfaraz Khan | KXI | IND | 165 | 67 | 18 | 3 | 126.9 | 0 | - | 6 | 157 |
| 31 | Vijay Shankar | SRH | IND | 131 | 40 | 7 | 6 | 131 | 0 | 8.7 | 6 | 155 |
| 32 | Shreyas Gopal | RR | IND | 1 | 1 | 0 | 0 | 25 | 8 | 6.4 | 5 | 155 |
| 33 | Ravindra Jadeja | CSK | IND | 15 | 8 | 0 | 1 | 75 | 5 | 5.6 | 6 | 155 |
| 34 | Shikhar Dhawan | DC | IND | 152 | 51 | 18 | 2 | 116 | 0 | - | 6 | 153 |
| 35 | Steven Smith | RR | WI | 159 | 73 | 12 | 3 | 116.9 | 0 | - | 5 | 141 |
| 36 | Dwayne Bravo | CSK | WI | 39 | 27 | 4 | 2 | 139.3 | 7 | 9.4 | 4 | 140 |
| 37 | David Miller | KXI | SA | 124 | 59 | 12 | 5 | 140.9 | 0 | - | 5 | 139 |
| 38 | Suresh Raina | CSK | IND | 132 | 36 | 15 | 4 | 112.8 | 0 | 6 | 6 | 134 |
| 39 | Rohit Sharma | MI | IND | 118 | 48 | 16 | 2 | 122.9 | 0 | - | 5 | 132 |
| 40 | Krunal Pandya | MI | IND | 91 | 42 | 12 | 2 | 135.8 | 2 | 8.1 | 5 | 132 |
| 41 | Suryakumar Yadav | MI | IND | 117 | 59 | 15 | 2 | 134.5 | 0 | - | 5 | 126 |
| 42 | Kieron Pollard | MI | WI | 96 | 46 | 4 | 7 | 157.4 | 0 | - | 5 | 123 |
| 43 | Moeen Ali | RCB | ENG | 74 | 32 | 4 | 6 | 142.3 | 2 | 7.5 | 6 | 122 |
| 44 | Ajinkya Rahane | RR | IND | 124 | 70 | 13 | 3 | 126.5 | 0 | - | 5 | 121 |
| 45 | Colin Ingram | DC | SA | 124 | 47 | 14 | 3 | 125.3 | 0 | - | 6 | 120 |
| 46 | Sam Curran | KXI | ENG | 25 | 20 | 3 | 1 | 178.6 | 6 | 8.9 | 4 | 118 |
| 47 | Alzarri Joseph | MI | WI | 0 | 0 | 0 | 0 | - | 6 | 3.3 | 1 | 117 |
| 48 | Chris Lynn | KKR | AUS | 130 | 50 | 15 | 6 | 121.5 | 0 | - | 6 | 117 |
| 49 | Axar Patel | DC | IND | 40 | 23 | 4 | 2 | 160 | 3 | 6.5 | 4 | 117 |
| 50 | Chris Morris | DC | SA | 17 | 17 | 1 | 1 | 89.5 | 6 | 7.9 | 4 | 114 |