'I just want to keep learning and keep getting better,' pace sensation Jasprit Bumrah tells Rediff.com's Harish Kotian.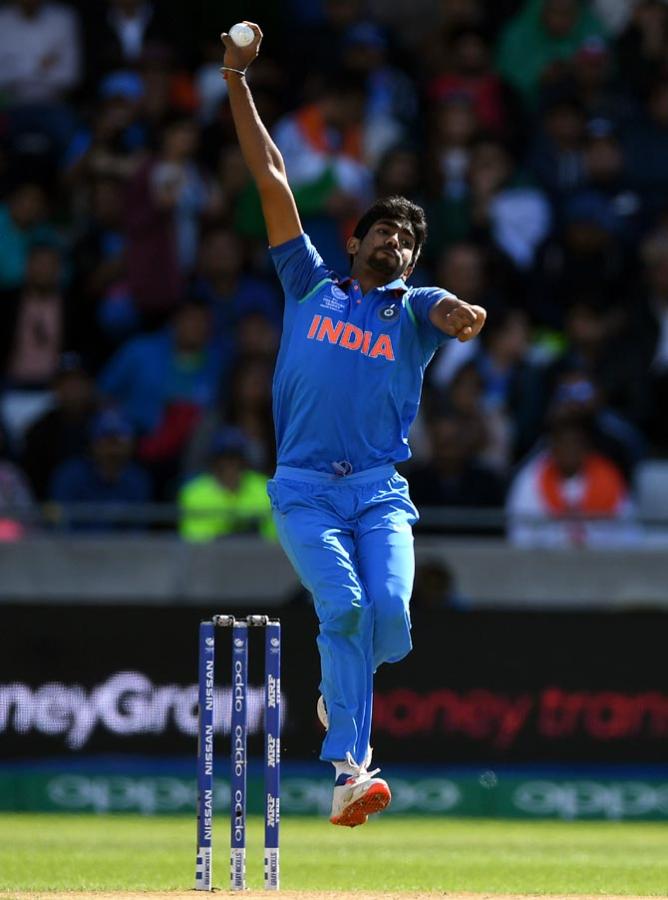 Jasprit Bumrah has taken giant strides since he began playing international cricket in January 2016.
Having made his international debut in an ODI in Australia, Bumrah has already scaled his way to the top of the bowlers's rankings in 50 overs cricket, with 76 wickets in 43 ODIs at an impressive economy rate of 4.4.
The 24 year old has also started off in smashing fashion in Test cricket, having made his debut earlier this year in South Africa, picking up 28 wickets in his first 6 Tests.
Be it any format, Bumrah, with his unorthodox slingy bowling action, has become indispensable for Team India.
"There is no secret," he says when I ask him about his bowling. "I always focus on getting better and learning from each and every experience that I have had."
"I always focus on things that have worked for me," he adds on the sidelines of a promotional event for ASICS in Mumbai. "For me, it has been about sticking to my strengths and developing around that."
"It is just been a small start," he says, "the start has been good and I just want to keep learning and keep getting better."
Video: Hitesh Harisinghani/Rediff.com
Jasprit lost his father Jasbir Singh when he was only 7 years old. His sister Juhika and he were brought up by their mother Daljeet, a school principal in Ahmedabad.
Having seen hardship growing up, Bumrah, currently one of the finest fast bowlers in the world, seems grounded and hasn't let the instant success get to his head.
In his early years, Bumrah was tagged a limited overs specialist, but the impact he has made in Test cricket since his debut in January has been immense, first taking 14 wickets in three Tests in South Africa and then doing an encore in the three Tests he played in England (he was unfit for the first two).
"It always feels good to do well. My only focus is on what I believe in and in my preparations. I have played a lot of first class cricket so I wanted to take that confidence when I go into Test cricket," Bumrah, who plays cricket for Gujarat in domestic cricket, says.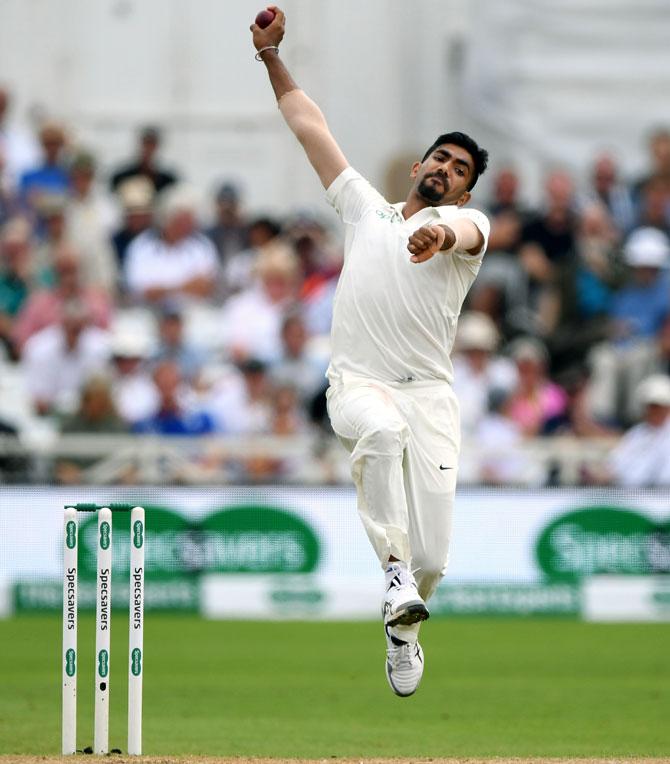 Bumrah will get another chance to test his mettle at the highest level during the tour of Australia, which starts in November. There will be no special preparations for the tour, he says, and he will draw on his past experiences when he travelled Down Under with the India 'A' team.
"I have not played Test cricket in Australia but I have played four day cricket there with India 'A'. It is always a different challenge (in Australia) but right now I am not focussing on that because I am focussing on the next challenge I have," he points out.
"When I get there and see the wickets then I will plan and then make the adjustments," he adds.
Bumrah was first discovered by former India coach John Wright who spotted him during the Syed Mushtaq Ali Trophy -- the national T20 tournament -- in 2013. Wright signed him up for the Mumbai Indians and the rest is history.
Bumrah hit the limelight in IPL 6 in 2013. What impressed players and pundits was not only his unique unorthodox action similar to his MI team-mate Lasith Malinga, but also his ability to bowl yorkers at will in the death overs.
It was no surprise when he was drafted into the Indian team in 2016.
His first wicket at the international level was a big one -- then Australian skipper Steve Smith in an ODI in Sydney in January 2016 before he produced a perfect yorker to clean up James Faulkner.
His stock in the IPL has risen every year -- he took 15 wickets in 2016, 20 wickets in 2017 and 17 in 2018.
Even though the IPL brought him into the limelight, Bumrah credits first class cricket as playing an important part in his successful start at the international level.
Jasprit Bumrah's record in the Ranji Trophy:
| | | | | | | | | |
| --- | --- | --- | --- | --- | --- | --- | --- | --- |
| Season | Matches | Wickets | Best | Average | Strike Rate | Runs Per Over | 5I | 10M |
| 2013-2014 | 8 | 38 | 5/52 | 21.15 | 49.42 | 2.56 | 2 | 0 |
| 2015-2016 | 8 | 21 | 4/47 | 25.47 | 57.24 | 2.67 | 0 | 0 |
| 2016-2017 | 7 | 24 | 6/29 | 21.79 | 53.46 | 2.45 | 3 | 0 |
| TOTAL | 23 | 83 | 6/29 | 22.43 | 52.57 | 2.56 | 5 | 0 |
Statistics: Rajneesh Gupta
The pacer made his Ranji Trophy debut for Gujarat in the 2013-2014 season where he finished as the top wicket-taker for his team with 38 wickets in eight games, the seventh highest in the tournament.
He missed the next season with a knee injury before he returned with 21 wickets in eight games in the 2015-2016 season.
Bumrah's consistent performances with the ball saw Gujarat win the Vijay Hazare Trophy domestic 50-overs tournament in December 2015 when he took 5/28 against Delhi in the final.
Overall, his first class record is impressive -- he has 117 wickets in 32 games at an average of 25.
In the IPL he has taken 63 wickets in 61 games.
"The IPL is important, but people forget the importance of first class cricket," asserts the young man. "The IPL is just 20 over cricket. If you want to do well in Test cricket, you have to do well in first class cricket."
"So the importance of first class cricket should not be forgotten," he stresses, remarks which should cheer the purists.
But wasn't he fast tracked into the Indian team because of his success in the IPL?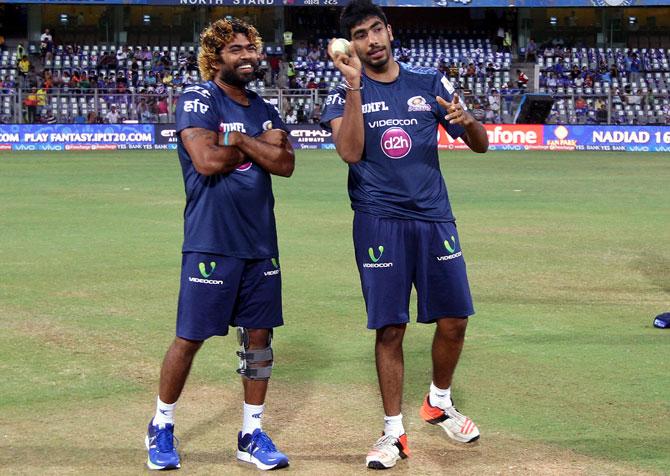 "IPL is important. but it is the combination of both. For me, first class cricket has played a very big role," he says, adding, "People have seen me only in the IPL so they don't realise what I have done in first class cricket."
"IPL brings you in the limelight but if you want to develop as a player you have to play first class cricket," he asserts again.
Bumrah, who is the No 1 ODI bowler in the world, has forged a successful combination with Bhuvneshwar Kumar in limited overs cricket.
"It is always beneficial when you have an experienced bowler like Bhuvneshwar with you," he says. "He has more experience than me, he has played a lot more cricket, so in some conditions where I have not played and he has played, he can share his ideas and all of that is very important."
"We always discuss when we are bowling, all those ideas help me and it helps him as well. We keep developing and keep growing with every experience."